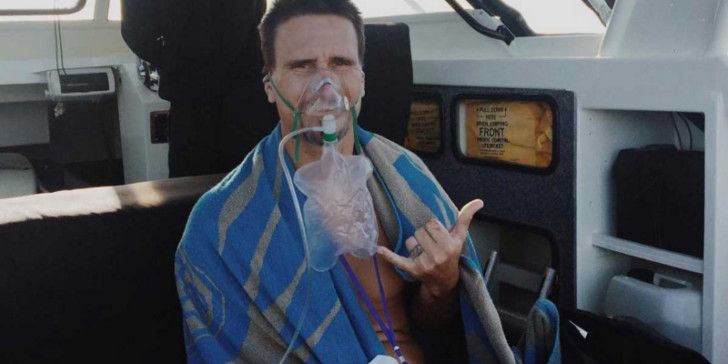 Thank God the big wave award winner was spotted by Uri Kurop and resuscitated by Mark Healy. Photo courtesy of @benjibrand
This was a reminder before the WSL gets there and for anyone planning to go on a big day….Cloudy Break is no joke. But actually any swell anywhere this size can kill the best.
SNN spoke of the reported huge swell was being forecast for Fiji with about 15′ seas @ 16 seconds. Then Hawaiian hellman Aaron Gold, who owns the award for the biggest wave paddled into at the 2016 (and maybe ever) nearly drowned Sunday morning May 22 (HI Time) at Cloudbreak (22 hours ahead).
Gold was one of the first who took off on 2-3rd reef wave, wiped out, got washed inside and was also seen floating face down by Videographer, Larry Haynes. Uri Kurop swooped in to retrieve him. It was reported Aaron was lifeless, foaming at the mouth when the rescue team pulled him into a anchored boat in the channel… They immediately began intensive CPR.' Word of mouth says this was begun by Big Wave Hellman, Mark Healey.
The report goes on to state that after about a minute of CPR he started breathing again. It took until half way back to Tavarua before he regained consciousness. Gold was taken back to Tavarua where he was given oxygen while awaiting transportation to a mainland doctor. After an hour, thankfully he looked like he'd be OK, other than a little humbled, shook up…and grateful.
The Waves Aaron has survived have dwarfed this Cloud Break wave that left Aaron unconscious and near death. A lesson to remind us that we truly are in God's Hands when charging H30. And for those atheists who've made comments and who don't like the God term, you may substitute 'Fate' or other phrases like 'forces beyond our control'.