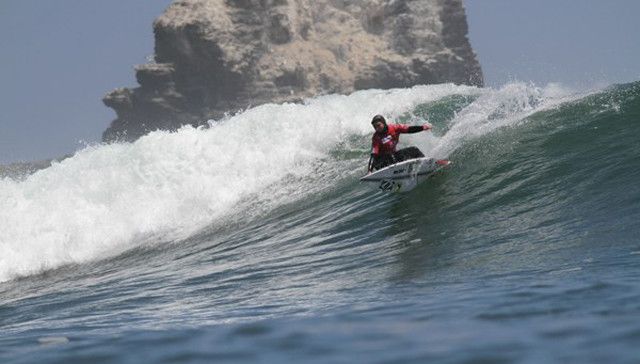 Maui and Sons Pichilemu Pro
ASP 3-Star Women´s Qualification Series
Punta de Lobos, Pichilemu, Chile
14 – 16 November, 2014
McGill defeats Josefina Ane of Argentina to take the win
Surf News Network 16 November, 2014:  Emerging athlete, Dax McGill (HAW), 16, stamped her authority on the last day of competition to confirm her victory at the inaugural 2014 ASP 3-Star Maui and Sons Woman Pichilemu Pro presented by Corona held at Punta de Lobos in Chile. With waves in the 3-4 foot range (1 meter) and onshore winds, McGill defeated Josefina Ane (ARG) in the Final by a score of 14.65 (8.65 + 6.00) to 11.40 (5.75 + 5.65) respectively.
As a result of her victory, McGill earned U$5,000 and 750 points to claim the final event of the ASP Women´s Qualification Series.
"I'm so stoked to finish off the season with a win in such a magnificent place as Punta de Lobos," stated McGill. "I'll remember this for the rest of my life. I think I surfed well in all of my heats, but it was hard getting used to the cold water and the currents that were really strong. But I was able to overcome all of these obstacles to win this event and I just want to thank my Mom for all her help and for coming all the way out here with me."
McGill obtained the highest scores from the judges on Saturday at the Maui and Sons Woman Pichilemu Pro. In the Quarterfinals, she got a 15.90 (8.65 + 7.25) against veteran surfer Trinidad Segura (CHL). In the Semifinals, the Hawaiian received the day's highest single wave score of a 9.00 to defeat Lorena Fica (CHL) by a score of 15.50 to 13.85, before taking out Josefina Ane in the Final.
In contrast, Ane had to claw her way through competition to reach her first Final in an ASP QS event. The Argentine began Saturday with a victory in an evenly matched Quarterfinal over Pomare Tepano (CHL) by a score of 11.75 to 11.50, respectively.
Ane followed by defeating the standout surfer of the event, Jessica Anderson (CHL) in another close battle resulting in 11.50 to 11.25 before yielding to McGill in the Final. By securing a runner-up finish, Ane received U$ 2,200 in prize money and 563 ASP QS ranking points.
The ASP 3-Star Maui and Sons Woman Pichilemu Pro presented by Corona was conclusive in determining the final ASP Women's Qualification Series rankings in addition to the ASP South America champion.
Silvana Lima (BRA) finished in 1st place on the rankings and has confirmed her return to the World Championship Tour in 2015. In addition to Lima, the other five surfers that have qualified for the WCT are: Coco Ho (HAW) in 2nd place, Sage Erickson (USA) in 3rd, Nikki Van Dijk (AUS) in 4th, Tatiana Weston-Webb (HAW) in 5th and Alessa Quizon (HAW) to complete the group of qualifiers onto the elite level.
With completion of the ASP South America Series, veteran surfer Jacqueline Silva (BRA) has claimed her first continental title. Despite spending numerous years on the WCT and finishing at the top of the QS rankings twice (2001 and 2007), this is the first time that Silva has added the ASP South America title to her decorated career.
Rounding out the Top-5 athletes on the ASP South America rankings are Silvana Lima (BRA), Suelen Naraisa (BRA), Nathalie Martins (BRA) and Sofia Mulanovich (PER).
Hawaiian surfers have etched out victories in the last three events held in South America. Coco Ho won the most important competition after claiming the ASP 5-Star Oceano Santa Catarina Pro. In Bahia, Tatiana Weston-Webb defeated fellow Hawaiian Alessa Quizon in the Finals at the ASP 4-Star Mahalo Surf Eco Festival in Itacare and now, Dax McGill asserts her authority at the Maui and Sons Woman Pichilemu Pro.
The only South American surfer to win an event of the ASP South America Series was Sofia Mulanovich, who took home the Rip Curl Pro in San Bartolo, Peru.
ASP 3-STAR MAUI AND SONS WOMAN PICHILEMU PRO RESULTS:
Winner: Dax McGill (HAW) 14.65 (8.65+6.00) – U$ 5,000 and 750 points
Runner-Up: Josefina Ane (ARG) 11.40 (5.75+5.65) – U$ 2,200 and 563 points
SEMIFINALS – 3rd place U$ 1,200 and 422 points:
Heat 1: Josefina Ane (ARG) 11.50 x 11.25 Jessica Anderson (CHL)
Heat 2: Dax McGill (HAW) 15.50 x 13.85 Lorena Fica (CHL)
QUARTERFINALS – 5th place U$ 650 and 316 points:
Heat 1: Josefina Ane (ARG) 11.75 x 11.50 Pomare Tepano (CHL)
Heat 2: Jessica Anderson (CHL) 11.25 x 5.20 Natalia Escobar Diaz (CHL)
Heat 3: Dax McGill (HAW) 15.90 x 3.50 Trinidad Segura (CHL)
Heat 4: Lorena Fica (CHL) 7.00 x 4.10 Adela Recordon (CHL)
2014 ASP WOMEN´S QUALIFICATION SERIES RANKING:
1st: Silvana Lima (BRA) – 12,200 points
2nd: Coco Ho (HAW) – 10,700
3rd: Sage Erickson (USA) – 9,870
4th: Nikki Van Dijk (AUS) – 9,305
5th: Laura Enever (AUS) – 9,280
6th: Tatiana Weston-Webb (HAW) – 8,720
7th: Alessa Quizon (HAW) – 8,430