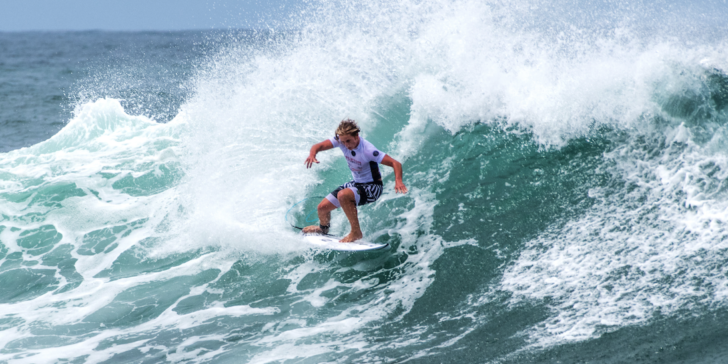 Burton Automotive Pro launches in cyclone remnants at Merewether New South Wales Australia.
Front page image: Current World Junior Champion Finn McGill posts highest heat total of Opening Day.
Surf News Network, 19 February.
In Merewether, New South Wales, the 2018 Burton Automotive Pro WSL Qualifying Series (QS) 6000 event has kicked off this past weekend at Merewether Beach in conjunction with Surfest, Newcastle. It was an epic opening with leftover swell from ex-tropical cyclone Gita and the international field going off on the 3-to-5 foot peaks.
The heat winners throughout the day were a great indication of the spread of countries in attendance at the event. America, Brazil, Polynesia, France, Indonesia and Australia were all in the mix but it was a small group of Hawaiian up-and-comers that stood out in Round One. It all started with powerhouse Barron Mamiya (HAW) taking out his opening heat with style.

Barron Mamiya should be a terrifying name to see in your heat because of turns like this.WSL / TOM BENNETT
"This is the first time I've come to Australia to surf in the QS6,000 events so to kick it off with a win is sick," Mamiya said. "I was here recently for the World Juniors which was good, but I'm really focused on the QS this season. I think if you are competing on the QS and not trying to qualify for the CT you are wasting your time — so I'm definitely here to try and make it."
Inspired by his brother's recent win at the Volcom Pipe Pro, young Hawaiian Seth Moniz (HAW) has come to Newcastle looking to make his mark. The technically gifted natural-footer kicked off his campaign well, getting in a rhythm on his forehand to post a winning heat total of 14.03 and progress into Round Two.
"This is the first really big event of the year so I was a little nervous, to begin with," Moniz said. "Once I began to find some waves I was stoked and felt a lot more comfortable. I was so stoked to see my brother (Josh Moniz) win at Pipe and it really inspired me — it made me really want a win myself. I've had a couple of years on the QS going through the motions and learning a lot but this year I'm going for a qualification spot for sure."

Seth Moniz is no stranger to solid surf and it showed as he played with Merewethether on opening day.WSL / TOM BENNETT
Fresh off back-back-to-back QS Quarterfinal appearances and a recent win at the World Junior Championship in Kiama, Hawaiian prodigy Finn McGill (HAW) is stoked on his newfound passion for competitive surfing. McGill found inspiration on Day 1 at Merewether seeing his fellow islanders do well and used it to post the highest heat total of the Opening Day. McGill's two-wave total of 16.17 came from a display of total comfort in the shifting peaks on offer at Merewether.
"I spent a while recovering from an injury and it really reminded me how much I enjoy competing," McGill said. "I went through a stage recently where I was bit over it and now that I'm stoked on competing again the results seem to be coming. I've been competing against Barron since we were 4-years-old so to be at events of this size together now is awesome and the same with Seth — it's really inspiring to see them do well."

Finn McGill topped the day with a 16.17 heat total.WSL / TOM BENNETT
Although he made a competitive return at the recent Great Lakes Pro QS1,000, Matt Banting (AUS) has been interested in how he'd go against some of the bigger seeds on the Qualifying Series. After more than a year off, the former Championship Tour surfer and 2014 Burton Automotive Pro winner, Banting, proved he hadn't lost his competitive prowess posting an almost perfect 9.17-point ride on his first wave. He then backed it up with a 6.53 and moves into Round Two as he begins his quest to return to the elite Championship Tour. "This is all pretty new to me competing as such a low seed," Banting said.
"I feel like everything was kind of came to me easily in the past with sponsorship, results and qualifying for the CT – then it all got taken away. After a year off I have totally re-evaluated and have come back hungrier than ever. During the middle of the injury I had a few doubts as to whether I was going to make it back, so to post an excellent score on my first wave felt amazing, it was such a relief and I got a real rush."

Matt Banting has still got that technical brilliance.WSL / TOM BENNETT
Californian Parker Coffin (USA) was weathering the flu as he arrived in Australia and had his first surf of the trip in Round One at Merewether. The stylish young goofy-footer only surfed two waves to take out the heat with a heat total of 12.70.
"I've been trying super hard to get better before the contest started but still felt terrible today," Coffin said. "This was my first surf since I arrived and I was on a new board so felt really underprepared. I knew if I got a couple of long waves on my backhand I could get a decent score. I have a new coach this year in Tom Whittaker and we had a good plan pre-heat so that gave me some confidence. He had so much success for a reason so I'm stoked to have him in my corner." 

Parker Coffin going upside down at Merewether.WSL / TOM BENNETT