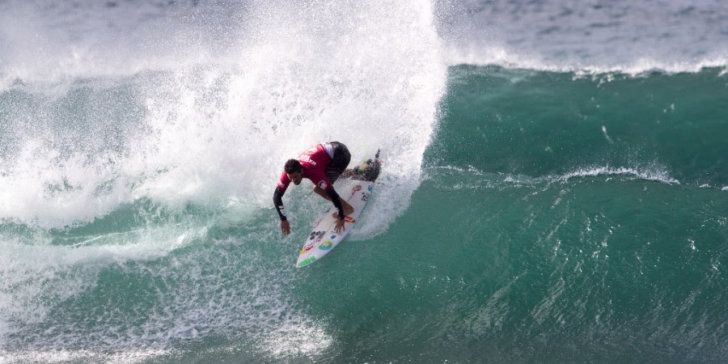 UPSETS & HOPEFULS ABOUND….
HAWAII LOSES 7 MORE TALENTS LEAVING ONLY KIRON JABOUR & DUSTY PAYNE TO ADVANCING ROUNDS…. 
ADRIANO DE SOUZA (BRA) SCORES 9.27 IN FINAL HEAT OF DAY…
MICHAEL FEBRUARY (ZAF), MIKEY WRIGHT (AUS) OUT OF COMPETITION….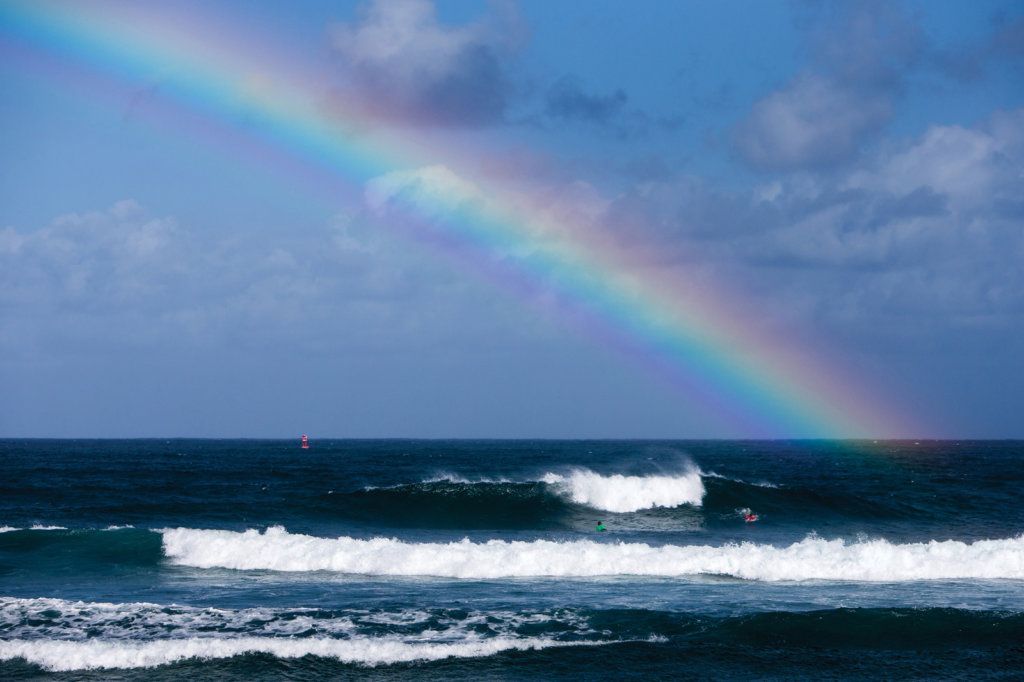 One of the best QS Events if not thee best even when it's not 'doing its thing'. A rainbow appears over the lineup on a beautiful day two at the Hawaiian Pro at Haleiwa, Hawaii. Rounds two and three are underway today, Tuesday November 15, 2017. PHOTO @WSL / Heff
Day 2 of the Hawaiian Pro ended in style with Adriano de Souza (BRA) dropping an excellent 9.27 score.
Image: WSL / Freesurf / Keoki
| | |
| --- | --- |
| Event:    |   Hawaiian Pro                                                |
| Window: |   November 12 – 24, 2017 |
| Rating: |   Men's QS10,000 |
| Conditions: |   3-5ft NNW swell |
HALEIWA, Oahu/Hawaii – (Wednesday, November 15, 2017) — The waves at Haleiwa Ali'i Beach Park maintained contestable conditions for Day 2 of the Hawaiian Pro, an all-important World Surf League (WSL) Qualifying Series (QS) 10,000 event and the opening competition of the Vans Triple Crown of Surfing. An array of upsets took place today including the fall of QS No. 11 Michael February (ZAF) and No. 22 Mikey Wright (AUS) as Round Two saw a combination of higher-seeded surfers and successful Round One athletes scrimmage in the air wind for another day of progressive surfing.
February, who has won three QS1,000 events this year and took third at the Ballito Pro QS10,000 in South Africa, will earn another chance at qualification at the upcoming Vans World Cup, Event No. 2 of the Vans Triple Crown of Surfing (VTCS).

The Hawaiian Pro takes place in Haleiwa, the gateway to the renowned North Shore of Oahu. Image: WSL/Freesurf/Heff
The first Championship Tour (CT) surfer to grace the lineup was Adriano de Souza (BRA), who saved the best for last and closed Day 2 of the competition with a 9.27, the highest single wave score of the day. The 2015 World Champion unleashed two solid turns on his backhand and completed the ride with a floater in the most critical section of the wave.
"Before the heat I was kind of nervous because I think this is my third or fourth year in a row I cannot make it through Round 3," said de Souza. "Every year I put everything I can, but usually sometimes by one mistake or by one point I don't make the heat. To see so many athletes here that are fighting to be on the World Tour this year, I'm stoked to make this heat and keep fighting to be at least in the top 5 of this event."
One of the more dramatic heats of the day saw brothers Patrick and Tanner Gudauskas(USA) take on Thiago Camarao (BRA) and junior charger Cody Young (HAW), with Pat securing the second highest ride of the day, an 8.87. A recurrent contender in the VTCS and consistent standout along the North Shore, Pat unleashed a repertoire of committed vertical turns combined with quick and confident form on his backhand for the heat win.

A vertical backside attack landed Patrick Gudauskas (USA) a spot in Round Three. Image: WSL/Freesurf/Keoki
"It's been a cool year and I've been working hard and I feel really good," commented Gudauskas, who sits No. 16 on the International QS. "I've been working on a lot of different things to kind of have that really level head in a lot of heats and be consistent, that's kind of been my jam all year. It's great to be in striking range, I feel good. I really love Hawaii it's almost like a second home with the whole crew and everyone here. I just want to make a final, that would be my goal for the season."
Runner-up to Gudauskas' high score of the day was another excellent ride, an 8.33 from 20-year-old Imaikalani Devault (Maui) who used Valley Isle wind expertise to his advantage against a stacked heat that included fellow islander Billy Kemper – who missed out by .10 of a point – Carlos Munoz (CRI) and Cooper Chapman (AUS).

Imaikalani Devault (HAW) uses fast-paced surfing to advance in first through a heavy Round 2 heat. Image: WSL/Freesurf/Heff
"The end had such a flurry, everyone was catching good ones and everyone was ripping," said deVault. "Luckily I got my wave too. I was just watching everyone surf so good and it just kind of came down to the back-ups. It's still fun out there, it's a lot better than yesterday, so stoked."
The international display of talent was on fire today as athletes like Jorgann Couzinet(FRA) and Victor Bernardo (BRA) also made lasting impressions with solid form and speed in the challenging conditions.

Victor Bernardo (BRA) sticks the landing on a victory wave after securing the heat win. Image: WSL/Freesurf/Heff
Couzinet, who made Quarterfinals at the HIC Pro at Sunset Beach on Oahu two weeks ago and won the QS6,000 in Spain in September, is in the No. 12 position on the International QS and strengthened his chance at Championship Tour (CT) qualification after advancing today into Round 3.
"The year is so long, there are so many events, so I'm just super happy to be 12th in the rankings," commented Couzinet. "It was tough to get up there and get the win because of the stress and the nerves. Now I can breathe a little bit, I feel way better now."

French standout Jorgann Couzinet posted a 7.17 in Round Two Heat 7. Image: WSL/Freesurf/Heff
Couzinet arrived early to Hawaii to fine-tune his technique and is feeling confident, evident in today's performance against fellow advancing surfer Mitch Coleborn (AUS), Ian Crane(USA) and Parker Coffin (USA). The Reunion Island native now resides in France and is one of the top surfers representing the country, with a focused goal of making it to the Semifinals at Haleiwa so he can ease off the pressure heading into the Vans World Cup.
Three Hawaii athletes advanced today including Maui's Dusty Payne, North Shore's Kiron Jabour and DeVault. Payne scratched into Round 3 after earning a 5.93 on his final wave of Heat 6 to edge Miguel Tudela (PER) out of the competition and advance behind Brazil's Bernardo. Payne has been selective on his events this year but landed in the top 80 on the QS to open his Hawaii campaign in the VTCS, the most coveted surfing series for local athletes.
"It's special for us because we travel all year long competing around the world and it's really relaxing to get to come home," said Payne. "The Triple Crown is the one thing that's eluded me besides a world title. I've come second a couple times and it's one thing I really, really want to win. I'm just going to keep fighting."

Dusty Payne (HAW) takes advantage of a rare right in Round Two. Image: WSL/Freesurf/Heff
The Hawaiian Pro event window will run from November 12 – 24, followed by event No. 2 of the Vans Triple Crown of Surfing, the Vans World Cup of Surfing, from November 25 – December 6 and  event No. 3, the Billabong Pipe Masters, from December 8 – 20.
For more information, please visit www.worldsurfleague.com or download the WSL app to receive updates on your mobile device and watch LIVE action. Fans can also tune into Spectrum SURF Channel, which will televise the 2017 Vans Triple Crown events LIVE and in replay on digital channels 250 SD and 1250 HD, across the state of Hawaii.
RESULTS
Surfers shown in order of 1st through 4th, all athletes from Hawaii unless otherwise noted
Round of 64 (1st and 2nd advance, 3rd = 33rd place, 4th = 49th place)
H1: Adriano de Souza (BRA), Griffin Colapinto (USA), Marco Giorgi (URY), Soli Bailey (AUS)
Round of 96 (1st and 2nd advance, 3rd = 65th place, 4th = 81st place)
H3: Peterson Crisanto (BRA), Kiron Jabour, Marc Lacomare (FRA), Hiroto Arai (JPN)
H4: Rafael Teixeira (BRA), Ramzi Boukhiam (MAR), Flavio Nakagima (BRA), Keoni Yan
H5: Dion Atkinson (AUS), Davey Cathels (AUS), Lucca Mesinas Novaro (PER), Mikey Wright (AUS)
H6: Victor Bernardo (BRA), Dusty Payne, Miguel Tudela (PER), Leandro Usuna (ARG)
H7: Jorgann Couzinet (FRA), Mitch Coleborn (AUS), Ian Crane (USA), Parker Coffin (USA)
H8: Bino Lopes (BRA), Ricardo Christie (NZL), Ariihoe Tefaafana (PYF), Jackson Baker (AUS)
H9: Adam Melling (AUS), David Van Zyl (ZAF), Alex Ribeiro (BRA), Shane Campbell (AUS)
H10: Maxime Huscenot (FRA), Noe Mar McGonagle (CRI), Aritz Aranburu (ESP), Michael February (ZAF)
H11: Cam Richards (USA), Michael Rodrigues (BRA), Gony Zubizarreta (ESP), Kaimana Jaquias
H12: Deivid Silva (BRA), Vasco Ribeira (PRT), Torrey Meister, Shayden Pacarro
H13: Imaikalani deVault, Carlos Munoz (CRI), Billy Kemper, Cooper Chapman (AUS)
H14: Josh Kerr (AUS), Lucas Silveira (BRA), Tomas Tudela (PER), Seth Moniz
H15: Patrick Gudauskas (USA), Thiago Camarao (BRA), Cody Young, Tanner Gudauskas (USA)
H16: Alejo Muniz (BRA), Luel Felipe (BRA), Evan Geiselman (USA), David do Carmo (BRA)

It was great seeing superstar Josh Kerr of Australia esp. since this is his last year on tour to go victorious in round two heat 14 of the Hawaiian Pro at Haleiwa! Kerr placed first in his heat and advances to round three today on Tuesday, November 15, 2017. PHOTO @WSL / Hef
About Vans
Vans®, a VF Corporation (NYSE: VFC) brand, is the original action sports footwear, apparel and accessories brand. Vans authentic collections are sold globally in more than 75 countries through a network of subsidiaries, distributors and international offices. Vans also owns and operates nearly 600 retail locations around the world. The Vans brand promotes the action sports lifestyle, youth culture and creative self-expression through the support of athletes, musicians and artists and through progressive events and platforms such as the Vans Triple Crown of Surfing®, the Vans U.S. Open of Surfing, Vans Pool Party, Vans Custom Culture, Vans Warped Tour®, and Vans' cultural hub and international music venue, the House of Vans.