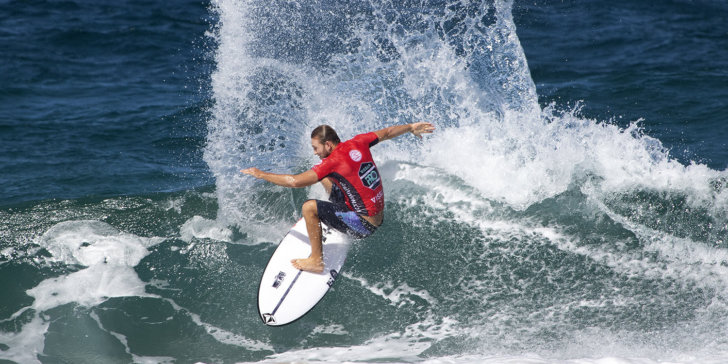 Stage Set For Finals Day at Sisstrevolution & Vissla Central Coast Pro
Sunny Coaster Isabella Nichols cruises into Finals Day
Hawaiian Dusty Payne (HAW) Competes for the first time outside of Hawaii since horrific injury for the Vissla Central Coast Pro QS3,000.
Credit: © WSL / Ethan Smith 
Avoca Beach, NSW /AUS (Sunday, March 3, 2019) –  A mammoth day of surfing at Avoca Beach has seen the stage set for what is bound to be an epic Finals Day at the Vissla and Sisstrevolution Central Coast Pro. The World Surf League (WSL) Qualifying Series (QS) 3000 event was gifted a slight increase in swell size as some of surfing's biggest names did battle with emerging talent.

Former Championship Tour star Dusty Payne (HAW) surfed his first heat outside of Hawaii since sustaining horrific injuries during a wipeout at Pipeline just over a year ago. The Maui native had his work cut out for him, taking on Jackson Baker (AUS),and fellow former CT competitors Dion Atkinson (AUS) and Stu Kennedy (AUS). Payne started the heat with a bang, posting an 8.17 off the bat but struggled to back it up until the final seconds when he eventually took the lead to give himself a chance at glory on Finals Day tomorrow.

"I was really nervous to travel overseas to compete," Payne said. "I didn't really know how I would go and it's taken me a few days to settle in and get over the jet lag. It's great to be back in Australia for these QS events, especially as it's the first time since my accident. That was a pretty intense heat as all of those guys are amazing competitors so I definitely feel lucky to have gotten through to Finals Day –I can't wait to see what tomorrow brings."

Event top seed Owen Wright (AUS) once again snuck through his heat narrowly, finishing second to Northern Beaches QS warrior Cooper Chapman (AUS) in their Round 6 matchup with Nathan Cook and Carlos Munoz. Chapman was the standout posting a 14.30 (out of a possible 20) to comfortably lead the heat while Wright, Munoz and Cook battled it out for second with the CT star Wright only hanging on at the final buzzer.

"Coming up against a guy like Owen is always nerve-racking," Chapman said. "He is one of the best in the world so beating him is a huge confidence boost. I'm stoked to make it to Finals day as a good result here will really help me leading into the QS6,000 events at Newcastle and Manly."

After a few year's straight of narrowly missing out on qualifying for the CT, Sunshine Coaster Isabella Nichols (AUS) is keen to make 2019 her year. The former World Junior Champion made excellent steps towards success this year with a Finals Day berth at Avoca for a couple of strong performances on Day 5.

"Winning a QS3,000 is a massive result for someone trying to qualify especially on the women's QS," Nichols said. "It's so good that WSL and Surfing NSW have teamed up with Vissla and Sisstrevolution to get this event up and running as it will definitely make a difference in peoples careers. I'm really excited to put on a good performance tomorrow for Finals Day and hopefully go all the way."

 Sunshine Coast surfer Isabella Nichols cruises into Finals Day.
Credit: © WSL / Ethan Smith 
Californian Conner Coffin is one competitor at the Vissla Central Coast Pro who is not chasing the QS in 2019, rather is using the event to train with his coach Glenn 'Micro' Hall. Coffin has been staying on the Central Coast for the last week working on his competitive game for the 2019 CT season and saw the Vissla Central Coast Pro as a great opportunity to put his training to the test. Everything seemed to be on point as Coffin progressed into Round 7 with some strong performances in the shifting beach-breaks.
"I've been on the Central Coast working with Micro over the last week so this event seemed like a great opportunity to put our methods to the test," Coffin said. "It's been so helpful working with a guy like Glen, he has amazing insights and is just a good guy to be around at events. It's really cool competing and working with him in his hometown. It'll be great to go home from here with a good result then head to Snapper ready for action in a month from now."
Other Round 6 winner's included Cole Houshmand (USA), Connor O'Leary (AUS), Kalani Ball (AUS) and Callum Robson (AUS) who took down one of the event favorites Matt Wilkinson (AUS).
Sage Erickson (USA) put on an epic performance on her way to Finals Day progressing into the Quarterfinals with another former CT competitor Dimity Stoyle (AUS). Stoyle and Erickson were on the ropes as young Central Coast prodigy Molly Picklum (AUS) pushed them till the final buzzer. Erickson is hoping to re-qualify for the CT in 2020 utilizing a great result here at Avoca.
"I've gotten to know Molly over the last few days and she rips so hard so I was super nervous to have her in my heat," Erickson said. "She is still only 16 so is bound to have an awesome career. It was cool to make the heat with Dimity as we are staying together so have been feeding off each others energy a bit. There is a lot of points on offer tomorrow so I'm excited to see what happens in the finals."
The Final Day of competition will run tomorrow with the event winner's set to be crowned by days end. Be sure to tune in a www.worldsurfleague.com.