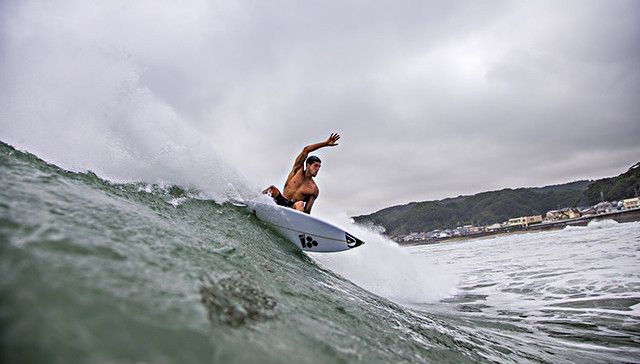 Photo: Ezekiel Lau © Zak Noyle
New episode joins Ian Walsh and core group of Hawaiians
Surf News Network, 25 October, 2015. Ian Walsh goes deep for the latest episode of Peaking where he chased a typhoon swell across the Pacific.
"You learn a lot more about an area being there and crawling around every little option on the coast than you do sitting on Google Earth at home," says Ian Walsh, in summarizing the latest installment of "Peaking," a series that follows surfers as they prepare for the big-wave season. It's an update on the old traveler's adage that "getting there is half the fun," and in this day and age of modern surf exploration, it's a reminder that nothing beats time on the ground.
Ian Walsh and a crew of Hawaiian surfers travel to Japan chasing a massive typhoon swell.
Walsh is joined on the road by Makua Rothman, Ezekiel Lau, Danny Fuller and photographer Zak Noyle. Together, they set their sights on the Japanese island of Miyazaki, home of the legendary Curren's Right. With back-to-back Category 5 hurricanes producing 150 kph winds and one huge typhoon in the North Pacific, it seems that the boys are assured of success, and spirits are suitably high as they touch down in the Land of the Rising Sun.
Like the well-oiled surf hunting machine that they are, nothing is left to chance and everything is in place. Now all that's needed is for Mother Nature to come to the party. What can go wrong, right?