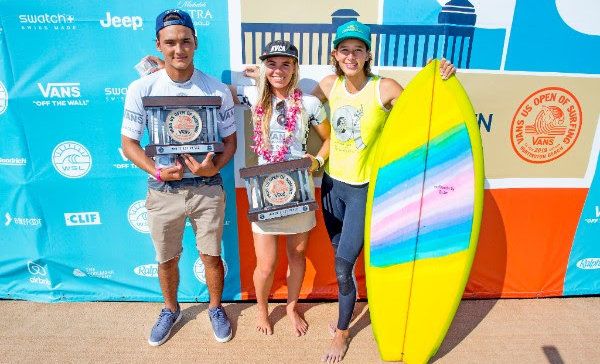 – MAMIYA AND MCDOUGALL WIN PRO JUNIOR DIVISIONS
– OAHU'S BLOMFIELD CLAIMS FIRST-EVER WOMEN'S DUCT TAPE INVITATIONAL WIN 
– WOMEN'S CT AND MEN'S QS QUARTERFINALISTS DECIDED
From L to R –  Hawaii winners Barron Mamiya, Zoe McDougall, and Honolua Blomfield win their respective divisions at the Vans US Open of Surfing presented by Swatch.
Credit: © WSL / Rowland
HUNTINGTON BEACH, Calif./USA (Saturday, August 4, 2018) – The 2018 Vans US Open of Surfing presented by Swatch crowned Zoe McDougall (HAW) and Barron Mamiya (HAW) its 2018 Pro Junior winners, completing a back-to-back Hawaii sweep of this event. Following Mamiya's incredible win, the inaugural Women's Duct Tape Invitational witnessed Honolua Blomfield (HAW) take the win.
The Women's Pro Junior Final was a fast-paced, sprint to the finish as Californians Samantha Sibley (USA) and Kayla Coscino (USA) took on Hawaii's Zoe McDougall (HAW) and Summer Macedo (HAW) for a shot at winning the US Open title on home soil. McDougall and Macedo took control of the heat, trading the lead multiple times until McDougall's last effort in the dying minutes one aggressive, forehand maneuver that earned her a 6.83 (out of a possible 10) to emerge victorious over her compatriot.
"The atmosphere here is incredible and I couldn't imagine a better place to take a win," McDougall said. "The plan all along was to be standing here and I'm just so happy right now.  I didn't know I had that heat until the horn blew. All those girls were ripping and just have Summer (Macedo) alongside me and to battle with her for the win, that was so fun. I just can't wait to build off this, it'll definitely be a highlight for me and hopefully, someday I'll be on the stage for the Women's Championship Tour."
Mamiya's opening wave fell just short of eventual runner-up Cole Houshmand's (USA) 7.00 (out of a possible 10) opener, but just over the halfway mark the Oahu, Hawaii competitor launched out of the Huntington Beach shorebreak and earned a 7.73 to jump into first — a position he would not let go of despite valiant efforts from Kade Matson (USA) and Alan Cleland (MEX). Houshmand's last-ditch effort in the final thirty-seconds fell short of the 7.40 requirement, earning a 6.67, and solidified Mamiya's victory for Hawaii's second-straight US Open Men's Pro Junior win.
"I'm super amped to keep this event title in Hawaii after coming into it getting prepared for the QS, but to win is pretty special," Mamiya said. "There wasn't a lot of focus in the junior event since it's the first year I'm really going for the QS and now I'll take this confidence moving forward. I got a good result at the beginning of this year, but I've just been putting too much pressure on myself thinking I have to do well that I lost sight on enjoying it. Once I lost the QS, all the pressure was off and I just put everything into my surfing so I think that shows.The CT is my dream and I want to get there."
Wrapping up an incredible first dose of Finals Day, reigning WSL Longboard ChampionBlomfield continues to display her dominance across all forms of the sport with an inaugural Women's Duct Tape Invitational victory. It was all good vibes in the water as Blomfield shared the podium with runner-up, fellow Oahu competitor, Kelis Kaleoppa (HAW), third-place, two-time WSL Longboard Champion Jennifer Smith (USA), and Longboard CT competitor Kaitlin Maguire (USA). Blomfields 8.00, showcasing her style and noseriding ability before a final turn on the inside cemented her win before sharing a special moment with Kaleoppa.
"That was so fun and such an honor to be a part of," said Blomfield. "To win it is just that much more amazing,"Sharing a Final with a women like Jennifer (Smith), who's been such an impact on the sport, Kaitlin (Maguire) that I get to surf against on the Tour, and Kelis (Kaleoppa) is one my best friends, so it couldn't have been better. The fact that Kelis and I got to ride a wave in together was what that event represented for us — just having a blast doing what we love. I can't thank Joel (Tudor) and Vans enough for that amazing opportunity."
Before all the winners were crowned, a massive elimination day unfolded for both the Women's Championship Tour and Men's Qualifying Series 10,000 as they locked in their Quarterfinalists.
2015 US Open winner Johanne Defay (FRA) continues to show her incredible ability to assess conditions and putting herself on the best waves, earning a 7.93 (out of a possible 10) against three-time WSL Champion Carissa Moore (HAW), who also advanced, and fellow countrywoman Pauline Ado (FRA). This marks Defay's fourth Quarterfinal appearance of 2018 as she continues to build momentum from her win at Uluwatu toward the back half of the season. Last season, this was the time of year where the CT veteran began to stumble and Defay is looking to change that moving forward.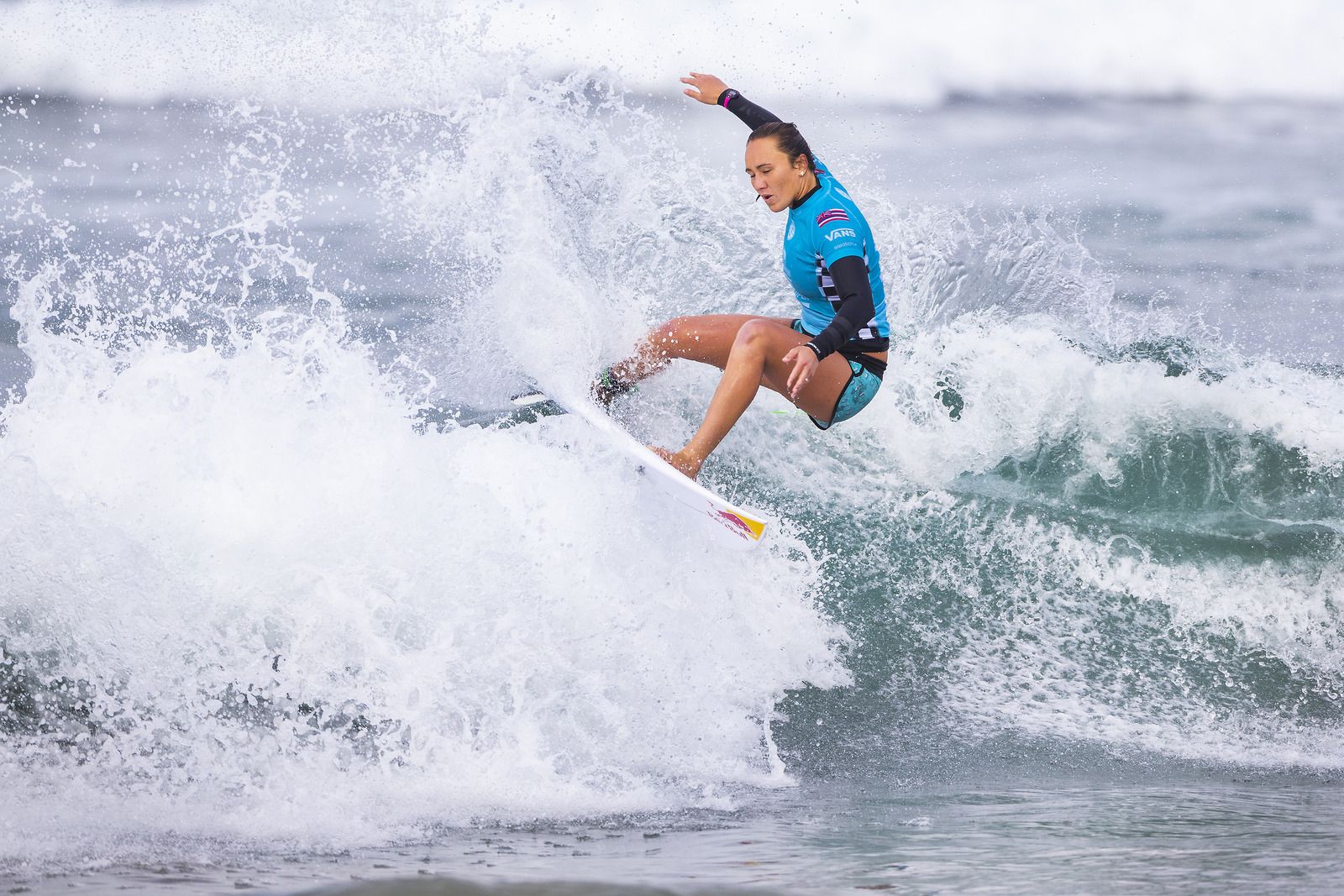 Carissa Moore PHOTO: © WSL / Morris 
"I felt like reading the waves was a weakness of mine as a junior coming from Reunion Island where it's a reefbreak and breaks in the same place, but then going to France's beachbreaks I was lost," Defay said. "It's something I've worked on a lot and now I feel that I can do well in tough conditions. Last year was a good year and I don't really know what happened in the end. I had a lot going on and my mind was a little bit everywhere instead of focusing on the little things I do to prepare so I'm just stoked to be where I am this year, and want to finish strong."
Nikki Van Dijk (AUS) and Malia Manuel (HAW) nearly threw a wrench in this year's tight World Title race, putting current Jeep Rankings Leader Stephanie Gilmore (AUS) on the ropes, but Gilmore showed her grit and powered through over Manuel. It was a confidence boost for Van Dijk, 2012  US Open Pro Junior winner, as she now heads into her fourth Quarterfinal appearance of 2018.
However, current World No. 2 Lakey Peterson (USA) unleashed a powerful forehand attack to earn an excellent 8.33, the highest single-scoring wave of the Women's CT event so far. In the end, it was former US Open winner Sally Fitzgibbons (AUS) overcame Peterson for the heat win — solidifying former US Open winners disrupting World Title contenders heading into finals day.
"I think anything's possible and you just have to be ready for anything," Fitzgibbons said. "I'm definitely feeling it and just love that after 12 years it still feels like my first US Open. It doesn't really phase me too much whether you're matching up against the top seeds of the moment or the lower ones. I find all the battles are just so close and you have to bring your best surfing."
Courtney Conlogue (USA) finished out the women's Round 3 with her second-consecutive heat win for a spot into her first Quarterfinal of 2018. The hometown hero overcame current World No. 3, and 2015 US Open winner, Tatiana Weston-Webb (BRA) along with the in-form 16-year-old phenom Caroline Marks (USA), her fourth of the season.
"I'm feeling great here in my hometown and the local support has been so amazing," Conlogue said. "It's good to get some heat wins under my belt and I'm feeling that momentum pick up a little bit. But, it's going to be stiff competition. Everyone's fine-tuned and there aren't any weak links, which makes it exciting because you don't have any easy heats. You have to go out and perform or else you're walking home. "
Conlogue will face World Title contender Peterson in a heavyweight, all-Californian Quarterfinal.
The Vans US Open Men's QS Round 5 followed a nail-biting Women's CT Round 5 and determined their Quarterfinalists in dynamic fashion.
After Kolohe Andino (USA) ended trials winner Reef Heazlewood's (AUS) dream run, fellow San Clemente native Griffin Colapinto (USA) lit up the tough conditions over 2015 WSL Champion Adriano De Souza (BRA). Colapinto locked in an excellent 8.17 after completing his signature air-reverse on the shorebreak and earning his first-ever US Open Quarterfinal appearance where he will face Andino.
"This is a wave that the San Clemente boys surfed the most contests at growing up and I think that's really helped us," Colapinto said. "I'm really excited to surf against Brother (Andino)tomorrow, it sucks that we have to surf against each other this early and would've been great to have a Final or something, but it'll be a lot of fun. Being able to do well against a guy like Adriano (De Souza) gives me a lot of confidence, he's a former World Champ and is super dangerous so I'll enjoy that win and get ready for tomorrow."
Jorgann Couzinet's (FRA) electrifying performance in Round 5 Heat 3 eliminated Cam Richards (USA) with an impeccable 15.50 heat total and Dion Atkinson (AUS) kept the international dominance running for another heat, sending Tanner Gudauskas (USA) out of the event.
But, the day's most explosive moment came from current QS No. 2 Seth Moniz (HAW) as he soared out of the lip with a sky-high reverse that the Oahu, Hawaii, surfer was able to recover from — earning the event's highest score, a near-perfect 9.87. Moniz helped eliminate one of the event's top threats Evan Geisleman (USA) and is into the Quarters with a chance of solidifying his spot among the CT next season.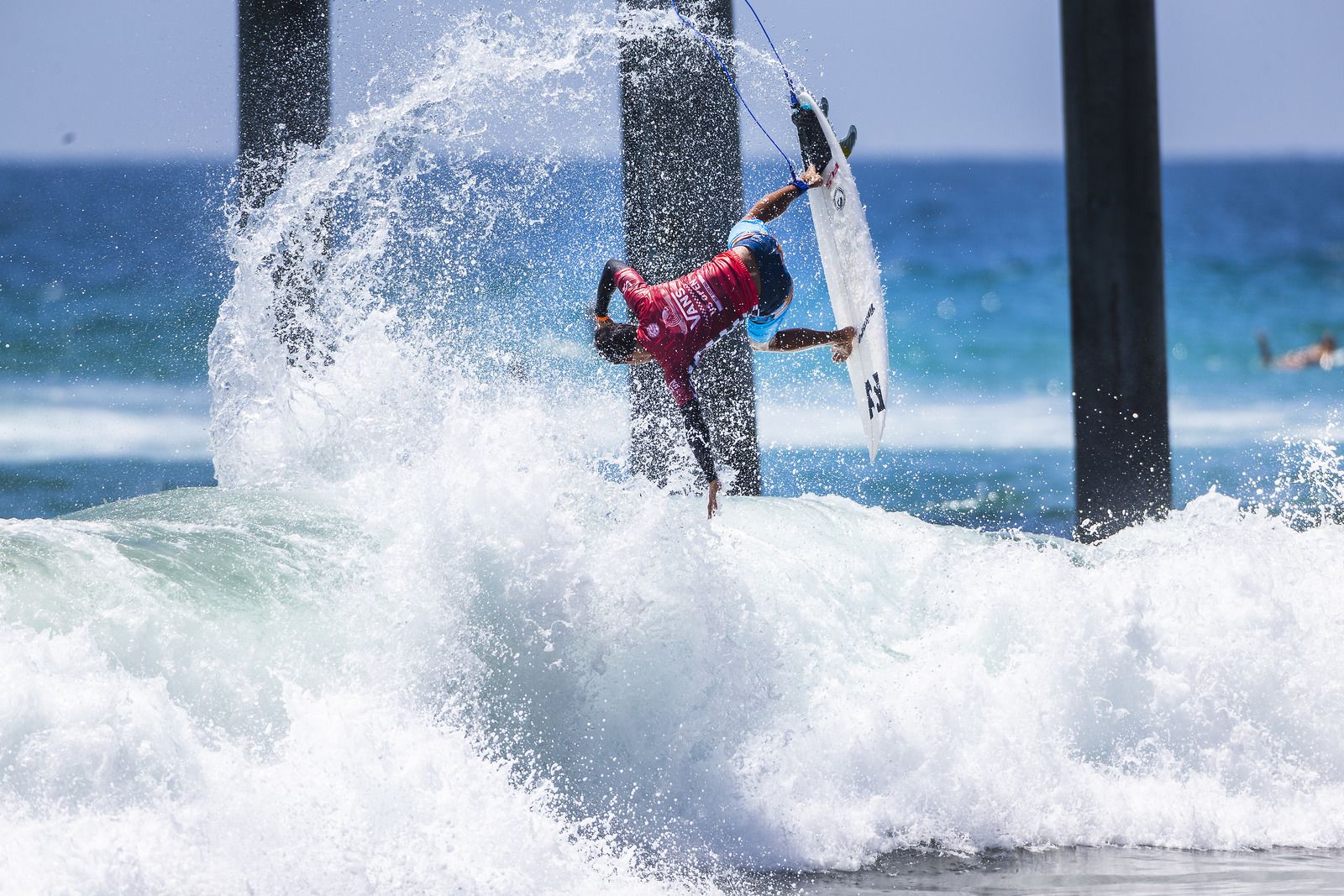 PHOTO: © WSL / Morris
"That was the craziest wave of a heat I've ever had in my life," Moniz said. "I actually mistimed it a bit and kicked my board out a little too high, and felt it separate completely from my feet. But, I landed flat-backed and felt my feet grip and used that white water push to get back to my feet — I couldn't believe it. That was a massive heat for points and getting a result here would be huge toward qualifying, but there's more work to be done so I have to focus on not making the little mistakes to make this Final."
Following that mind-blowing performance, all eyes were on the water for one of the day's most anticipated heats between defending event winner, Huntington Beach's own, Kanoa Igarashi (USA) and current 2018 CT rookie Michael February (ZAF). Igarashi took over the heat with vicious, forehand attacks that February couldn't muster a comeback against and the Huntington Beach native finds himself in a third consecutive Quarterfinal appearance at the US Open.
"Ever since I won last year all I've been able to think about was how nice it would feel to go back-to-back," Igarashi said. "That's all I'm going for and that's all I really care about at this point. I thrive under the pressure of having my hometown here and wanting to win this to keep it in the city again. Coming into two-man heats I'm not really focusing on the other guy, Seth's (Moniz) air was insane and that fired me up, but I was focused on the task at hand and I'll be ready for the same tomorrow."
Also advancing into a crucial finals day at Huntington Beach, former CT competitor Jadson Andre (BRA) took down current QS No. 1 Peterson Crisanto (BRA).
Another all-Brasilian affair featuring Italo Ferreira (BRA) and Michael Rodrigues (BRA)witnessed the two CT competitors battle it out in Ferreira's favor, but he suffered an injury and will undergo medical treatment to reassess a potential Quarterfinal appearance.
The Final Day of the Vans US Open of Surfing presented by Swatch will continue tomorrow starting at 7:30 a.m. local time.
The event will be broadcast LIVE on the WSL's Facebook page, WorldSurfLeague.com, and the WSL app. Also, check local listings for coverage from the WSL's broadcast partners.
Vans US Open Men's Pro Junior Final Results:
1 – Barron Mamiya (HAW) 14.40
2 – Cole Houshmand (USA) 13.67     750 points
3 – Alan Cleland (MEX) 11.13            560 points
4 – Kade Matson (USA) 10.27           525 points
Vans US Open Women's Pro Junior Final Results:
1 – Zoe McDougall (HAW) 12.36
2 – Summer Macedo (HAW) 11,83
3 – Samantha Sibley (USA) 10.33     560 points
4 – Kayla Coscino (USA) 7.80           525 points
Vans US Open Women's Duct Tape Invitational Final Results:
1 – Honolua Blomfield (HAW) 13.33
2 – Kelis Kaleoppa (HAW) 10.14
3 – Jennifer Smith (USA) 6.07
4 – Kaitlin Maguire (USA) 5.33
Vans US Open Women's CT Round 3 Results:
Heat 1: Johanne Defay (FRA) 13.16, Carissa Moore (HAW) 10.90, Pauline Ado (FRA) 7.87
Heat 2: Nikki Van Dijk (AUS) 13.54, Stephanie Gilmore (AUS) 11.46, Malia Manuel (HAW) 10.07
Heat 3: Sally Fitzgibbons (AUS) 13.60, Lakey Peterson (USA) 12.40, Coco Ho (HAW) 12.00
Heat 4: Courtney Conlogue (USA) 13.90, Caroline Marks (USA) 11.70, Tatiana Weston-Webb (BRA) 10.26
Vans US Open Women's CT Quarterfinal Matchups:
QF 1: Johanne Defay (FRA) vs. Stephanie Gilmore (AUS)
QF 2: Nikki Van Dijk (AUS) vs. Carissa Moore (HAW)
QF 3: Sally Fitzgibbons (AUS) vs. Caroline Marks (USA)
QF 4: Courtney Conlogue (USA) vs. Lakey Peterson (USA)
Vans US Open Men's QS Round 5 Results:
Heat 1: Kolohe Andino (USA) 9.20 def. Reef Heazlewood (AUS) 8.84
Heat 2: Griffin Colapinto (USA) 14.00 def. Adriano De Souza (BRA) 13.27
Heat 3:  Jorgann Couzinet (FRA) 15.50 def. Cam Richards (USA) 9.90
Heat 4: Dion Atkinson (AUS) 10.64 def. Tanner Gudauskas (USA) 9.43
Heat 5: Jadson Andre (BRA) 14.17 def.  Peterson Crisanto (BRA) 3.53
Heat 6: Italo Ferreira (BRA) 11.73 def. Michael Rodrigues (BRA) 6.80
Heat 7: Seth Moniz (HAW) 15.70 def. Evan Geiselman (USA) 13.50
Heat 8: Kanoa Igarashi (JPN) 14.33 def. Michael February (ZAF) 12.23
Vans US Open Men's QS Quarterfinal Matchups:
QF 1: Kolohe Andino (USA) vs. Griffin Colapinto (USA)
QF 2: Jorgann Couzinet (FRA) vs. Dion Atkinson (AUS)
QF 3: Jadson Andre (BRA) vs. Italo Ferreira (BRA)
QF 4: Seth Moniz (HAW) vs. Kanoa Igarashi (JPN)