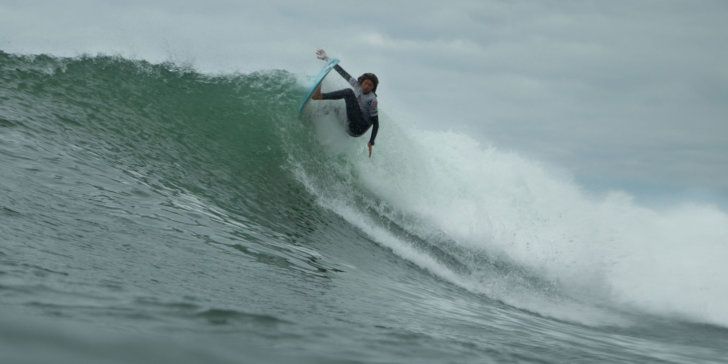 USA Surfing Crowns Jr. Champions
Results below
Cover Shot Hawaii Luana Silva ripping to the top. Photos: Kurt Steinmetz
San Clemente, California (June 20, 2018) – USA Surfing crowned its 2018-19 Junior Champions Wednesday, following five days of impressive surfing with several fiery performances scoring in the excellent range and clean, overhead Lowers waves.  The performances provide a preview of the surfers who could represent the United States in future Olympic Games.
Highlights included a battle of blow tails and air reverses between San Clemente's Jett Schilling and Kade Matson. Hawaii's girls U14 champion Luana Silva had a flawless 10-point ride unleashing a series of powerful turns. Boys U12 champion Cannon Carr of San Clemente blasted a 10-point full rotation air reverse. Sam Sibley's buzzer beater 9.57 wave to win girls U16.
"Our athletes brought excellence today," said an ebullient USA Surfing head coach Joey Buran. "The performances reflect months of preparation, hard work, sacrifice and honing mental heat management. It all builds, progresses and hopefully peaks at the right time, and for some it certainly did."
The 2018 USA Surfing Champions for each division are as follows:
Girls U12
Oaka Wong, Hawaii
Boys U12
Cannon Carr, San Clemente, CA
Girls U14
Luana Silva, Hawaii
Boys U14
Levi Young, Hawaii
Girls U16
Samantha Sibley, San Clemente, CA
Boys U16
Jett Schilling, San Clemente, CA
Girls U18
Luana Silva, Hawaii
Boys U18
Crosby Colapinto, San Clemente, CA
Competing at Lowers offers surfers an elite experience. It is one of only two surf contests allowed at one of the world's best surf breaks, Lower Trestles. Championships competition also features the latest technologies and talents used at the most elite levels of surfing. The heats are announced by crowd favorites Todd Kline and Ryan Simmons, 5-panel WSL/ISA judges use electronic scoring and replay, priority with LED display and head judges – all with years of experience analyzing surfing around the world.
At the conclusion of the competition, head coach Joey Buran and assistant Brandon Phillips presented the 2018-19 junior national development and junior national teams. The announcement of ISA world juniors training team will be made later this month. Selection to national USA Surfing teams brings athletes into an elite program with year-round high-performance training and skill development to not only build elite professional athletes, but future Olympians.
To recognize surfing's Olympic debut, finals day featured a first-of-its-kind exhibition heat with multi-sport Olympic medalists in a heat with surfing's Olympic hopefuls. Silver medalist Big Air snowboarder Kyle Mack, silver medal Snowboard Cross snowboarder Lyndsey Jacobellis, water polo gold medalist Kaleigh Gilchrist and Winter and Summer Paralympic gold medalist Alana Nichols joined WSL Olympic surfing hopefuls Griffin Colapinto, Kolohe Andino and Courtney Conlogue. The Olympians and Olympic hopefuls fired up the crowd on the beach, who chanted U-S-A, U-S-A. NBC had cameras in the water and on the beach to capture the action as they cover the road to surfing's debut in Tokyo's 2020 Olympic Games.
USA Surfing CEO Greg Cruse said it was fitting that the event took place in the same week as "Olympic Day" – a day to celebrate the Olympic movement that brings the love of sport to millions around the world. "The exhibition heat was truly a celebration of what the Olympics means for the sport of surfing," Cruse said. "It reflects a love of country and sport and a joy in competing on the world stage."
Contact: Becky Fleischauer becky (at) usasurfing (dot) org
USA Surfing, Inc.
Is a 501 (c) (3) California Non-Profit Corporation Tax ID # 81-4742350