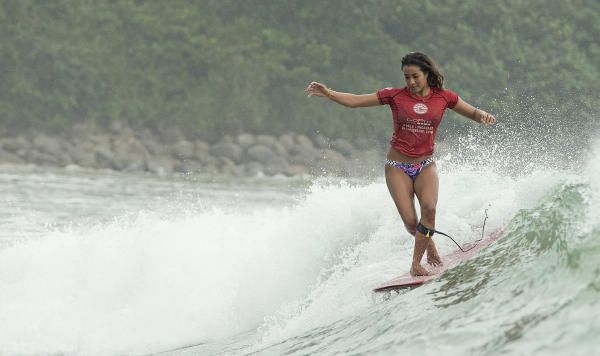 GoPro World Longboard Championship, China presented by Wanning
World's Best Dominate Riyue Bay Point at GoPro WLC
It was ladies day at the
GoPro World Longboard Championships, China presented by Wanning
(WLC) today as officials made the call to run through all of Round 2 and 3 of the women's event and put the men's event on standby. By day's end there was just 12 surfers left in contention for the 2014 ASP World Longboard title. A consistent day of good 3 foot surf saw the world's best female Longboard surfers dominate the long left hand waves at Riyue Bay.Reigning two-time ASP Women's World Longboard champion
Kelia Moniz
(HAW) comfortably advanced to the final 12 surfers although not as convincingly as her opening day heat win. Moniz showed flashes of her brilliance and held nothing back in the heat, always going for critical hang 10s along with utilising the fast and steep wave sections but she did fall on quite a few occasions and was pushed to the end by young Australian Erin Dark."I feel good after that heat," said Moniz. "I was a little leg wobbly, but now's the time to have a heat like that and I'm through and looking forward to bigger and better waves over the next few days. It's going to be a really fun finish!"
Number two seed Chelsea Williams (AUS) continued her great record here at Riyue Bay easily accounting for Japan's Yuki Suziki. Williams top scored the day with a 9.50 and an 8.50 for a heat-total of 18.00. William's surfing seems perfectly suited for this wave and her record here reflects that familiarity having won the event in 2011 and placed 2nd in 2012 and 2013.
"I do love this wave," said Williams. "It's a long peeling left point break that allows you to show your full bag of tricks. I feel I know the wave well, but so do my opponents. It's always nice to get big scores, the hard part is doing it in every heat."
Chloe Calmon storming through the draw at the GoPro WLC China.
Brazil's Chloe Calmon (BRA) was another of the day's standout performers, proving that coming here early to prepare for the event can pay off. Calmon rode the nose long and fast and performed beautiful and traditional drop knee cutbacks to easily advance into Round 4.
"It's nice to get another Round out of the way and keep progressing," Calmon said. "I was really excited to get back out there because the waves were really good today. I feel really comfortable with the new judging criteria, I feel like it really suits my surfing. Surfing with a classic style is what I like most about longboarding."
Recent post from 5 December, 2014. High Scores, Great Waves in China at GoPro World Longboard Champs
Wanning, Hainan Island – The GoPro World Longboard Championships, China hosted by Wanning began in excellent 1.25m (3-5 foot increasing) surf at Riyue Bay on Hainan Island. Tropical weather, warm water and super consistent clean offshore surf all made for an awesome day of competition which saw all of Men's Round 1 and the first eight heats of Women's Round 1 completed.
Kai Sallas (Hawaii) echoed the feelings of most of the surfers here after he posted an impressive opening heat win.
"For Longboarding these waves are excellent, long perfect peeling waves with some very good sections," Sallas said. "The climate and coconut trees remind me a lot of my home beaches in Hawaii and if the waves get a little bigger and more powerful in the coming days, as forecast, then we're in for a fantastic event and I'm hoping to build on my performance as we progress through the rounds."
French surfer Antoine Delpero highlighted the consistent quality of the waves posting two excellent 8-point-plus scores to easily defeat Yuji Hata (Jpn) and Nick Alexander (Haw).
"It was a good start for me but it's early days here," Delpero said. "The waves are very good and I need to be scoring excellent waves every round as it's a high quality field – I'll be ready for Round 3."
Reigning ASP World Longboard Champion Piccolo Clemente from Peru comfortably took the fast track to Round 3 defeating Chinese pair Zhuang Tie and Wei Huang with the Chinese pair showing good form despite their early round defeat.
"It's great to be back in China and I'm ready to defend my World Title" said Clemente. "That was a good start for me and with hopefully even bigger waves coming I'm confident I can do well here again."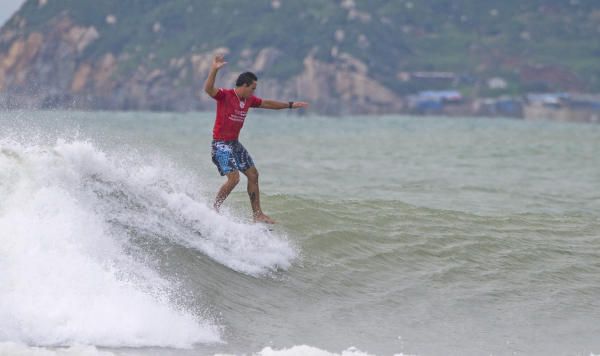 Duane Desoto
The performance level and high scores ramped up during the afternoon as the lower tide increased both wave save and quality with standout performances coming Jared Neal (AUS) Tony Silvagni (USA), Ned Snow (HAW) while Jefson Silva (Bra) held the highest single wave score of the morning of a 9.50 in his early Round 1 win.
The biggest upset out of the opening Men's round saw Australia's Nic Jones defeat the event number 2 seed Rodrigo Sphaier. Jones' performance already improves on his result last year when he left the event disappointed after being eliminated in Round 2.
Fortunately for both Men and Women competitors who did not win their heats today, Round 1 is non-elimination as winners jumping to Round 3 while 2nd and 3rd placed surfers go into sudden-death elimination Round 2.
Lindsay Steinriede (USA), the 2011 ASP Women's World Longboard Champion opened the Women's Round 1 with a close come-from-behind win by scoring an excellent 8 point ride in the final minutes to defeat Geodee Clark (HAW).
"I knew I was behind in the final minutes and I just hoped that mother nature would deliver a good wave for me," said Steinriede. "She delivered on that great final wave and I got the score so it worked out well for me."
Chloe Calmon from Brazil was one of the day's top performers opening her heat with a two wave heat tally of 18.65.
"I was so excited to surf the heat in such great waves" said Calmon. "I found my excellent wave scores early in the heat and it was fun to just surf the rest of the heat with only two others out there and just enjoy the surf – It was fantastic."
Late in the day the top two seeds Kelia Moniz (HAW) and Chelsea Williams (AUS) schooled their opponents scoring a series of excellent rides and sending a loud and clear message to the field that they are the two to beat here in China.
Moniz's posted the day's highest scoring wave of a 9.75 and heat tally of 19.25 in an almost perfect start to her Title defence!
"I just wanted to go out and have fun!" said Moniz. "Watching Chloe and Chelsea and all the girls surfing so well I was thinking 'Wow, I have my work cut out here'. So I just wanted to surf a good heat and feel my board. The waves are amazing, easily the best I've ever surfed here in China."
Tomorrow will be a more intense day for competitors as the event heads into elimination Round 2 that will see a bunch of surfers finish their campaigns and with an outstanding swell forecast for the entire event the action is certain to be exciting.
The GoPro World Longboard Championships China, hosted by Wanning will run from Dec 5 – 12.
Round 1 Results
Men's:
Heat 1: Duane Desoto (HAW) 15.50, Adam Griffiths (GB) 10.90, Tim Rada
Heat 2: Jefson Silva (BRA) 17.00, Jack Entwistle (AUS) 13.80, Tim Creignou
Heat 3: Matthew Moir (ZAF) 15.25, Harley Ingleby (AUS) 13.65, Clinton Guest
Heat 4: Antoine Delpero (FRA) 16.75, Yuji Hata (JPN) 9.25, Nick Alexander
Heat 5: Nic Jones (AUS) 14.50, Rodrigo Sphaier (BRA) 12.60, Maui Zack Meyers
Heat 6: Piccolo Clemente (PERU) 14.90, Zhang Tie (CHN) 6.20, Wei Huang
Heat 7: Kai Sallas (HAW) 14.10, Grant Beck (ZAF)7.50 , Remi Arauzo
Heat 8: Justin Quintal (USA) 16.25, Ben Skinner (GBR) 16.10, Keenan Edwards
Heat 9: Phil Rajzman (BRA) 14.05, Taylor Jensen (USA) 13.40, Nobuhiro Ogashira
Heat 10: Jared Neal (AUS) 17.80, Cole Robbins (USA) 14.65, Justin Redman
Heat 11: Tony Silvagni (USA) 17.60, Hailey Batista 13.10, Thomas Kibblewhite
Heat 12: Ned Snow (HAW) 16.00, Edouard Delpero (FRA) 15.40, Emilien Fleury
Women's:
Heat 1: Lindsey Steinriede (USA) 14.75, Geodee Clark (HAW) 14.00, Yuki Suzuki
Heat 2: Chloe Calmon (BRA) 18.65, Rachael Tilly 15.70 , Sam Suendermann
Heat 3: Jennifer Smith (USA), Victoria Vegara (FRA) 9.05, Erin Dark (AUS) 6.96
Heat 4: Karina Rozunko (USA), Akemi Oguma (JPN) 6.75 , Dong Kexin (CHN)
Heat 5: Chelsea Williams (AUS) 16.50, Hannah Bing (ZAF), Darci Lui (CHN)
Heat 6: Kelia Moniz (HAW) 18.50, Atalanta Batista  14.55, Yingyijing Huang
Heat 7: Crystal Dzigas (HAW) 15.75, Rosie Lock (AUS)  11.45, Cristiana Pires
Heat 8: Tory Gilkerson (USA) 15.25, Coline Menard (FRA) 10.25, Anneke Barrie
Upcoming:
Heat 9: Georgia Young (AUS), Alice Lemoigne (REU), Megan Godinez (HAW)
Heat 10: Hiroko Yoshikawa (JPN), Shiho Okazawa (JPN), Justine Mauvin (REU)
Heat 11: Karina Abras (BRA), Nava Young (AUS), Mergeet Wibbelink (ZAF)
Heat 12: Kaitin Maguire (USA), Yu-Ying Chou (CHN), Monica Guo (CHN)