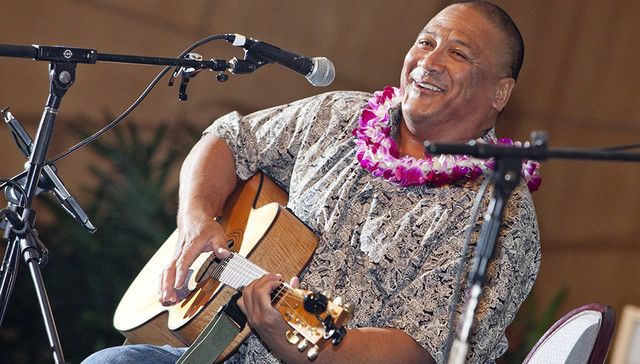 Legendary contemporary Hawaii musician, surfer Ernie Cruz, Jr., of the Ka'au Crater Boys, died today at Sandy Beach, the Honolulu Medical Examiner and a family member confirmed.
Lifeguards pulled Cruz out of the water after he was found unresponsive 100 to 150 yards offshore at Sandy Beach about 2:30 p.m. Lifeguards performed CPR, and Cruz was taken to a hospital in critical condition.
The Medical Examiner's office identified him as Cruz, 56. The musician's sister, Desiree, confirmed her brother's death on Facebook. An autopsy will be conducted Wednesday the 21st, the office said.
Cruz, along with Troy Fernandez, formed the iconic duo Ka'au Crater Boys in the early 1990s.
Sadly, Cruz's father, well-known musician Ernie Cruz Sr., died in May in Arizona. His brothers John and Guy are also well-known successful musicians.
Renowned ukulele teacher Roy Sakuma, who, with his wife Kathy, produced the Ka'au Crater Boys' four albums in the 1990s, described Cruz as a talented musician with an incredible sense of rhythm as well as a kind heart.

Enjoying life and making ours more enjoyable. R.I.P. Ernie. "Another Swell is coming your way…."

KHON coverage of Hoku Award Winner and Surf Lover
Sakuma managed the group before the duo parted in the late 1990s.
"He's going to go down as someone very special in the history of the music of Hawaii," Sakuma said in a phone interview. "He was always giving to others, and he always had nice things to say about other people."
Sakuma said the Hawaiian contemporary group left their mark on the local music scene. "He's a part of a group that inspired so many teenagers to pick up the ukulele."
Sakuma, who has long spotted trends among his students, noticed one when the duo came out with their hit songs, such as "Tropical Hawaiian Day" and "Surf."
"Then came so many inquires from teenagers, which we've never had before, wanting to learn to play the ukulele," Sakuma said.
Over the years, Sakuma said, many people have mimicked the style of the Ka'au Crater Boys — and if someone strums the four chords, C, A minor, F, and G7 on the ukulele, many people recognize it as the group's song, "Surf."
"It's just something about that song," Sakuma said. "When I used to go to schools and strum those four chords all the kids would yell out 'Surf.'"
"I'm kind of emotional," Sakuma added. "I really loved the man."
Star Advertiser