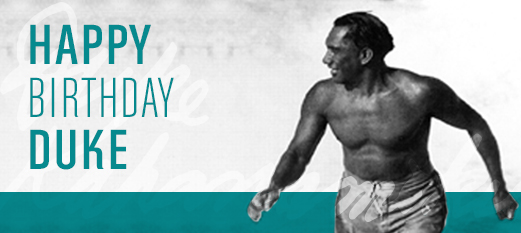 Come On Down to Waikiki to Celebrate!!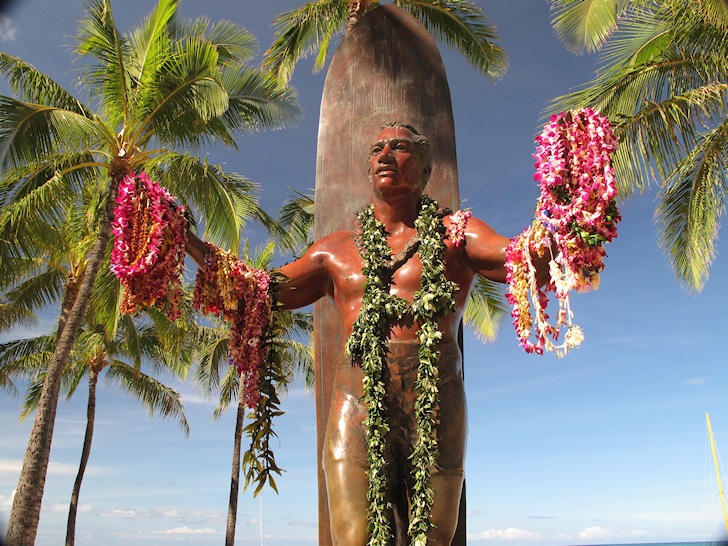 Duke Kahanamoku spirit lives on with his OceanFest and his 129th birthday anniversary (August 24, 1890)
Duke Paoa Kahinu Mokoe Hulikohola Kahanamoku was an incredible Hawaiian waterman and has been credited with spreading the sport of surfing.
Kahanamoku was a natural at virtually all water-related activities—bodysurfing, board-surfing, diving, sailing, and outrigger canoe paddling—but he first came to prominence as a short-distance swimmer. In the summer of 1911, at age 20, he broke the American 50-yard record by more than a second and beat the 100-yard world record by more than four seconds. (Kahanamoku had earlier that year co-founded the Hui Nalu Club, the world's second surfing organization following the 1908-formed Outrigger Canoe Club.) In the 1912 Olympics, held in Stockholm, Sweden, the 6'1″ 190-pound Duke used the already-famous "Kahanamoku Kick" to set another world record on his way to a gold medal in the 100-meter freestyle; he also won a silver medal in the 200-meter freestyle relay. In the 1920 Olympics in Antwerp, Belgium (World War I forced the cancellation of the 1916 Games), Kahanamoku won gold medals in both the 100-meter freestyle and the 400-meter freestyle relay; in the 1924 Olympics in Paris, the 34-year-old won a silver medal in the 100-meter freestyle. He was called the "human fish" and the "Bronzed Duke," and at age 42 Kahanamoku swam sprints as fast as when he was 21. In 1925, he made what the Honolulu Star-Bulletin described as a "superhuman rescue act," pulling eight fishermen out of heavy seas at Newport Beach, California.
Duke Kahanamoku is the star of "This Is Your Life," an American reality documentary series that was broadcasted on NBC television from 1952 to 1961. NBC TV host Ralph Edwards surprises the "father of modern surfing" and Olympic swimming champion with several of the Hawaiian's friends and relatives. The episode was aired on February 20, 1957.