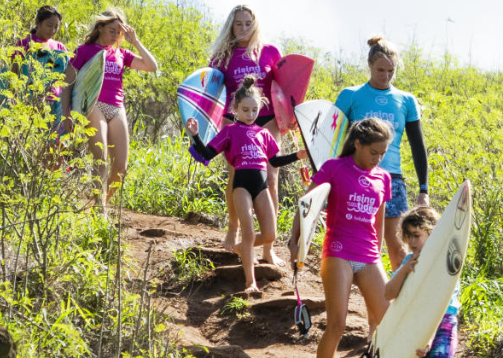 Women and men around the world -not just surfers- can be Proud.
It's astounding how far Women's Wave Riding evolution has come… matching that of men. As of the 2019 Tour, the WCT made Pro Surfing's Highest level pay match. too.
Surfing made History -across all sports- with this decision for equality.
The impact will grow -albeit never fast enough- for all sports someday. But, The Sport of Kings will have always been the first to make such a powerful & measurable statement.
Mahalo WSL and Mahalo Women! A special thanks to Friend & Team Mate Banzai Betty Depolito for her decades of positive influence. SNN
Front Page Image: Kelly Cestari/WSL
The International Women's Day date was moved to March 8 in 1913.  The day aimed to help nations worldwide eliminate discrimination against women. It also focused on helping women gain full and equal participation in global development. International Men's Day is also celebrated on November 19 each year.
The theme for International Women's Day (8 March) 2020 is, I am Generation Equality: Realizing Women's Rights. The theme is aligned with UN Women's new multi generational campaign, Generation Equality, which marks the 25th anniversary of the Beijing Declaration and Platform for Action.
MISSION: To celebrate women athletes and applaud when equality is achieved in pay, sponsorship and visibility
WSL Story
There's Much To Celebrate On International Women's Day
As we celebrate International Women's Day, we herald the accomplishments of every woman — younger, older, beginner or pro — that has dipped a toe in the water. From the sport's highest peaks to every local beach, there has never been a better time to be a surfer than right now.
At every level there is inspiration to be found. World Champion Carissa Moore has not only ushered in a new era in competitive surfing, but true to her compassionate, selfless nature, she has also dedicated herself to elevating the next generation of women in the water. Through her Moore Aloha initiative, which works with local girls both in her native Hawaii and throughout Polynesia, she is able to provide support, encouragement and expand the horizons of girls that dare to dream.
And as surfing makes its Olympic debut this year, Moore will serve as a true ambassador of aloha, much like the great Duke Kahanamoku did at the Games over 100 years ago. For the first time ever, women from around the world will proudly wear their country's colors as they represent surfing on sport's biggest stage.
When the swell is up and the ocean's flexing, women like Justine Dupont, Paige Alms and Keala Kennelly have heeded the call. Pushing the limits further than any women before, like Moore, their influence far exceeds what they do on a wave. These women on the vanguard of big-wave surfing exemplary role models, fighters to the end. They continue to lead the charge in the lineup.
Indeed, there is much to celebrate this International Women's Day. There are women in the shaping bay making beautiful surfboards. Women like Cher Pendarvis (also a talented writer and artist), Christine Brailsford Caro, Ashley Lloyd and Kelly Connolly are masters with the planer and are making exquisite surf craft.
Women owned and operated surf brands like Seea, Kassia and Starfysh Wetsuits are ensuring that the surf shops are not just filled with stuff for the guys, but also offer a feminine perspective and sensibility.
But as we cheer for all the goodness of today, it's important to honor and recognize the path blazed by those that came before; women like Rell Sunn, Jeannie Chesser, Lynne Boyer, Margo Oberg, Joyce Hoffman, Linda Benson, Jericho Poppler, Patti Paniccia and too many more to keep list here. The sacrifices they made, the dedication and love for surfing that they harbored — and the shit they had to put up with — without them we wouldn't be where we are today.
"Whatever may have been said or done in the past is the past. We can't change that. But we can make this a new beginning, " tells Paniccia, who besides helping pioneer professional surfing throughout the 1970s, has had a long, extensive career in broadcast journalism and is currently a law professor at Pepperdine University.
"One time, while surfing big waves on the North Shore somebody who I do know know said something to me. I can still hear his words today," Paniccia continues. "Just as a big set was coming in, he looked at me and pointed to the channel saying in the nicest and most sincere way, 'Better paddle, girly. You're right in the lineup.' Oh, I paddled all right. Straight to the peak of the biggest wave of the incoming set.
"I broke my favorite board on that wave. But I would do it again in a heartbeat."
It hasn't always been easy, and the journey continues today, but in 2020, the women that have made waves are propelling the sport, culture and lifestyle ever forward. For that we are thankful and celebrate each and every one of them today.