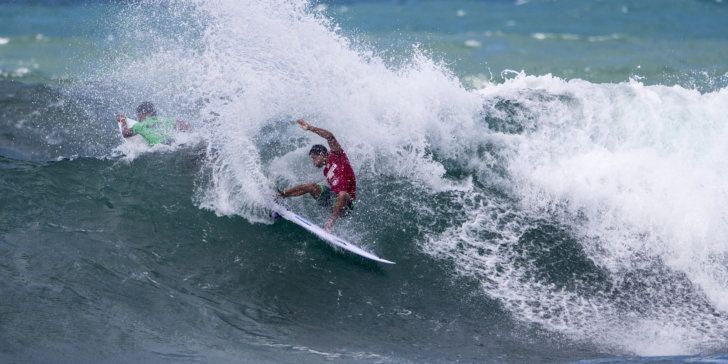 CT QUALIFICATION FOR WILLIAN CARDOSO
– TAHITIAN MICHEL BOUREZ SCORES EXCELLENT 9.10 RIDE
– WORLD TITLE CONTENDERS JOHN FLORENCE AND JORDY SMITH ADVANCE 
 2x Hawaiian Pro winner Michel Bourez (PYF) displayed classic power Tahiti was victorious in round three heat 14 w/ turns for a 9.10 during Day 3 of the Hawaiian Pro. Image: WSL / Freesurf / Heff
| | |
| --- | --- |
| Event:    |   Hawaiian Pro                                                |
| Window: |   November 12 – 24, 2017 |
| Rating: |   Men's QS10,000 |
| Conditions: |   4-6ft. N swell, gusty onshore winds |
HALEIWA, Oahu/Hawaii – (Sunday, November 19, 2017) — The Hawaiian Pro roared back to action in heavy, overhead surf for competitors in Round Three today at Haleiwa Ali'i Beach Park, which featured top seeds and World Surf League (WSL) Championship Tour (CT) title contenders John John Florence (HAW) and Jordy Smith (ZAF). The biggest triumph of the day came in the form of 2018 CT qualification for Brazil's Willian Cardoso, who advanced in first from Round Three Heat 11 to finally make the tour after 12 years competing on the WSL Qualifying Series (QS)."It's not been easy, I've been in this moment before, been here, needed a result and it never came," said Cardoso during an emotional post-heat interview. "After all these years working hard, everyone helped me. After 12 years on the (QS) tour this happened right now, after I lost my sponsor, but I have really good people behind me. My family, they helped me a lot to help my dreams come true. Super stoked to qualify next year."

Cardosa launched his career today and will compete alongside the best on the 2018 WSL Championship Tour. Image: WSL/Freesurf/Heff
Florence garnered a large crowd ahead of his heat with Mitch Coleborn (AUS), Bino Lopes (BRA) and Benji Brand (HAW) and drew out big, arcing turns for a combined heat score of 14.14. His best wave, an excellent 8.17, still wasn't enough to overtake Coleborn's power surfing and the Australian ended up with the heat win over the current World Champion. Coleborn earned the highest combined heat score of the day, 16.34, and tied with Filipe Toledo (BRA) for the second-best wave of Round 3, an 8.37.
As the event defending winner, Florence is using the Hawaiian Pro to get into the North Shore winter groove and looks forward to an exciting Vans Triple Crown of Surfingseason.
"It's kind of like a nice warm up in a way, surfing Haleiwa and then Sunset, they're real powerful waves," commented Florence. "I'm getting used to surfing heats back at home again because it is different than anywhere else in the world. I'm excited, I think Pipe is going to be insane and it's just a fun year.

World Title contender Florence looked laid-back and stylish during Round 3. Image: WSL/Freesurf/Keoki
"This year with everything coming down to Pipe for the world title, it's pretty interesting, puts that added pressure, but it's fine, I'm stoked," Florence continued. "I still have yet to try to win Pipe so I really want to do that. We'll see what happens at the end of the year and stoked to surf Haleiwa, Sunset and Pipe with nobody out."
Hawaii athletes Kiron Jabour (North Shore), 2012 Hawaiian Pro winner Sebastian Zietz (Kauai) and Josh Moniz (Honolulu) will join Florence in Round Four as the four remaining locals in the Hawaiian Pro. Jabour was the only local surfer still left in the event that advanced from the beginning round of competition.
Current World No. 3 and title contender Jordy Smith (ZAF) showcased the versatility of Haleiwa with a combination of maneuvers in Heat 9 that included a barrel ride, turn and air.

Smith rebounded from the barrel with a solid carve and air reverse to complete the wave and earn a 7.60. Image: WSL/Freesurf/Keoki
"Paddling into that wave, I think (Adam) Melling had priority, but he passed it up," said Smith. "It was a really slow start, but I saw it doubling up. You never know, you have to keep your options open and never count anything out over here. The waves break along shallow little reef so you never know what might pop up, luckily in my case it was a little barrel."
Judges scored the wave a 7.60 and Smith was able to back this up with a 5.60 he scored earlier in the heat. Advancing alongside the South African was Honolulu's Moniz who, despite his young age of 21, has competed in the Vans Triple Crown five times. This is also the second time he has drawn Smith in a heat this year.
"I was pretty nervous since it was my second time this year being matched up with Jordy," commented Moniz. "But it kind of made it easy for me, I knew I had to stick to my own game plan and not think what he was doing. At some point it was actually a bit easy for me, my strategy was pretty simple, I had to go for it and not worry about what the other guys were doing.

Moniz posted an 11.90 to advance behind CT veteran Jordy Smith (ZAF) in Heat 9. Image: WSL/Freesurf/Keoki
"My main goal is I want to make heats and put on a good performance," he continued. "I always make it through a couple heats, but I haven't put together two good events. I'm not focused on qualifying, I just want to put together two good events and that's my goal."
The powerful CT surfer from Tahiti, Michel Bourez (PYF) earned the best wave of the day and third highest of the event, a 9.10 for two very controlled, critical turns on a set wave. After dropping this near-perfect ride, Bourez comboed the field but Australia's Josh Kerr was able to tally two mid-range scores to advance in second.
One of only five surfers to have won all three Vans Triple Crown events, Bourez looked confident and comfortable in the chunky surf thanks to his years of experience in similar waves back home in Tahiti, and time well-spent in Hawaii.

Bourez unloads a backhand attack and advanced in first with a heat total of 15.77. Image: WSL/Freesurf/Heff
"I'm super honored by it, it took me ten years to get to that level," said Bourez. "I know this place is super special because Ali'i Beach is where I won a long time ago, then I won Sunset and last year at Pipe, so Hawaii is big for me."
Bourez has won the Hawaiian Pro twice now (2013 and 2008) and has become a household name on the North Shore after demonstrating his talent amongst Hawaii's best power surfers.
RESULTS
Surfers in order of 1st through 4th, all athletes from Hawaii unless otherwise noted
Round of 64 (1st and 2nd advance, 3rd = 33rd place, 4th = 49th place)
H2: Caio Ibelli (BRA), Brett Simpson (USA), Ezekiel Lau, Nat Young (USA)
H3: Peterson Crisanto (BRA), Ian Gouveia (BRA), Joan Duru (FRA), Ramzi Boukhiam (MAR)
H4: Kiron Jabour, Kolohe Andino (USA), Rafael Teixeira (BRA), Keanu Asing
H5: Frederico Morais (PRT), Yago Dora (BRA), Dion Atkinson (AUS), Dusty Payne
H6: Victor Bernardo (BRA), Connor O'Leary (AUS), Jesse Mendes (BRA), Davey Cathels (AUS)
H7: Wiggolly Dantas (BRA), Miguel Pupo (BRA), Ricardo Christie (NZL), Jorgann Couzinet (FRA)
H8: Mitch Coleborn (AUS), John John Florence, Bino Lopes (BRA), Benji Brand
H9: Jordy Smith (ZAF), Joshua Moniz, Adam Melling (AUS), Noe Mar McGonagle (CRI)
H10: Italo Ferreira (BRA), Maxime Huscenot (FRA), David Van Zyl (ZAF), Conner Coffin (USA)
H11: Willian Cardoso (BRA), Sebastian Zietz, Cam Richards (USA), Vasco Ribeiro (PRT)
H12: Michael Rodrigues (BRA), Jadson Andre (BRA), Ethan Ewing (AUS), Deivid Silva (BRA)
H13: Filipe Toledo (BRA), Tomas Hermes (BRA), Lucas Silveira (BRA), Imaikalani deVault
H14: Michel Bourez (PYF), Josh Kerr (AUS), Carlos Munoz (CRI), Michael Dunphy (USA)
H15: Leonardo Fioravanti (ITA), Patrick Gudauskas (USA), Kanoa Igarashi (USA), Luel Felipe (BRA)
H16: Wade Carmichael (AUS), Stu Kennedy (AUS), Alejo Muniz (BRA), Thiago Camarao (BRA)
The Hawaiian Pro event window will run from November 12 – 24, followed by event No. 2 of the Vans Triple Crown of Surfing, the Vans World Cup of Surfing, from November 25 – December 6 and  event No. 3, the Billabong Pipe Masters, from December 8 – 20.
For more information, please visit www.worldsurfleague.com or download the WSL app to receive updates on your mobile device and watch LIVE action. Fans can also tune into Spectrum SURF Channel, which will televise the 2017 Vans Triple Crown events LIVE and in replay on digital channels 250 SD and 1250 HD, across the state of Hawaii.
About Vans
Vans®, a VF Corporation (NYSE: VFC) brand, is the original action sports footwear, apparel and accessories brand. Vans authentic collections are sold globally in more than 75 countries through a network of subsidiaries, distributors and international offices. Vans also owns and operates nearly 600 retail locations around the world. The Vans brand promotes the action sports lifestyle, youth culture and creative self-expression through the support of athletes, musicians and artists and through progressive events and platforms such as the Vans Triple Crown of Surfing®, the Vans U.S. Open of Surfing, Vans Pool Party, Vans Custom Culture, Vans Warped Tour®, and Vans' cultural hub and international music venue, the House of Vans.