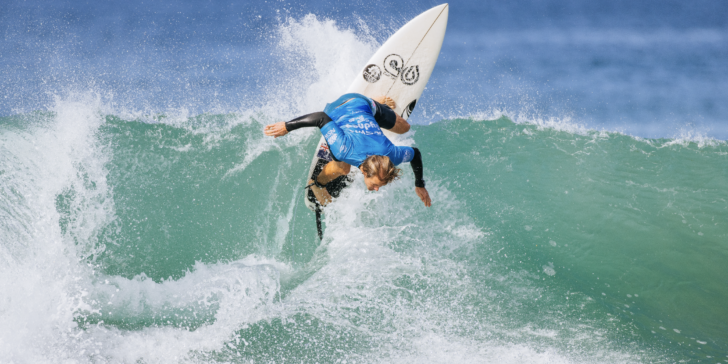 Mixed Results For Former CT Stars at Sydney Surf Pro
International Upstarts Find Form at Manly
Northern Beaches Locals Give Fans Something to Cheer About
front page: New Zealand competitor Billy Stairmand (NZL) displayed his impressive backside technique at Manly Beach today, winning his Round of 96 heat. Credit: © WSL / Dunbar
MANLY BEACH, Sydney, NSW / Australia (Thursday, May 19, 2022) –  The GWM Sydney Surf Pro presented by Rip Curl, the second stop of the 2022 World Surf League (WSL) Challenger Series (CS), saw excellent conditions at Manly Beach today with groomed two-to-three foot waves running across perfect sandbanks. Large crowds on the beach enjoyed sunshine and a high performance day of competition with the first 19 heats of the men's Round of 96 being run.
Pictured: Alejo Muniz (BRA) was one of the former elite level CT competitors who progressed through his Round of 96 heat at Manly today Credit: © WSL / Ryder
Mixed Results For Former CT Competitors on the Challenger Series 
Mixed results today for former CT standout surfers and Australia Olympian's Owen Wright (AUS) and Julian Wilson (AUS). While Wilson was able to take a confidence boosting win in his heat, Wright was unfortunately relegated to third position late in his heat and eliminated from the event. A former winner here at Manly, Wilson looked in good touch, even surfing on the board he competed on at the Tokyo Games last year with.
"These waves on the Challenger Series are good and I'm enjoying getting back into competition," Wilson said. "Surfing four man heats is definitely a change to what I was used to and you really have to be hungry in the water to get the best waves and be prepared to fight for those waves but I'm becoming more familiar with the format and the waves here at Manly and feel like I can keep improving on my scores."
Another former CT competitor who looked in good touch within his opening heat at Manly was Brazilian representative Alejo Muniz (BRA). Muniz, another former winner here at Manly, has only just returned to the water after sustaining an injury whilst surfing earlier this year and has worked hard to get back for the CS season. The hard work looks to have paid off with the super fast natural footer taking a solid heat win to progress into the Round of 48.
"I'm coming off an injury I sustained in Argentina a few months ago but I'm getting better quickly and no matter what I'll do my best regardless," said Muniz. 'It's good to be competing here with my brother, we train together and advise each other before heats and it helps – I'll be here on the beach for him later today for his heat as well and hopefully the waves remain good."
Other former CT competitors that found success on Day 1 of competition included Ryan Callinan (AUS) Willian Cardoso (BRA) who progressed whilst the likes of Jesse Mendes (BRA), Adrian Buchan (AUS) and Frederico Morais (PRT) where unable to move past the opening round in Sydney.
Kiwi Competitors Fly Flag 'Across The Ditch' on Day 1 of Competition 
Kiwi duo Billy Stairmand (NZL) and Te Kehukehu Butler (NZL) surfed in back-to-back heats today at Manly and both progressed into the Round of 48 with Stairmand taking a commanding victory in his Round of 96 matchup. Hailing from the long left point of Raglan, Stairmand is known for his razor-sharp backhand attack and it showed in the running lefts on offer at Manly Beach today.
"I had a great start in that heat, my competitors made mistakes with waves while I was able to pick off a great left and get a solid score and the heat played out well from there" said Stairmand. 'I'm really enjoying the Challenger Series – traveling the world and I love competing so this is a good life, especially when I'm winning heats and surfing good quality lefts here is ideal because I'm from Raglan and surf lefts all the time – It's suits me for sure."
Pictured: Joshe Faulkner (ZAF) progressed through his Round of 96 heat at Manly today with an impressive performance. Credit: © WSL / Dunbar
South African Competitors  Impress on Day 1 of CS Event at Manly 
South African surfers Joshe Faulkner (ZAF) and Adin Masencamp (ZAF) both posted opening round heat wins today with Faulkner particularly impressive with a lively display of progressive surfing in his win over Cody Young (Haw). The pair will progress into the Round of 48 while their countryman Eli Beukes (ZAF) will unfortunately leave Manly with a first round loss.
"I'm super stoked to take that win," Faulkner said. "The last event on the Gold Coast I was eliminated by just one one hundredth of a point and that was disappointing so to win today makes me feel a lot better. There's three Sth Africans in the field, two of us have already won our heat today and hopefully Slade Prestwich can also win later today – We've traveled a long way to be here but it feels good right now."
Dylan Moffat and Jordy Lawler Do Local Crowd Proud on Northern Beaches 
The day's opening heat featured local competitor Dylan Moffat (AUS) and a solid crowd of supporters who made sure they were on the beach early getting behind the North Narrabeen youngster. Moffat didn't let them down, opening the heat with a decent 5.67 ride and shortly after posting a near excellent 7.33 to control the heat throughout and take a relatively comfortable win over highly rated Hawaiian Ezekiel Lau (HAW) who took the second advancing spot in their four man heat.
The local supporters were treated to another winning performance by highly fancied Northern Beaches resident Jordy Lawler (AUS) who opened his heat with an impressive air-reverse giving him control of the heat and the win over Hawaiian Brodi Sale (HAW). Lawler is a past winner of this event and has been on the cusp of Championship Tour (CT) qualification over the past 12 months and appears well focused and prepared for the 2022 Challenger Series.
"It was good to pull that air reverse early in the heat and get a good score – It set me up straight away to focus on a back up score so it was an easy win in the end," Lawler said. "I live just around the corner and having won here in 2019 it feels good to be here surfing again with a lot of local support. I've learnt a lot surfing against the world's best in the past year and I just want to apply what I've learnt to the task and qualify for the CT 2023."
Local wildcards George Pittar (AUS) and Saxon Reber (AUS) put on a great performance in front of their home crowds but were unable to find their way into progressing positions at Manly Beach.
Pictured: Local lad Dylan Moffat (AUS) enjoying the hometown support at Manly today. Credit: © WSL / Ryder
The 2022 GWM Sydney Surf Pro presented by Rip Curl Challenger Series and WSL Longboard Tour events will run at Manly Beach through May 24, 2022. For more information, please visit WorldSurfLeauge.com or check the free WSL App.  The next call on competition will be made tomorrow morning at 6:45 a.m. AEST for a possible 7:05 a.m. start.

This event is proudly supported by GWM, Rip Curl, Destination NSW, Bond University, Harvey Norman, Bonsoy, Boost Mobile, Oakberry, Oakley, Dometic Outdoor, Coopers, Northern Beaches Council, Havaianas, Bailey Ladders, and FCS. 
Watch LIVE
All Challenger Series events will be broadcast LIVE on WorldSurfLeague.com, WSL's YouTube channel, and the free WSL app. Check local listings for coverage from the WSL's broadcast partners. For fans watching in Brazil, coverage of the competition's Quarterfinals and beyond will continue exclusively on WorldSurfLeague.com and SporTV.For more information, please visit WorldSurfLeague.com.