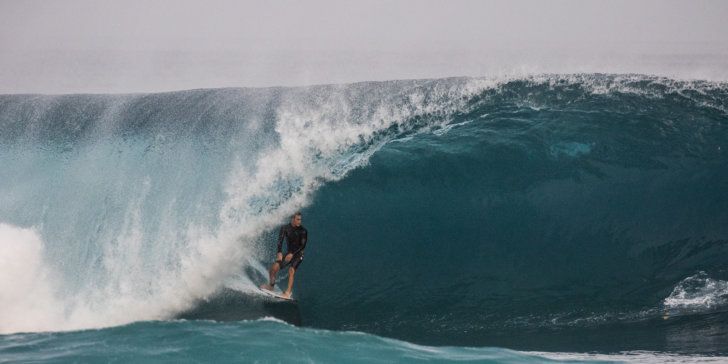 EVENT to FINISH EASTER SUNDAY!

Cover shot: Heavy Casual, Barron Mamiya_PipeProJunior_JS0

VID HI LITES AT BOTTOM!
– KAUAI'S KAINEHE HUNT EARNS PERFECT 10, 19.10 HEAT TOTAL
– DEFENDING EVENT WINNER BARRON MAMIYA ADVANCES INTO QUARTERFINALS
Japan's Daiki Matsunaga sets up on a picture-perfect Pipeline left. Credit: © WSL / Chlala
HALEIWA, Oahu/Hawaii – (Saturday, March 31, 2018) — Athletes as young as 12 years old fearlessly charged world-famous Pipeline today for the World Surf League (WSL) Pipe Pro Junior, a Men's Junior Qualifying Series (JQS) event, in a groundbreaking opportunity for local and international surfers aged 18 and under. The clean WNW swell consistently pumped out 10-12ft. surf with wave faces exceeding 15ft. on the largest sets, and juniors like Kainehe Hunt (HAW), Daiki Matsunaga (JPN) and Luke Swanson (HAW) demonstrated confidence and boldness well beyond their teenage years.

Japan's Daiki Matsunaga sets up on a picture-perfect Pipeline left. Credit: © WSL / Chlala
Hunt, 16, from Kauai, had a phenomenal performance during Round Two Heat 4 and posted the event's only perfect 10-point ride on a solid 10ft. Backdoor peak. The natural footer stalled off the bottom to set up a long, draining barrel and was cheered on by fans and fellow surfers across the beach.
"I saw the wave and I knew the kid in green (Dwight Pastrana) was going to go left because he's goofy-foot, so I kind of was thinking that this wave was a really good Backdoor wave," said Hunt. "I took off and couldn't knife it, so I faded and went straight and just stood there and I came out in front of Eli (Hanneman) and he was screaming at me. I don't know if he was upset or happy, but it was a good ride."

Hunt slotted in a thick Backdoor barrel for a perfect 10-point ride. Image: WSL/Ecker
Minutes before his perfect ride, Hunt found an excellent 9.10 for a classic backhand Pipe barrel. He earned a heat total of 19.10 out of a possible 20 and set the benchmark for perfection at Pipe.
"This definitely is a confidence-builder," Hunt continued. "I feel like I can do even better than what I just did out there, and I have a lot of room for improvement, so I'm psyched up for tomorrow for sure. Pipeline is a scary form of Mother Nature, but we all love it because we get the thrill and the drive from it."
Hunt is home after a two-week trip to Tahiti where he placed 5th at the Air Tahiti Rangiroa ProMen's QS 1,000 in a similar barreling reef break, and 17th in both the Papara Pro Open Men's QS 1,000 and Papara Pro Junior. After securing the best single wave score and heat total of the event, Hunt is feeling assured for a successful final day once competition resumes.
Defending Pipe Pro Junior winner and 2017 WSL Hawaii/Tahiti Nui Regional Junior Champion Mamiya, 18, demonstrated keen knowledge of the break when he posted the best ride of Round Two Heat 1, a 6.20, after quietly sitting in the lineup and assessing the best take-off positioning. With only 60 seconds on the clock and sitting in last place, Mamiya dropped into Backdoor and threaded a nice barrel into the channel to jump into the number one advancing position.
"I wasn't too worried about it, if you lose you lose, there's always another contest," said Mamiya. "But that wave came and I was like, 'oh this could be a good one,' and then I bottom-turned and I pulled in and it was a good wave. When I kicked out I was hoping I got the score. The waves are hard, super hard, I didn't catch a wave until five minutes left in the heat so I'm stoked."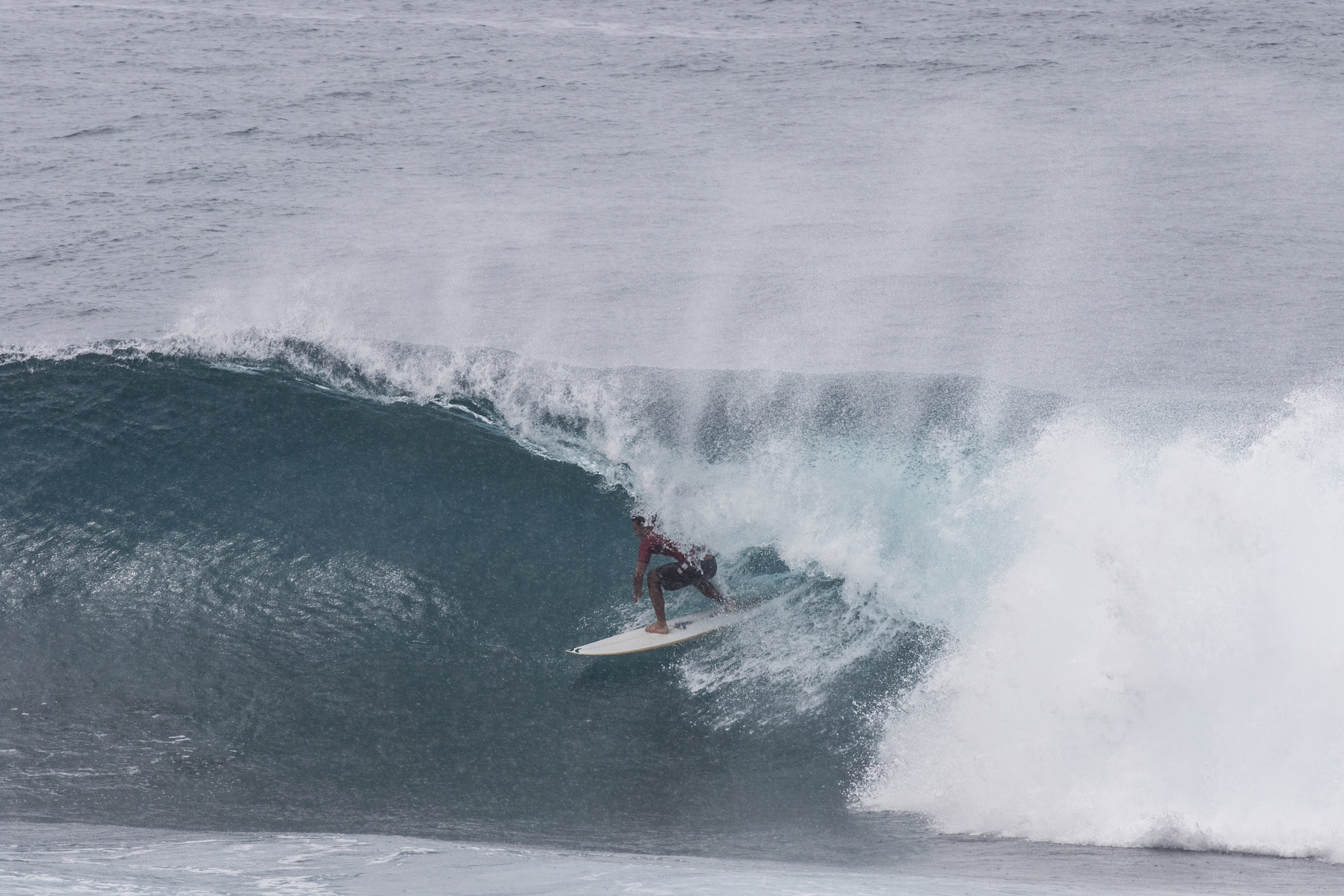 Mamiya finds a keeper score, a 6.20, on a Backdoor barrel. Image: WSL/Chlala
Seventeen minutes shy of completing Round 1, contest organizers had to put the event on standby due to a strong westerly front that slammed Pipeline with straight onshore winds, rain and uncontestable conditions. However, athletes in the first seven heats enjoyed perfect Pipe and once the event was called back on at 1pm HST, Pipe and Backdoor turned on again to deliver more flawless surf.
"The waves this morning were perfect, best conditions you could ask for at Pipe," Mamiya continued. "Right now it's cleaning up and getting pretty good again, so I'm psyched to keep going. The waves are fun and hopefully tomorrow is good too."
Mamiya sits in the No. 7 position on the QS after a runner-up finish at the Burton Automotive Pro Men's QS 6,000 and is focused on qualifying for the Championship Tour (CT) in 2019. He is treating the Pipe Pro Junior as a high-rated QS event and looking to gain more competitive experience in the meantime.
"I put a lot of pressure on myself just to get better as a surfer," Mamiya said. "Of course I want to qualify, I'm putting pressure on myself to do it; I'm training, I'm trying to eat good and do all the right things and if it doesn't happen there's always next year, I'm still super young, so whatever happens, happens. But I'm just focused on myself and going to treat the comp like a QS and keep going."
Daiki Matsunaga (JPN), 16, earned one of the highest single wave scores of the day, a 9.10 for a late drop and committed bottom turn into a deep barrel that he emerged out of after the spit on a solid 12ft. wave face. Matsunaga competed last at the Minami Boso Junior Pro in Chiba, Japan, and also put in time two miles down the road at another revered break, Sunset Beach, for the Sunset Open and Pro Junior in January.

Matsunaga on his excellent 9.10 in Round One Heat 2. Image: WSL/Chlala
Matsunaga advanced from both Rounds 1 and 2 today and will match up against Wyatt McHale (HAW), Sage Burke (HAW) and Hunt in the second Quarterfinal once competition resumes.
Regional Junior front-runner McHale, 16, nabbed a heat win ahead of Luke Swanson (HAW)after coming off of a runner-up finish in Tahiti at the Papara Pro Junior and a fourth at the Sunset Pro Junior. He has made it a top priority to keep his results consistent for ultimate qualification into the World Junior Championships in Australia.
Swanson, 14, charged the massive surf with confidence and enjoyed the occasion to compete with the older juniors that he has grown up admiring.
"It's an honor because I've always looked up to these guys as a kid," said Swanson. "Just growing up watching them kill it out here and now I'm in a heat with them, I just trip out on that. They're so good out here so I'm stoked. It's crazy because on a normal day there's a full pecking order and you only really get the scraps, so with only three other guys out there it's pretty much like a dream because you never get it on any other day of the year."

Swanson finds coverage on a left in Round 2. Image: WSL/Chlala
Billabong surf coach and former CT challenger Rainos Hayes (HAW) was on-hand to support the young surfers and encourage them in the challenging conditions. As a seasoned competitor himself, Hayes is aware of the both the physical and mental challenges of tackling the beautiful yet dangerous wave at Pipeline.
"The size of the surf that we had out here this morning was enough to make any CT or QS guy have to second guess what they're made of," said Hayes. "I think the only difference there is that pros know they can and are willing to push themselves outside their boundaries. With kids, it's still a learning process and the majority of the kids have never been in conditions like this, let alone this size at Pipeline, so it was a learning experience for almost all of them. There's a handful of kids that can play at this level, and they're all playing, so it's pretty incredible."
The competition will be called back on tomorrow morning at 8:00am HST with the Wahine Pipe Pro taking to the water first. The Pipe Pro Junior Men's Quarterfinals will resume around 10:30am with event winners being crowned by 3pm for an exciting Easter Sunday celebration. Surfline forecasts a fading WNW-NW swell with light offshore winds all day and waves in the 6-8ft+ range with occasional 10ft. sets for Sunday, April 1.
Men's Pipe Pro Junior Results
Surfers listed in order of 1st through 4th, all surfers from Hawaii unless otherwise noted.
Round 2 (Round of 31), 1st and 2nd advance, 3rd = 17th place, 4th = 25th place
H1: Barron Mamiya, Sage Burke (USA), Cole Frye, Kurtis Vaughan (AUS)
H2: Dylan Franzmann, Daiki Matsunaga (JPN), Alan Cleland (MEX), Cole Alves
H3: Wyatt McHale, Luke Swanson, Felix Bourgoin (PYF), Robbie McCormick (USA)
H4: Kainehe Hunt, Elijah Hanneman, Jackson Bunch, Dwight Pastrana (PRI)
H5: Kalani Rivero, Finn McGill, Maxime Ratia, Maikai Burdine
H6: Makana Pang, Reef Tsutsui, Logan Bediamol, Sammy Gray
H7: Malakai Martinez (CRI), Ryder Guest, Isaiah Briley, Jake Riccobuano
H8: Kyle Tester (USA), Hendrix Frankenreiter, Ocean Macedo, Keanu Taylor
Round 1 (Round of 48), 1st and 2nd advance, 3rd = 33rd place, 4th = 41st place
H1: Kurtis Vaughan (AUS), Alan Cleland (MEX), Tyty Kirby, Gavin Hogan
H2: Daiki Matsunaga (JPN), Sage Burke (USA), Josh Boyle (AUS), Zac Hedemann
H3: Robbie McCormick (USA), Dwight Pastrana (PRI), Makana Franzmann, Diego Ferri
H4: Jackson Bunch, Felix Bourgoin (PYF), Levi Young, Jake Make
H5: Kalani Rivero, Reef Tsutsui, Kobi Clements (AUS), Sage Tutterow
H6: Joshua Chester, Maxime Ratia, Noah Hill, Riley Morgan (USA)
H7: Malakai Martinez (CRI), Kyle Tester (USA), Keanu Miller (AUS), Eimeo Czermak (PYF)
H8: Hendrix Frankenreiter, Isaiah Briley, Nokoaakeakua Kuamo'o-Mendiola, Kanoa Shannon