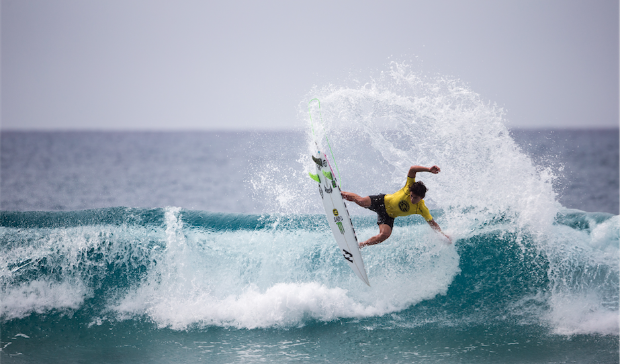 High performance in High performance Pipe. All photos Heff/Freesurf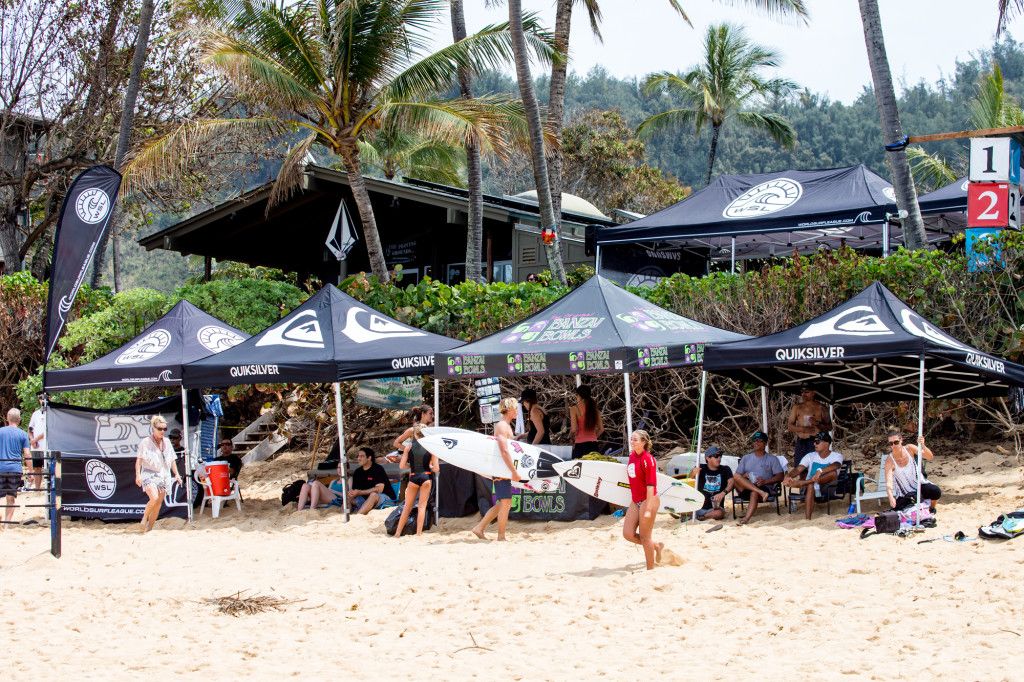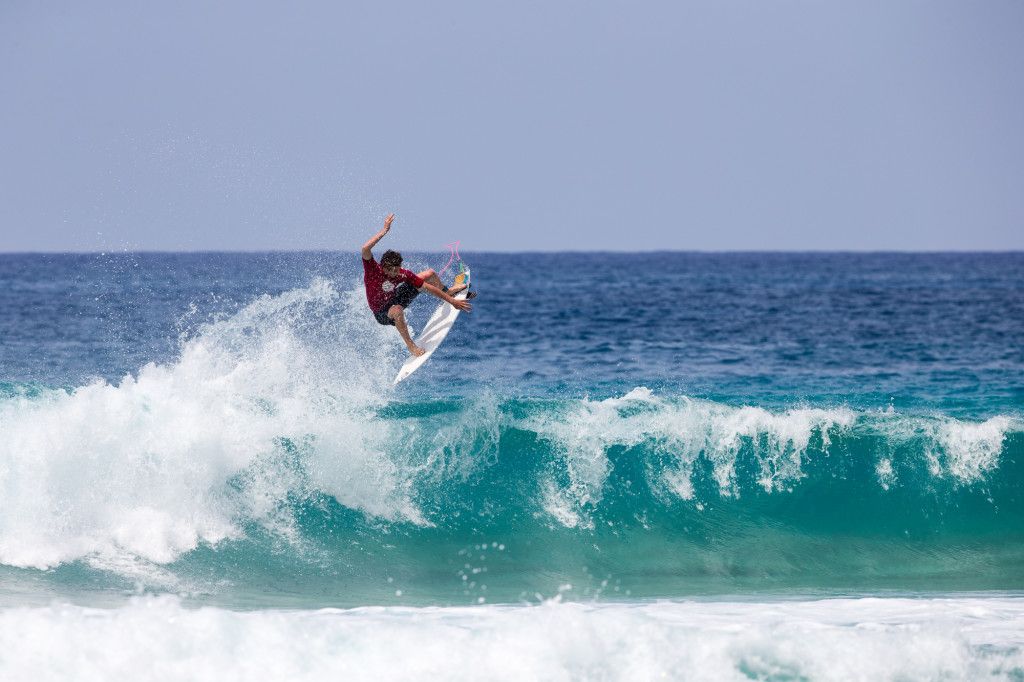 Braden Jones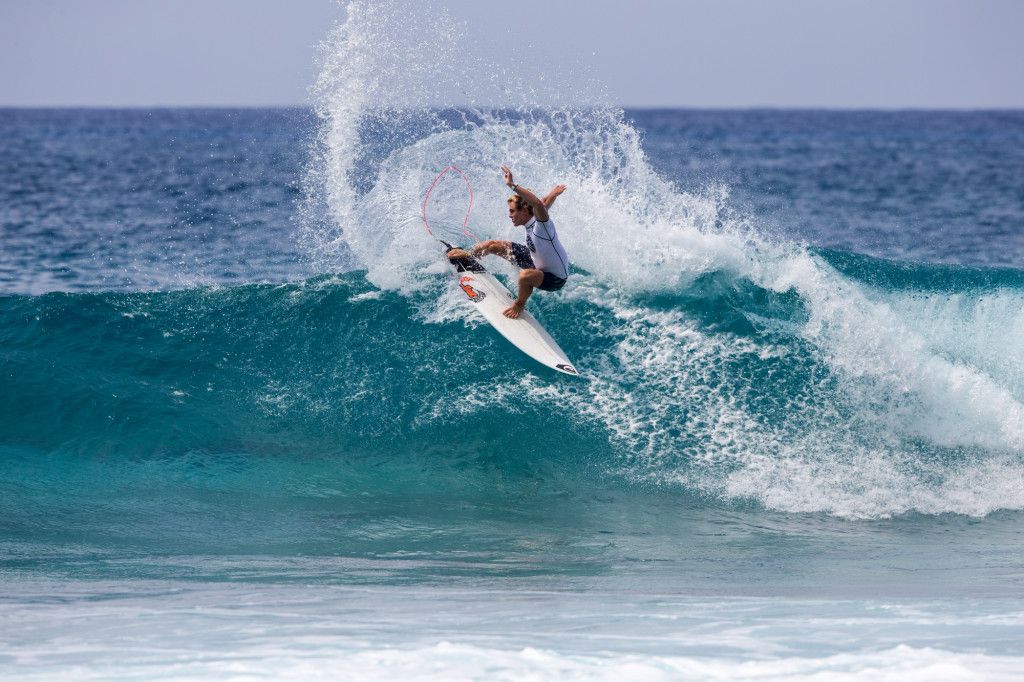 Cody Young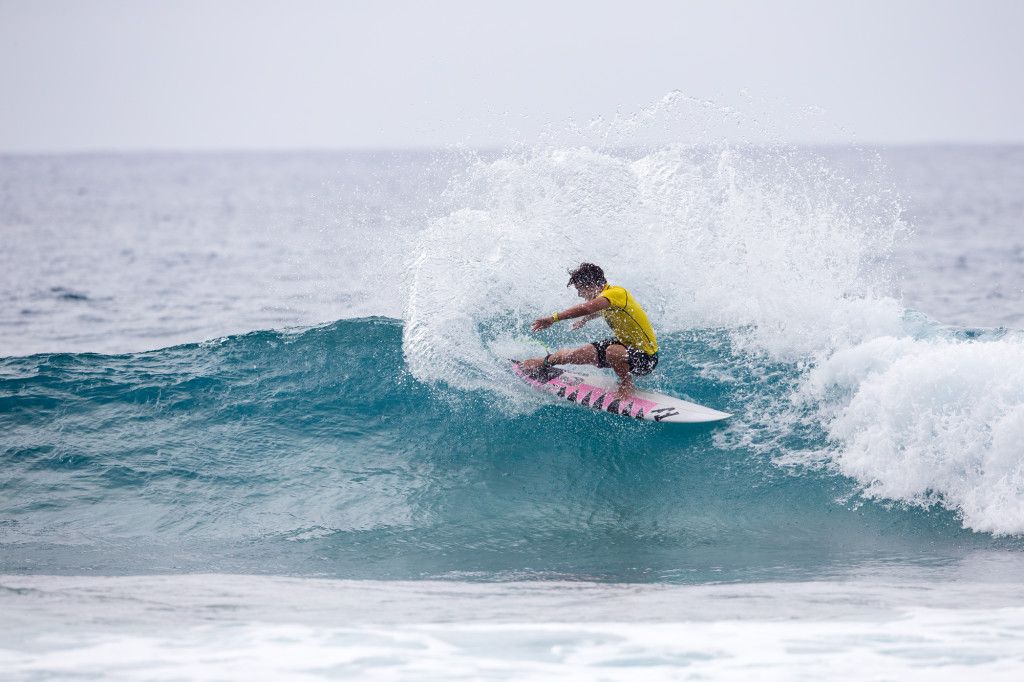 Griffin Colapinto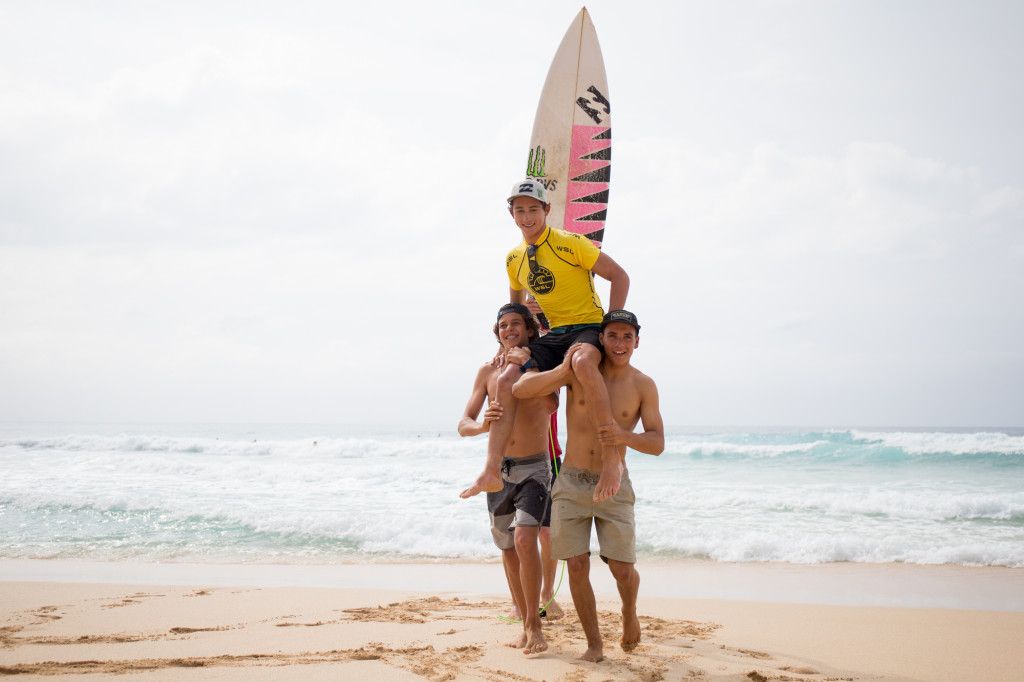 Griffin's win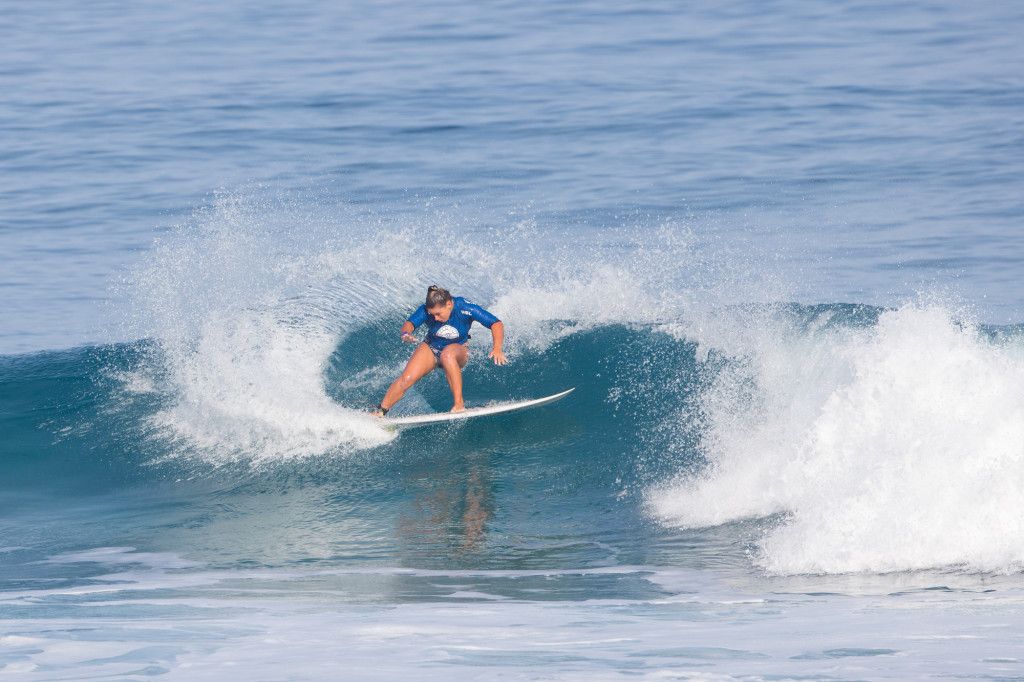 Kahanu Delovio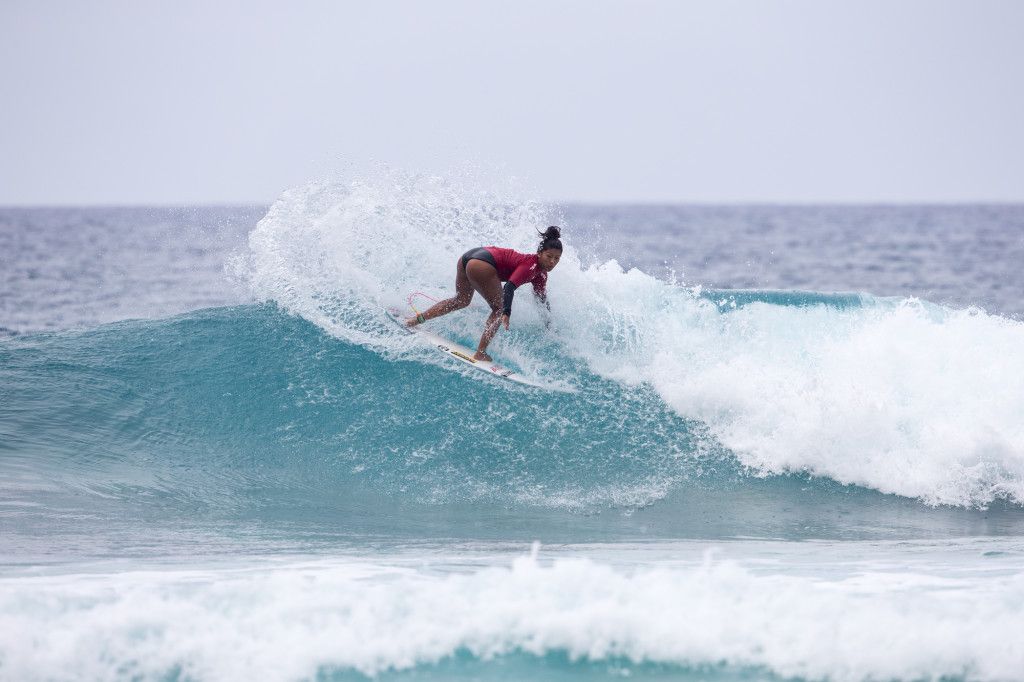 Mahina Maeda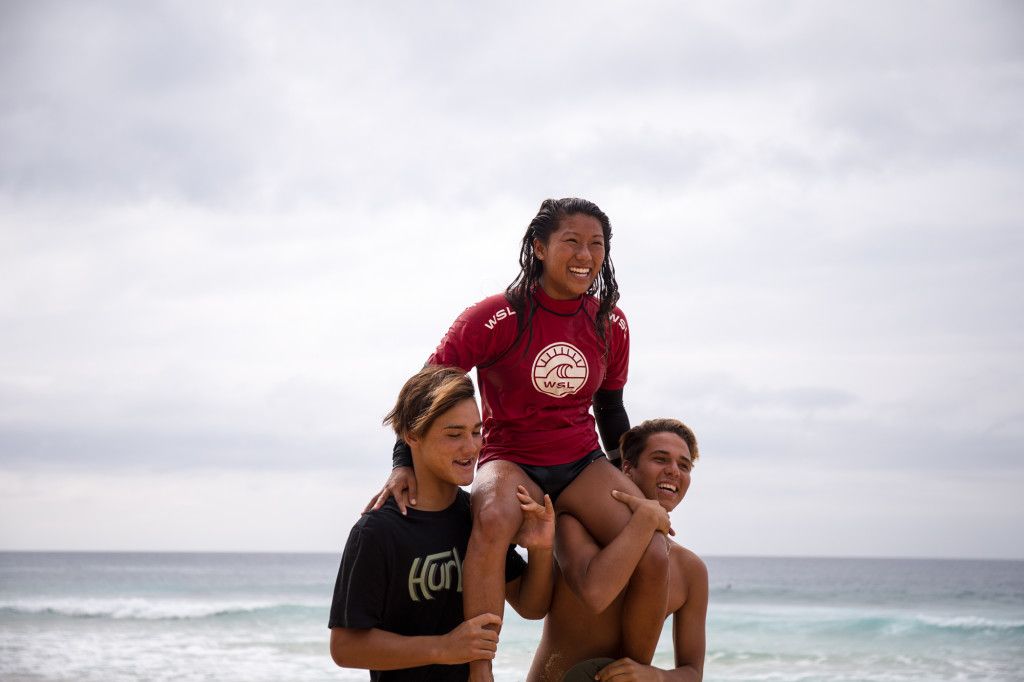 Mahina wins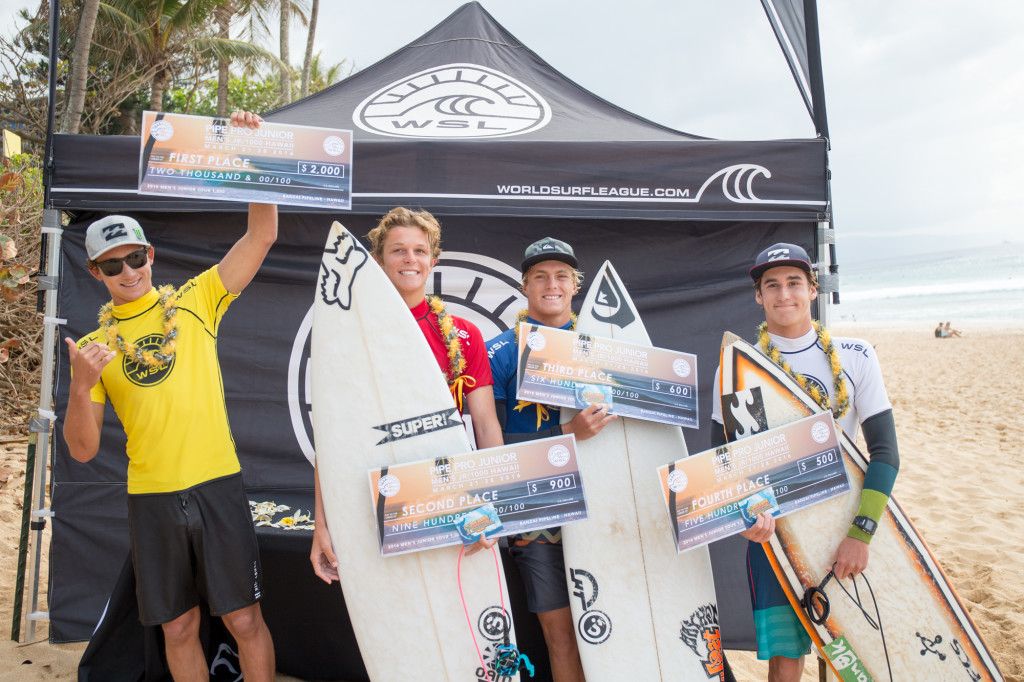 Mens Podium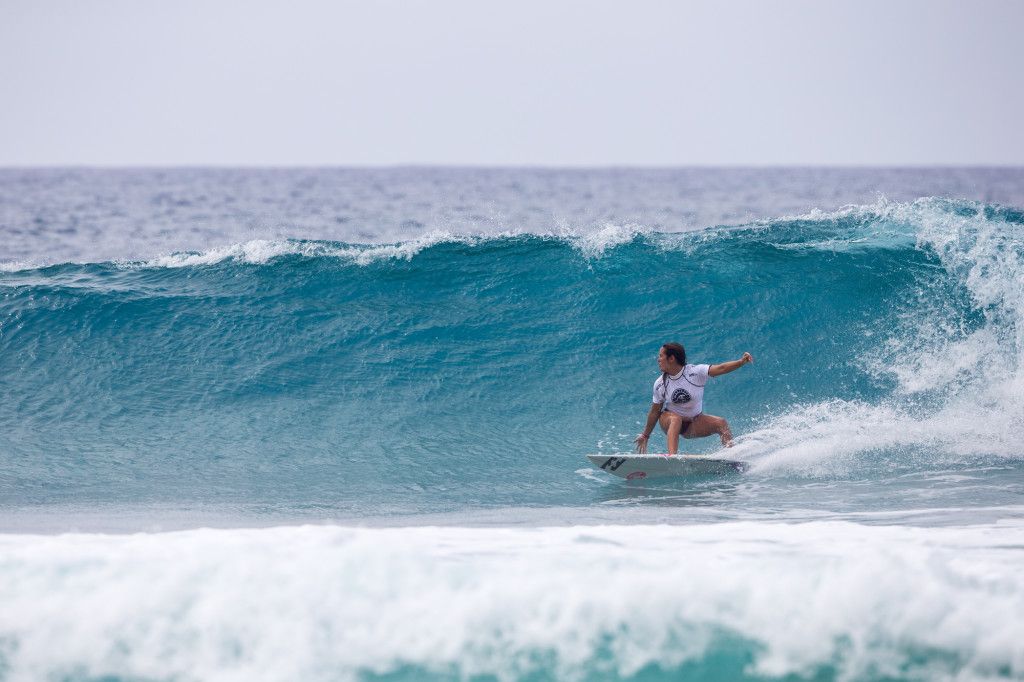 Moana Jones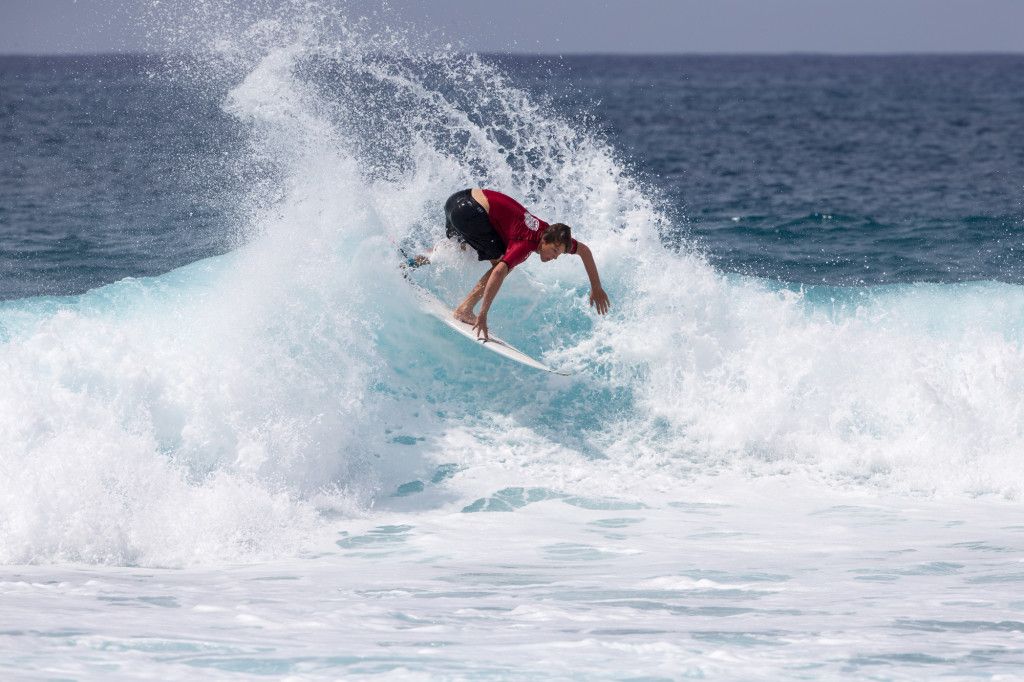 Ryland Rubens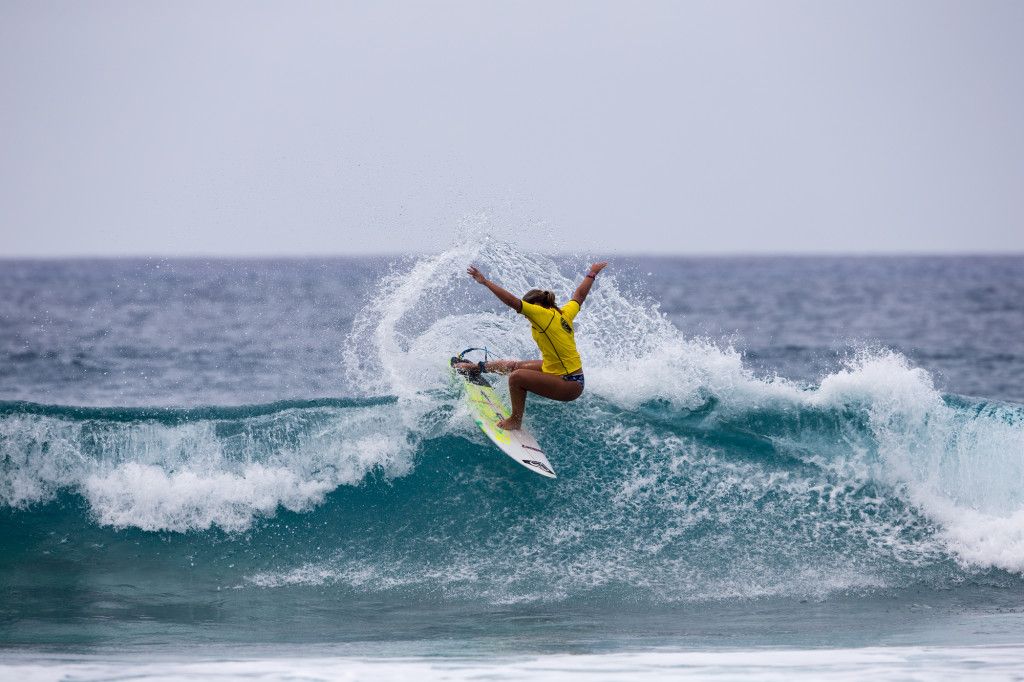 Summer Macedo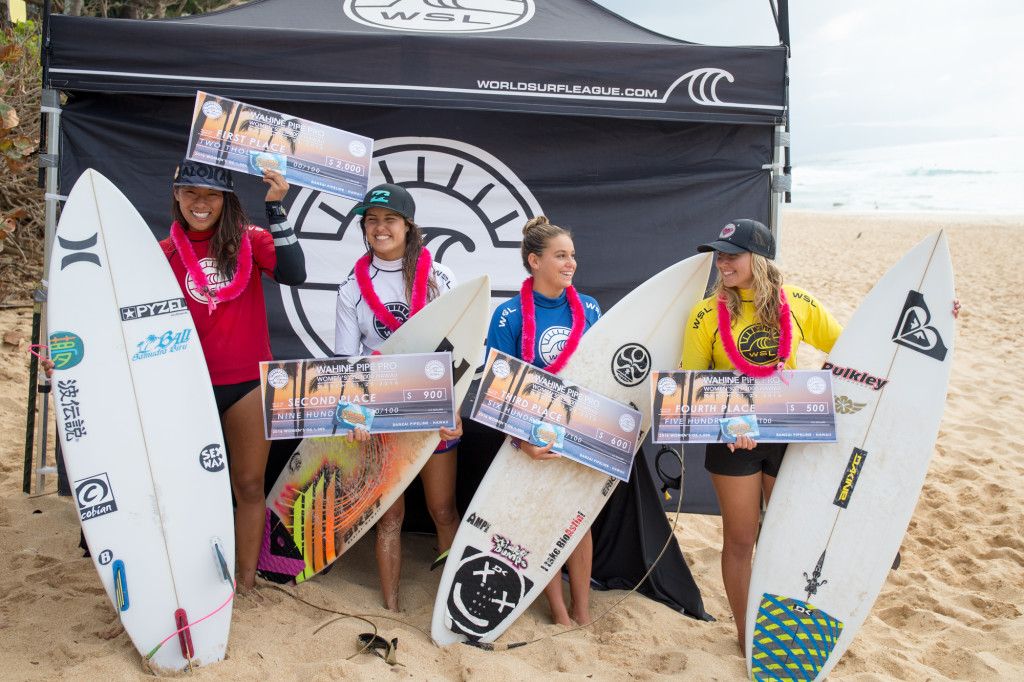 Womens Podium
Griffin Colapinto (USA) airs out in route to victory. Image: WSL/Freesurf/Heff
| | |
| --- | --- |
| Event / Location:   | Pipe Junior Pro / Wahine Pipe Pro |
| Dates: | March 21 – 28, 2016 |
Rating:                            WSL JQS1,000
/ WSL WQS1,000
Big Island's Kahanu Delovio scores Only 10-point ride of event
North Shore, Oahu, HAWAII – (Tuesday, March 22, 2016) — In back-to-back Finals, Griffin Colapinto (USA) won the Pipe Pro Junior and Mahina Maeda (HAW) secured the Wahine Pipe Pro title in glassy conditions at Oahu's world-class wave on the North Shore. Both surfers bettered their standings in the World Surf League (WSL) Junior and Qualifying Series (QS) rankings, which gives them a solid standing for the 2016 season.
Colapinto comboed the field after posting a 9.4 in the first few minutes of the Final, which leftBraden Jones (USA), Cody Young (HAW) and Ryland Rubens (USA) searching for waves in the quiet heat to better their mid-range scores. No stranger to Pipe, Colapinto is known to charge in waves of consequence and has put in time along the North Shore for the better part of his teenage years.
"It felt really good," said Colapinto, 17, after the win. "I stayed at the Billabong house all winter long and I surfed out here in all conditions, so I was pretty confident with everything knowing the lineup, so yeah, it felt really good."
Colapinto's excellent wave showcased a giant speed turn followed by an air to give the California surfer the second best score of the event. "All the boys were dropping big scores all day so I knew it was going to be pretty much whoever got the best waves and the biggest waves, and I found two of the best waves and it was good."
The San Clemente surfer placed Runner Up in the Sunset Pro Junior earlier this year and is looking ahead at this winter season on the North Shore.
"My goal is probably to be in the Triple Crown for this next winter and then make some heats in that… And then overall goals are to be in the top 50 on the QS by the end of the year and win a QS too."
The competitors put on a show of maneuvers in the head high surf, with Jones coming in second less than two points ahead of Young. The Junior Men posted high scores throughout the day, a testament to the progression of today's youth.
Maeda found her first solid result this year in the tricky Pipe conditions against an all-Hawaiian heat that included Moana Jones (North Shore, Oahu), Kahanu Delovio (Kailua-Kona, Big Island) and Summer Macedo (Lahaina, Maui). Maeda, 17, was a fierce competitor today with a strong backhand on the Backdoor rights.
"It was pretty interesting out there," said Maeda after claiming the win. "I'm really stoked to be in a Final with Moana, Summer and Kahanu. We've all surfed against each other and it reminds me of NSSA's back in the day. It wasn't actual Pipe, which we were bummed about, but we all got really good scores through the day so we're all super happy and blessed to be surfing out here."
Jones was able to edge out her competitors for a second place finish with two mid-range scores, a 5.25 and 5.00 for calculated maneuvers in the sandbar waves. Meanwhile, Macedo was hungry for another win after coming off a first place finish in Tahiti, and showed commitment throughout the heat. But her combined two wave total of 6.95 put her in fourth place behind Delovio.
Delovio, 17, scored the only 10-point ride of the event for combining speed and power on a head high Backdoor wave. The Big Island surfer took advantage of all the sections and got three solid turns in with a tail slide to finish off strong.
"I didn't even think it was a 10 after the ride," said the Kailua-Kona local. "I mean it felt like a good wave, I thought maybe an 8. It was a three-turn wave and then I kind of slid my tail out at the end… I felt like it was a good wave, I didn't know how it was going to turn out, but I was stoked when I heard it was a 10."
RESULTS
Pipe Pro Junior
Surfers shown in order of 1st through 4th
1st – Griffin Colapinto (USA), $2,000 and 1,000 points
2nd – Braden Jones (USA), $900 and 750 points
3rd – Cody Young (HAW), $600 and 560 points
4th – Ryland Rubens (USA), $500 and 525 points
Wahine Pipe Pro
Surfers shown in order of 1st through 4th
1st – Mahina Maeda (HAW), $2,000 and 1,000 points
2nd – Moana Jones (HAW), $900 and 750 points
3rd – Kahanu Delovio (HAW), $600 and 650 points
4th – Summer Macedo (HAW), $500 and 525 points
Pipe Pro Junior Semifinals – 1st and 2nd advance, 3rd=5th place/$300/420 points, 4th=7th place/$200/395 points
SF1: Braden Jones (USA), Cody Young (HAW), Barron Mamiya (HAW), Kala Willard (HAW)
SF2: Ryland Rubens (USA), Griffin Colapinto (USA), Kainehe Hunt (HAW), Nolan Rapoza (USA)
Wahine Pipe Pro Semifinals – 1st and 2nd advance, 3rd=5th place/$300/420 points, 4th=7th place/$200/395 points
SF1: Mahina Maeda (HAW), Kahanu Delovio (HAW), Zoe McDougall (HAW), Sayuri Hashimoto (JPN)
SF2: Moana Jones (HAW), Summer Macedo (HAW), Bailey Nagy (HAW), Brianna Cope (HAW)
Pipe Pro Junior Quarterfinals – 1st and 2nd advance, 3rd=9th place, 4th=13th place
QF1: Braden Jones (USA), Barron Mamiya (HAW), Jake Marshall (USA), Sebastian Williams (ZAF)
QF2: Cody Young (HAW), Kala Williard (HAW), Kona Oliveira (HAW), Christopher Bluthardt (HAW)
QF3: Nolan Rapoza (USA), Ryland Rubens (USA), Finn McGill (HAW), Riley Laing (AUS)
QF4: Griffin Turko (USA), Kainehe Hunt (HAW), Keoni Picollo (HAW), Quentin Turko (USA)
Wahine Pipe Pro Quarterfinals – 1st and 2nd advance, 3rd=9th place, 4th=13th place
QF1: Mahina Maeda (HAW), Sayuri Hashimoto (JPN), Mainei Kinimaka (HAW), Dax McGill (HAW)
QF2: Kahanu Delovio (HAW), Zoe McDougall (HAW), Leila Riccobuano (HAW), Malia Ward (USA)
QF3: Summer Macedo (HAW), Moana Jones (HAW), Karelle Poppke (PYF), Aloha Lopez (HAW)
QF4: Bailey Nage (HAW), Brianna Cope (HAW), Frankie Harrer (DEU), Kiana Fores (HAW)
Wahine Pipe Pro Round of 32 – 1st and 2nd advance, 3rd=17th place, 4th=25th place
H1: Mahina Maeda (HAW), Kahanu Delovio (HAW), Brittany Penaroza (HAW), Savanna Stone (HAW)
H2: Dax McGill (HAW), Malia Ward (HAW), Gabriela Bryan (HAW), Brittany Gomulka (HAW)
H3: Leila Riccobuano (HAW), Mainei Kinimaka (HAW), Stephanie Da Silva (HAW), Savannah Bradley (USA)
H4: Zoe McDougall (HAW), Sayuri Hashimoto (JPN), Sophia Bartlow (HAW), Zoe Clarke (AUS)
H5: Summer Macedo (HAW), Brianna Cope (HAW), Vahine Fierro (PYF), Kirra Pinkerton (USA)
H6: Moana Jones (HAW), Kiana Fores (HAW), Susanna Walczak-Pol (HAW), Kloee Openshaw (USA)
H7: Bailey Nagy (HAW), Aloha Lopez (HAW), Kelta O'Rourke (HAW), Summer Ivy (USA)
H8: Frankie Harrer (DEU), Karelle Poppke (PYF), Emily Nishimoto (HAW), Jade Steele (HAW)
Wahine Pipe Pro Round 34 – 1st and 2nd advance, 3rd=33rd place, 4th=34th place
H1: Sayuri Hashimoto (JPN), Kirra Pinkerton (USA), Natalia Anzivino (USA), Carly Wilson (USA)