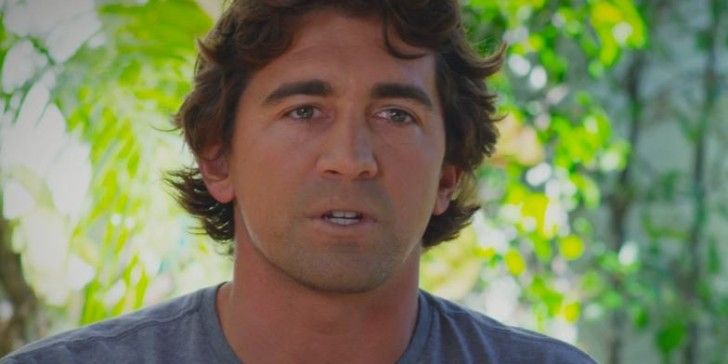 ONE OF SURFING'S GREATEST EVER CAPTURES SECOND WSL BIG WAVE TITLE
– CALIFORNIAN TAKES 2015/2016 WSL BIG WAVE CROWN
– SEASON CLOSES AFTER HISTORIC EL NINO WINTER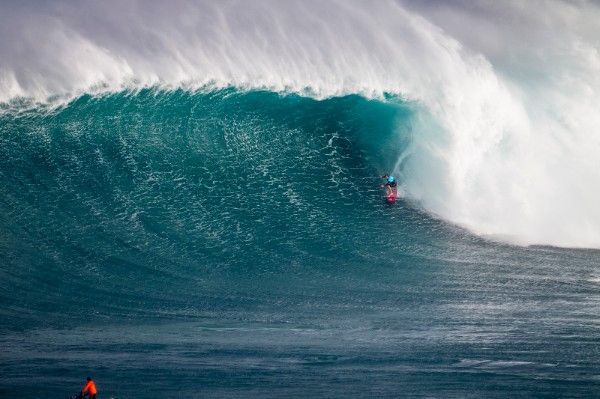 2015/2016 Big Wave World Champion, Greg Long, pulls into a massive barrel at Jaws during the Pe'ahi Challenge.
Image: WSL
Get the interview and footage HERE
(Monday, February 29, 2016 ) – With the conclusion of the 2015/2016 World Surf League (WSL) Big Wave Tour (BWT) today, San Clemente's Greg Long (USA) has been crowned the new WSL BWT Champion. Today's achievement marks the Californian's second championship win, after securing his first Big Wave Title in 2012.
"The 2015/2016 winter season has been one for the record books," Long said. "There's been record-breaking waves, more big swells, bigger barrels – basically every single level of performance in big wave surfing has just been shattered this year. For me, it is always an honor to be a part of that. It is a tremendous feeling being crowned the 2015/2016 WSL Big Wave World Tour Champion."
Long's stellar career took flight at a young age with a string of big wave wins at Dungeons in South Africa (2003), Mavericks in Northern California (2008) and the prestigious Quiksilver in Memory of Eddie Aikau at Waimea Bay (2009) solidifying the Californian's reputation as one of the world's most dedicated and accomplished big wave surfers. However, a near death experience at the infamous offshore shoal of Cortes Bank in late 2012 gave the then-28-year-old pause regarding his future with the sport. Long credits a close-knit unit of friends and family for supporting him on his path back to big wave dominance.
"I love surfing big waves and I love competing, but it really is the friends and family around the world that I get to share all of this with that make it as special as it is," Long continued. "It wasn't just me competing those days. It was my family who has been supporting me from day one and especially in the last couple years at a time when I didn't even know if I wanted to surf big waves again."
Long, 33, completed the season with 21,266 points on the year-end rankings, edging out this last year's BWT Champion Makuakai Rothman (HAW), by 7,272 points. Billy Kemper (HAW), winner of the Peah'i Challenge, came in third place with a total of 16,714 points.
"To see Greg Long win another Big Wave Tour title is amazing," Peter Mel, WSL BWT Commissioner, said. "I was there at Cortes Bank when he experienced his near drowning. He could have easily stepped away from big wave riding at that time. To see him dedicate himself and overcome any negativity from the accident is an inspiration. Congratulations Greg."
While three events were ran during the 2015/2016 WSL Big Wave Tour, Long competed in only two – the Peah'i Challenge in Maui and the Todos Santos Challenge in Mexico – where his Finals' berths garnered him enough points to best one of the most competitive fields in history.
"It is the experience on the whole journey to these competitions, these free surfs and everything in between that really fill me up and make me just everyday acknowledge how lucky and special this life is," said Long.
2015/2016 WSL Big Wave Tour Top 5:
Greg Long (USA) 21,266 pts

Makuakai Rothman (HAW) 16,994 pts

Billy Kemper (HAW) 16,714 pts

Nic Lamb (USA) 16,594 pts

Josh Kerr (AUS) 13,589 pts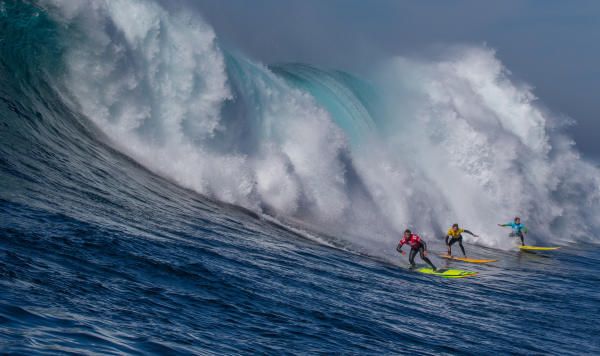 Long (in yellow) in his element, at Todos Santos. WSL.
For more information, log onto WorldSurfLeague.com