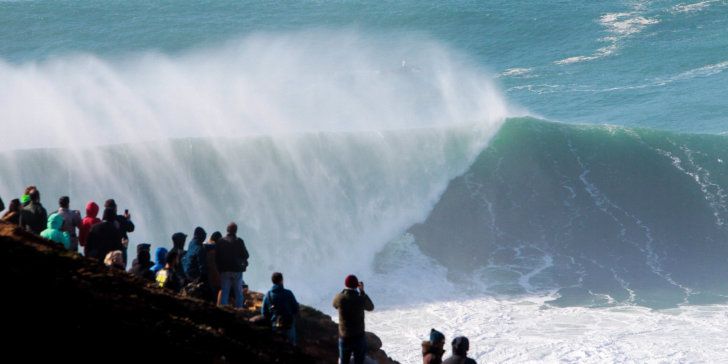 – COMPETITORS READY FOR FIRST BIG WAVE EVENT OF THE SEASON
 The first Big Wave Tour event of the season, the Nazaré Challenge, will run on Friday, November 16, 2018.
Credit: © WSL / Masurel
NAZARÉ, Portugal (Tuesday, November 13, 2018) – The World Surf League (WSL) Big Wave Tour (BWT) has issued a Green Alert for the Nazaré Challenge in Nazaré, Portugal to run on Friday, November 16, 2018. The large WNW swell headed toward the region continues to look favorable and the big wave competitors will now make preparations for the event start.
"We've officially issued a Green Alert to run the Nazaré Challenge on Friday, November 16," said Mike Parsons, WSL Big Wave Tour Commissioner. "The conditions we've been closely tracking still look favorable for Friday. We hope to see epic waves for the surfers to paddle into in the 25-35-foot face range. The swell and the winds are expected to all come together and be very clean to kick off the Big Wave Tour season."
Praia do Norte (North Beach) in Nazaré, Portugal is a big wave break notorious for its powerful waves and dangerous speeds. The world-famous venue that will host Friday's competition has produced the biggest waves in the world, including the GUINNESS WORLD RECORDS titles for the men's and women's largest waves ever surfed.
The third edition of the Nazaré Challenge will see the world's best battle the infamous break that has long been considered inaccessible to paddle-in-surfing. The men's field will consist of fearless chargers, such as defending event winner Lucas "Chumbo" Chianca (BRA), reigning Big Wave Tour Champion Billy Kemper (HAW), and renowned waterman Kai Lenny (HAW).
"I've been doing some big wave training and feeling out some new boards," said Lenny. "With Nazaré looming, you have to be ready and feel comfortable on big boards. Nazaré is usually too big and we are waiting for a swell that is not 100 feet so we can paddle it. If I catch a really big wave, I might as well do some really big turns. Nazaré is not really the most ideal place for turns. It is more survival. Just survive. Just trying to prepare myself mentally. If you go to Nazaré, you will probably get smoked no matter what, so you have to be prepared."
Jamie Mitchell (AUS), 2016/2017 Nazaré Challenge winner, has been recovering from a shoulder injury to be ready to compete on this season's BWT. The Australian feels ready to tackle the giant waves and push the boundaries with the goal to claim a second event win.
"Nazaré is a crazy wave; you don't ride it, it rides you," said Mitchell. "Nazaré is a relatively new wave and the boundaries keep getting pushed here. The biggest wave ever surfed has been at Nazaré and the whole community is right behind the big wave community, so it's a special place for sure. I'm coming off a shoulder surgery this summer and have worked hard to be ready for the Big Wave Tour, so it would be special to do well again here. I am jumping on a plane, heading over there now and am excited that we are on."
Rodrigo Koxa (BRA), the new record holder for the biggest wave ever surfed, which measured 80 feet (23.77 meters) at Nazaré, will compete in his first ever Big Wave Tour event. All eyes will be on the accomplished surfer to see if he can achieve similar record-breaking feats without towing in on a jet ski and instead only paddling in with arm-strength.
The WSL Nazaré Challenge will be broadcast LIVE on WorldSurfLeague.com and the WSL's Facebook page. Also, check local listings for coverage from the WSL's broadcast partners.
A developing storm near Greenland is expected to produce a strong WNW swell for Friday. Confidence is medium to high for a swell to provide good surf throughout the day. We expect to see wave face size in the 20-30' range through the day on Friday, with the very largest sets of the morning up to 35'. Surfline.
While this isn't a giant swell, especially by Nazare standards, local wind and conditions look about as good as it gets on Friday: light+ offshore ESE wind through the morning, trending more SE (still offshore) for the early afternoon hours, generally below 10 knots. Furthermore, the two previous days (Wednesday-Thursday) are also expected to see light offshore wind and small swell, which should mean conditions are extra clean on Friday.
2018/2019 Nazaré Challenge Round 1 Matchups:
Heat 1: Billy Kemper (HAW), Lucas Chianca (BRA), Greg Long (USA), Nathan Florence (HAW), Francisco Porcella (ITA), Antonia Silva (PRT)
Heat 2: Ian Walsh (HAW), Tom Lowe (GBR), Will Skudin (USA), Russell Bierke (AUS), João De Macedo (PRT), Rodrigo Koxa (BRA)
Heat 3: Kai Lenny (HAW), Jamie Mitchell (AUS), Natxo Gonzalez (EUK), Jojo Roper (USA), Pedro Calado (BRA), Andrew Cotton (GBR)
Heat 4: Makuakai Rothman (HAW), Alex Botelho (PRT), Grant Baker (ZAF), Nic Lamb (USA), Nic von Rupp (PRT), João Guedes (PRT)
The 2018/2019 Big Wave Tour hosts three events: the Nazaré Challenge, the Jaws Challenge, and the Mavericks Challenge. All holding periods for this season are now open and will await the biggest waves until the season's close on March 31, 2019. For the Jaws Challenge and Mavericks Challenge, the world's best male and female big wave surfers will prepare for conditions that will produce waves in the 30-to-60-foot range. Once the decision is made to run the event, a "Green Alert" is issued and competitors will have 48 hours' notice to be ready to compete.
The WSL Big Wave Tour is proudly supported by Surfline, and Corona, with a special thanks to Nazaré Challenge partners Jogos Santa Casa, Visit Portugal, Portuguese Waves, The City of Nazaré, MEO, Hertz, and Praia do Norte.
For more information, please visit WorldSurfLeague.com.
---
About the WSL
The World Surf League (WSL) is dedicated to celebrating the world's best surfing on the world's best waves through a variety of best-in-class audience platforms. The organization, headquartered in Santa Monica, is a global sport with regional offices in Australasia, Africa, North America, South America, Hawaii, Japan and Europe.The WSL has been championing the world's best surfing since 1976, annually running more than 180 global events across the Men's and Women's Championship Tours, the Big Wave Tour, Qualifying Series, Junior and Longboard Championships, as well as the WSL Big Wave Awards. The League possesses a deep appreciation for the sport's rich heritage while promoting progression, innovation and performance at the highest levels, and in doing so crowns the undisputed Men's and Women's World Champions across all tours.Showcasing the world's best surfing on its digital platform at WorldSurfLeague.com, the WSL has a passionate global fan base with millions tuning in to see world-class athletes like Kelly Slater, Stephanie Gilmore, Tyler Wright, John Florence, Lakey Peterson, Paige Alms, Kai Lenny, Taylor Jensen, Honolua Blomfield, Carissa Moore, Gabriel Medina, Courtney Conlogue and more battle on the most dynamic field of play of any global sport.