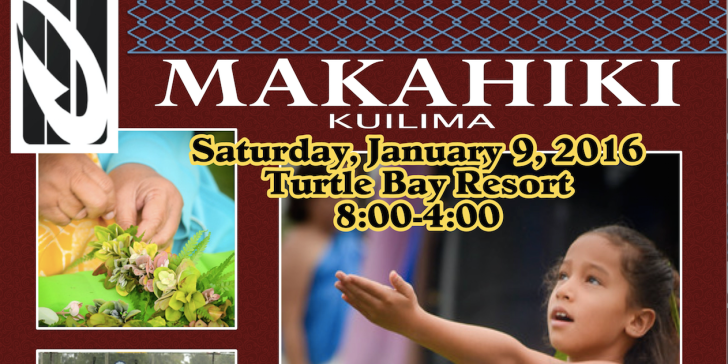 Join the celebration this weekend at Turtle Bay for the Makahiki Kuilima, a day filled with traditional sporting events and cultural performances, on Jan. 9, 2016. Presented by Hawaiian education programs Naepuni Aloha and Ke Kula `o S.M. Kamakau, the event is sponsored by Hawaiʻi nonprofits Kai Loa Inc. and Kanalu and Turtle Bay Resort.
The games – traditionally held during the four months when Pleiades is visible in the night sky, often from mid-October through mid-February – will feature he'e hōlua, where competitors slide down slopes on specialized sleds; and 'ulu maika and moa pāheʻa, a form of "ancient bowling", where players roll disks and wooden darts through two stakes at the end of a course. Athletes will also engage in ancient games such as hukihuki (tug of war) and 'ō'ō ihe (spear throwing).
Additional highlights will include hula and Polynesian dance performances, and guests will be treated to Hawaiian cuisine. Educational exhibits will showcase Makahiki traditions, and artisans will demonstrate Hawaiian crafting techniques.
Makahiki was an ancient Hawaiian post-harvest, new-year season that lasted approximately four month.  During Makahiki, war was forbidden, and the Hawaiians spent their time celebrating the harvest, playing games, paying tribute to their chiefs, honoring the god Lono, telling stories, dancing, and feasting.
SATURDAY SCHEDULE
8:00   Pule Wehe/Wehena (Ke Kula ʻo S.M. Kamakau)
Games Registration starts
8:30   Hālau  Nā  Pualei o Likolehua Performance
9:00   Games Begin (Maika, Moa, Ihe, Kiola, Uma, Kulakulaʻi)
               *Heʻe Hōlua, Kōnane & Hāpai Pōhaku, all day
               Games demonstrations & explanations on stage
11:30     Hawaiian Music by Kamakakēhau Fernandez
              Lunch Break for Games Participants
12:15     Hula Off
12:30     Games Resume (Kūkini, Hukihuki, ʻAlo ʻIa)
               Games demonstrations & explanations on stage
1:00       Hawaiian Music by ʻEkolu Mākou 
2:00       Hawaiian Music by Pōmaikaʻi Keawe Lyman
2:30       Hawaiian Music by Kūhiō Travis
3:30      ʻOhana Fashions by KZ Hawaiʻi, designs by Kini    
             Zamora featuring Ke Kula ʻo Samuel M. Kamakau 
3:45     Pule Hoʻokuʻu/Panina (Ke Kula ʻo S.M. Kamakau)
4:00      Pau
Nā Hanana Kūikawā
1Special Features of the Day
Hana Noʻeau/ Cultural Demonstrations & Crafts
Kuʻi ʻAi/ Poi Pounding
Lomilomi/ Massage
Kālai Waʻa/ Canoe Carving
Mākeke/ Craft Fair & Market by Crafters & Artisans
Hana Lei/ Lei Making 
Kanu/ Planting
Hōʻoia Olakino/ Free Health Screenings