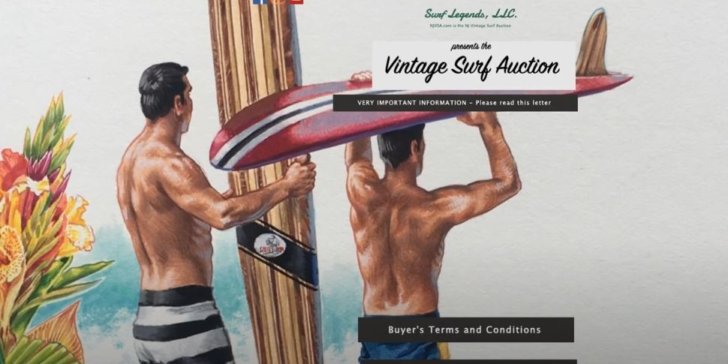 Surf Legends, USA
2130 Highway 35,
Building B, Suite 224
Sea Git, NJ 08750
The Vintage Surf Auction is on schedule for Saturday, January 8th starting at 1:30 PM and
running straight through the Hall of Fame Auction into the Legends Auction starting at
3:00 PM EST.
We are honored to have the support of Master Auctioneer, Joe Teipel who has been a
strong supporter of Surf Legends USA from the start.
We invite you to preview Surfer Joe's video on this auction here:
https://youtu.be/c5pPq6msDUg…or below
There are 88 total vintage surfboards on the block most of them without any reserve.
The trick to any online auction is to employ the Proxy Bid.
Any experienced bidder knows the value of some of these boards and by setting a proxy
could be in position to WIN BIG and a very reasonable price.
After this auction will be the Estate Sale where any leftovers are placed on site for sale at
a set price.
This page will remain open until February 15th.
Go to: https://www.njvsa.com/
Feel free to reach out to me if you have any questions at all at info@njvsa.com.