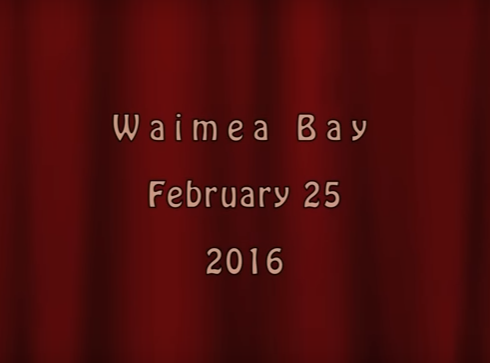 The QUIKSILVER IN MEMORY OF EDDIE AIKAU INVITATIONAL 2016 was the "greatest one-day Big Wave event in history"- WSL.
The Eddie delivered epic conditions – Honolulu media said 60ft faces. Big sets, big drops, big wipeouts and some amazing recoveries.
What an Incredible experience for all 25,000 of us filling that great amphitheater known as Waimea Bay.
"Super Bowl Of Surfing" indeed.
Congratulations John John Florence 13:20 and retiring Clyde Aikau 4:55 and all the invitees on memorable performances on a very memorable day 2/25/16.
(1)John John Florence 4:51,5:10,5:15,12:30,13:20 (2)Ross Clarke-Jones 1:11,1:50,10:12   (3)Shane Dorian 1:00,8:12,9:16 (4)Jamie Mitchell 1:50,10:36,11:18 (5)Kelly Slater 2:54,3:32,4:21,11:40 (6)Makuakai Rothman 6:44,7:24,8:06,13:50,15:09 (7)Dave Wassel 10:01,10:45 (8)Mason Ho 7:07,12:31,12:39,13:38 (9)Jamie O'Brien 8:12,9:07,11:18 (10)Aaron Gold 9:00,9:42 (11)Mark Healey 5:03,5:20,13:14, 13:33 (12)Takayuki Wakita 5:16,5:25,5:34,15:01, (13)Koa Rothman 6:55,7:24 (14)Ian Walsh (15)Reef McIntosh 3:26,8:30,8:36 (16)Kohl Christensen 1:11 (16)Grant Baker 2:54,3:48 (18)Bruce Irons 7:15,14:15 (19)Ramon Navarro (20)Danilo Couto 7:49 (21)Clyde Aikau 4:55,5:25 (22)Nathan Fletcher 4:59,13:44 (23)Sunny Garcia (24)Kala Alexander 7:24,13:38 (24)Peter Mel 13:50 (26)Greg Long 1:11,8:30,8:35 (27)Tom Carroll 2:30,8:55,9:50 (28)Ben Wilkinson 13:44,13:50 (29)Noah Johnson.
Photography © Kevin W. Smith http://www.skystudiohawaii.com/skystu…
Music © Purple Planet. Music: "Meat Grinder" http://www.purple-planet.com