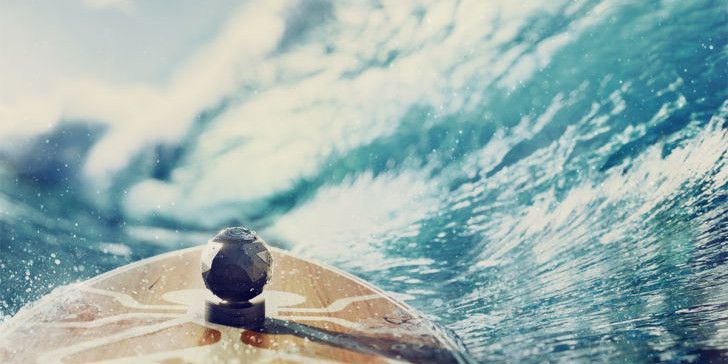 360fly POV camera goes on tour of action sports hot spots
captures 360-degrees of HD video
Surf News Network, 12 February, 2015. The 360fly team is embarking on a nationwide tour, stopping at iconic action sports locations across the country. In Palm Beach, surfers at Reef Road will be one of the firsts to mount and demo the 360-degree camera.
They'll have early access to the 360fly 360-degree video player, which allows viewers to interact with the video by swiping, pinching or expanding within the 360-degree frame to select their view. No need for West Coast surfers to fret — 360fly also has their eyes set on multiple stops in California, and will be announcing these dates and locations in the coming days.
360fly will be out on the beach at Reef Road in Palm Beach, Florida on Friday, February 20th from 1:30pm – 4pm. Available later this spring, the 360fly action camera is tough enough to capture any adventure from hiking, surfing, snowboarding, skateboarding or mountain biking, while the 360-degree field of view allows the user to be a part of the action and not miss a moment.
On January 6, 2015, the leader in single-lens, 360 degree video announced its 360fly action camera. Taking wide angle video to its extreme, 360fly looks like it'll be a game changer in regard to how you shoot and share video thanks to its innovative, interactive app-based interface. According to 360fly CEO, Alan Pitney, "We believe we have a differentiated experience with the 360fly camera, and we're excited to see the reaction from consumers and the unique ways they put this revolutionary video technology to use."
At about 2.4 inches in diameter, the spherical 360fly has a 240 degree view over the top of the camera and an uninterrupted 360 degree view around it. This essentially means the camera sees all and the footage it records catches everything – front, back, and all the way around. Best of all, 360fly video is optimized for viewing on mobile devices and social platforms and viewers can control what they are watching by swiping, to pan left and right, or pinching to zoom in or out (be sure to check out the video for a better idea of how this interface works). The app also turns your iOS or Android mobile device into the camera's viewfinder and remote control, allowing the user to immediately view, edit and share their video.
Features
8 element glass ultra-fisheye lens
Haptic feedback
Built in microphone
16GB of internal storage
802.11 b/g/n/ WiFi
Bluetooth LE
Remote control via app
Compatible with iOS 8+ or Android 4.3+
PC software OS 10.8 or later & Windows 7
For more information about 360fly, to place pre-orders, or interact with 360-degree videos, click here. You can also follow @360flly on Twitter or "like" them on Facebook at Facebook.com/360fly.
Check it out HERE