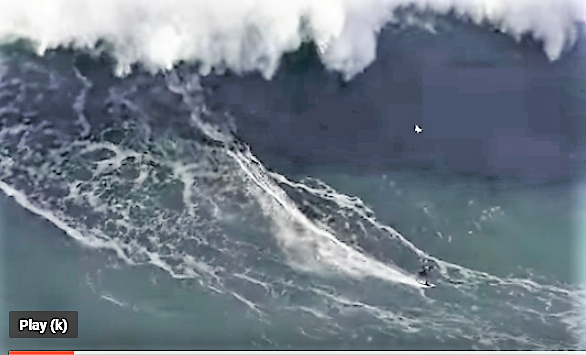 The Bottom Line…
Though the British Press may be getting a bit over-stoked about World Records and such, the 'bottom line' is this IS a Beast.
But we want more than that description. We want a number. Though Nazare' size is much harder than most spots to 'judge' size because it's so hard  to find/define its Trough or the wave's 'bottom line'.  Thank You to Pedro Miranda for always being on it. SNN.
British Big Wave Surfer Tom Butler, 29 years old, rode a spectacular monster wave in Portugal's Nazaré during the recent giant swell of December 14th, as footage continues to emerge. Locals described this wave as the biggest "bomb" of the day in what was the biggest swell of the season.
English press is calling this the new world record, onlookers and some surfing experts have said he had beaten the previous record of 80ft – set in November 2017 by Brazilian Rodrigo Koxa. The record is unlikely to be confirmed until WSL Big Wave Awards, which take place in April 2019.
Pedro Miranda, the Filmaker who captured this footage said on a statement to the press: "this is tricky, Tommy is a very tall guy, measuring 6ft 2inch any wave ridden by him will always look way smaller than it really is, not calling this a world record because I don't like to go into speculation, but whatever measure you think it is, the wave will be way bigger after analysed by the WSL experts" (…) "just put there any other (smaller) guy, with a few inches of diference the wave would look way bigger" (…) "This wave will most likely win the WSL Big Wave Awards this season, still a lot of Winter ahead but the bar has been set high by Tommy, really glad for him since he is one of the most experienced Big Wave riders I know and he totally deserves it!"
Tom Butler was teaming up with German Big Wave Surfer Sebastian Steudtner who towed him into this monster wave, also on his team was Brazilian Record Holder Maya Gabeira that just rode the Biggest Wave ever ridden by a Women during last season.
Praia do Norte beach, near the fishing village of Nazaré, has become famous worldwide for huge waves in 2011, when Hawaiian surfer Garrett McNamara set a world-record for the largest wave ever surfed at 78-foot at the time, in 2017 that record was broken by Brazilian surfer Rodrigo Koxa, setting the bar at 80-foot.
__________________________