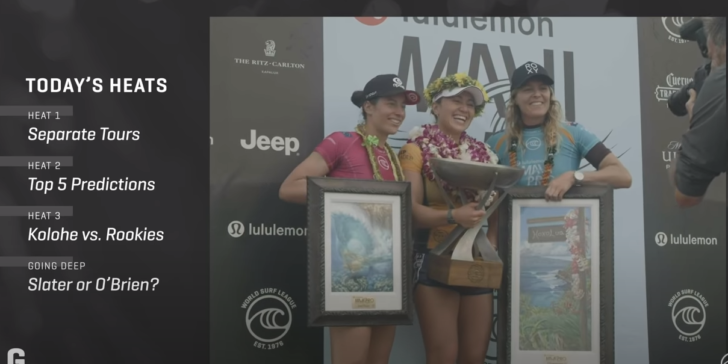 Good Job Coco and Welcome to Getting Heated! SNN
WSL: Who Will Be In The Top 5 For The Rip Curl WSL Finals?
As the Tour heads Down Under, new "Getting Heated" host Coco Ho leads three-time World Champ Mick Fanning and Momentum Generation icon, Ross Williams, through some not-so-easy subjects.
They start the conversation with a spirited debate on whether or not male and female athletes should have separate events.
From there the trio is on to World Title talk and the Rip Curl WSL Finals format, in which any of the Top Five could take out surfing's highest honor.
The conversation then drifts into some personal territory when Coco, Mick, and Ross delve into who is more likely to win an event, a CT rookie or veteran Kolohe Andino, who is yet to win an event despite this being his tenth year competing at the highest level.
Finally, in "Going Deep" the crew ponder whether young surfers aspire to be the next Kelly Slater or if they would rather chase YouTube fame like Pipe legend Jamie O'Brien.
HEAT 1: SHOULD THE WOMEN'S CT BE SEPARATE FROM THE MEN'S?
HEAT 2: PREDICTIONS ON WHO WILL BE IN THE TOP 5 FOR THE WSL FINALS
HEAT 3: WHO IS MORE LIKELY TO WIN A CT EVENT THIS SEASON, A ROOKIE, OR KOLOHE ANDINO?
GOING DEEP: IF POP CULTURE IS CHANGING THE WAY THE YOUTH ARE INFLUENCED BY SURFING, DO YOUNG SURFERS WANT TO BE THE NEXT KELLY SLATER OR DO THEY WANT TO BE THE NEXT JAMIE O'BRIEN?