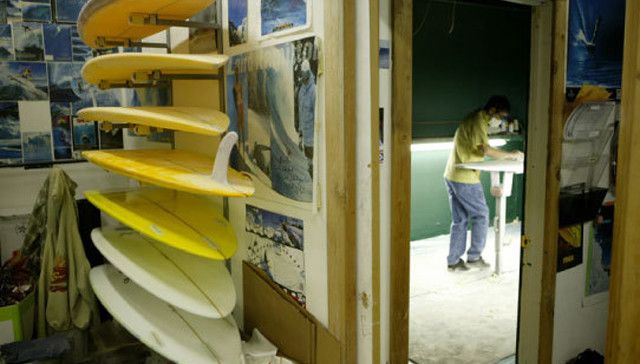 Six shapers will replicate a classic Lopez design in shape-off
 Surf News Network: December, 2015 – Del Mar, California – The Boardroom International Surfboard Show will honor Gerry Lopez during the Icons of Foam Tribute to the Masters Shape-off presented by US Blanks. The Boardroom, a consumer show which brings together the surf manufacturing industry and focuses on surfboards, fins, wetsuits, technology and surf culture, takes place at the Del Mar Fairgrounds May 14-15, 2016.
"It seems my life has always been closely connected with surfboards as well as surfboard design. I am thrilled to be an Icons of Foam honoree," said Gerry Lopez. "The list of past honorees is legendary. To be included with the likes of Diff and RB is really cool, as well as very humbling, since both were mentors to me when I started building my own boards."
"We are excited to have Gerry Lopez as this years' Icons of Foam honoree. Lopez is an incredible craftsman, shaper, surfer and human being," underlines Scott Bass, executive director of The Boardroom. "Gerry has picked a crew of shapers from varying generations to compete and in so doing is bridging the past with the future."
Six shapers: (two-time defending champion) Roger Hinds, Tom Eberly, Ward Coffey, Ron House, Ryan Burch, and Ryan Lovelace will be asked to replicate a classic Lopez design within the 1.5 hour time allotment.
"US Blanks is once again proud to be a part of the Icons of Foam Tribute to the Masters Shape-off and to honor shaping legend, surfing legend, and lifestyle legend Gerry Lopez is a no-brainer," said Jeff Holtby of US Blanks. "Gerry's contributions to design and innovation have certainly left a profound and lasting mark on the industry and on surfers worldwide."
ICONS OF FOAM TRIBUTE TO THE MASTERS presented by US BLANKS
Honoree                             Winning Shaper
2007 Mike Diffenderfer                     Ricky Carroll
2008 Bill Caster                                Ricky Carroll
2009 John Bradbury                         Marc Andreini
2009 Dick Brewer                             Pat Rawson
2010 Renny Yater                             Wayne Rich
2010 Simon Anderson                      Matt Biolos
2011 Doug Haut                                Ward Coffey
2011 Carl Ekstrom                            Wayne Rich
2012 Mark Richards                         Ricky Carroll
2013 Rich Price                                Stu Kenson
2013 Terry Martin                             Matt Calvani
2014 Ben Aipa                                  Roger Hinds
2015 Rusty Preisendorfer                 Roger Hinds
2016 Gerry Lopez                             TBD
Some History
Along with surf contest judge and board salesman Jack Shipley, Gerry Lopez opened the first Lightning Bolt Surfboards outlet in the summer of 1970. Mentored by boardmaking guru Dick Brewer, Lopez had been shaping for three years, and his boards were in demand. Bolt went on to become the decades' biggest and best-known surf company. He was one of the first to stay in the tree-house camp at Grajagan in Java; he later said that he actually preferred the long tubes of Grajagan to the shorter, thicker, more intense waves at Pipeline. Lopez moved to Maui during this period, where he continued to shape surfboards under his own Gerry Lopez label.
The shortboard revolution enshrined the tuberide as the ultimate surfing maneuver, and while Lopez was in the high-performance vanguard, ricocheting off the curl and doing hairpin cutbacks, he began to focus on riding as far back inside the wave as possible. Taking cues from Pipeline ace Jock Sutherland, Lopez taught himself how to take the simplest but deepest line through the tube, first making the near-vertical drop down the wave face, then turning and positioning himself beneath the curl with an absolute minimum of adjustments, and finally assuming a tranquil posture within the tube itself, knees slightly bent, arms and hands lowered, gaze steady. "One movement, one breath . . . very Zen," three-time world champion surfer Tom Curren said of Lopez's tuberiding at Pipeline. "Like an archer pulling back and letting the arrow fly."
The Surf Industry Manufacturers Association gave Lopez its Waterman Achievement Award in 1999, and the following year he was inducted into the Huntington Beach Surfing Walk of Fame. Surfing magazine named Lopez their 2002 "Shaper of the Year." He was cited in 2004 as one of the 16 best surfers in history by Surfing; in 2009 Lopez ranked fourth in Surfer magazine's list of the "50 Greatest Surfers of All Time." * Encyclopedia of Surfing