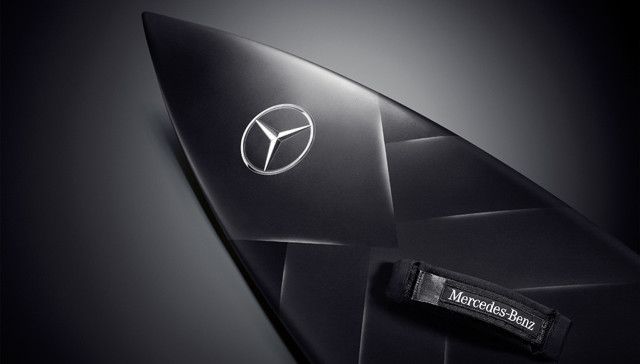 The Mercedes super flex varial airplane wing foam surfboard
Mercedes-Benz MBoard project expands with GMac & Varial foam
Surf News Network, 2 January, 2015. In 2013, Mercedes- Benz Portugal and BBDO developed the MBoard project, a marketing campaign based around the design of the ultimate surfboard for Garrett McNamara to ride massive waves at Nazaré.
The idea behind it was to reflect the 3 pointed star of the iconic Mercedes logo that represents land, air and sea on to several surf boards. The campaign was extremely successful, earning many advertising and communications awards, overall 20 in 2014, which showed the huge success the project became on a national and international level.
With the global success of the MBoard Project and McNamara's ongoing adventures it was a no brainer for Mercedes-Benz to sign a contract with Garrett in order to be part of the brand's global marketing campaign.
The MBoard Project has expanded since 2013, and is now making a series of boards with different materials. The first one was a tribute to Portugal, made of 100% Portuguese cork provided by Amorim Cork Composites. The second one was made from high density foam used to manufacture aircraft wings, a material Garrett himself has brought all the way from Varial Surfboards in California.  The idea behind this new material is to achieve maximum flexibility and to absorb the vibrations when surfing waves over 60ft in Nazaré.
In December 2014 a massive swell hit the coast of Portugal generating massive waves and the perfect opportunity for McNamara to test the foam board's performance.
According to Garrett McNamara; "When Mercedes-Benz approached me to help develop the ultimate tow in board it was a dream come true. For the last twenty years I have done my best to incorporate technology in all that I do to make sure everyone is as safe as possible. When the waves reach a certain height in Nazaré it becomes unsafe to paddle. Now, together with Mercedes-Benz, a world reference in technology, aerodynamics and assistance systems, we can apply so much knowledge to develop a board that will perform at the highest level in these giant waves of Nazaré."
"When riding these monsters its like coming down an icy mountain, with the exception the mountain is constantly moving. With the new Varial foam the board is able to absorb these chops by acting as a dampener. When it gets over 60 feet in Nazaré, we were all going strait just barely holding on. Now, with the new boards, we can actually turn, have fun and enjoy the deep ride."
In the words of Jorge Aguiar, Marketing Manager at Mercedes-Benz Portugal: " The MBoard Project is a unique and innovative marketing approach to establish a real partnership with a great human being – Garrett McNamara – enabling Mercedes-Benz to be part of his extreme life, in land and in the water.  We hope that we can contribute to find the best technologies for the best tow in board for Garrett.