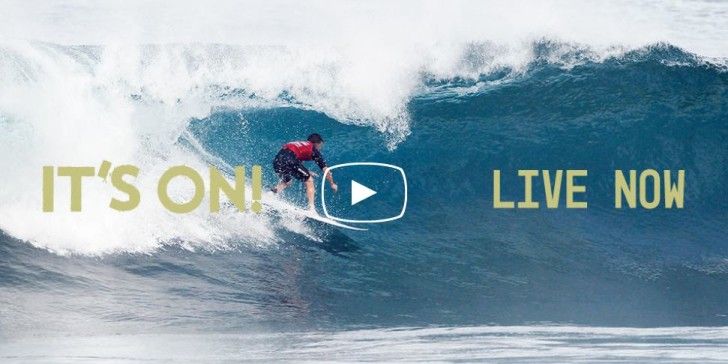 1040am update: Down to 3 surfers. Mason Ho beats Toledo eliminating his Title contention. Fanning beats O'brien thus stopping Wilson's chances for a Title. Slater, Medina, Asing, Florence through to rnd 4. Fanning, Adriano and Medina are left.
We have 1.5 days left. By tomorrow noon we will have 3 Titles in the history books. A Pipe Master, A Triple Crown Champ and a World Champ. We could have a World Champ today! Don't miss a moment.
16 second NW Surf is 8-12′ with some plus on the 2nd reefs. Today will be the peak with bombs exploding on the reef all day.
GO LIVE HERE
Slater's Fat and Tall Backdoor.
BILLABONG PIPE MASTERS CALLED ON WSL TITLE ON THE LINE
– FANNING, TOLEDO, DE SOUZA, MEDINA AND WILSON EYE THE CROWN
– MASSIVE PIPELINE CONDITIONS FOR WORLD'S BEST SURFERS
– LIVE AT WORLDSURFLEAGUE.COM
Front photo: Adriano de Souza (BRA), current WSL No. 3 and contender for the 2015 world surfing crown, battles Glenn Hall (IRL) in Round 3 of the Billabong Pipe Masters in Memory of Andy Irons.
Image: WSL / Masurel
BANZAI PIPELINE, Oahu/Hawaii (Wednesday, December 16, 2015) – The Billabong Pipe Masters in Memory of Andy Irons has been called back ON this morning with Round 3 commencing at 8am in solid eight-to-ten foot (2.5 – 3 metre) waves steaming through the Banzai Pipeline.
The final stop of the Samsung Galaxy WSL Men's Championship Tour and Vans Triple Crown of Surfing (a WSL Specialty Series), the Billabong Pipe Masters will decide the 2015 WSL Champion, the 2016 elite tour class and the Vans Triple Crown of Surfing Champion by the end of the event.
"The forecasted swell has arrived this morning and we're back on at 8am," WSL Commissioner Kieren Perrow said. "It's big, solid, scary Pipeline and it's a fantastic backdrop for the world's best to be tested. We anticipate a full day of competition so good luck to all our competitors today."
The Billabong Pipe Masters will decide the 2015 WSL Champion after one of the most hotly-contested battles in the sport's 40-year history. Three-time WSL Champion and current Jeep Rankings' Leader Mick Fanning (AUS), Filipe Toledo (BRA), Adriano de Souza (BRA), reigning WSL Champion Gabriel Medina (BRA) and defending Pipe Master Julian Wilson (AUS) are all in contention for this year's world surfing crown.
A full list of scenarios for the 2015 WSL Title bout can be found online HERE.
All eyes will be on the first heat as World Title contender, Gabriel Medina (BRA), takes on an in-form Jordy Smith (ZAF) in the opening heat of the elimination Round 3.
The Billabong Pipe Masters will be webcast LIVE on WorldSurfLeague.com and on the WSL app.
The world's best surfing will also be broadcast LIVE on Fox Sports in Australia, MCS Extreme in France, EDGE Sports in China, South Korea, Malaysia and other territories and on Globo TV  in Brazil.
BILLABONG PIPE MASTERS ROUND 3 MATCH-UPS:
Heat 1: Gabriel Medina (BRA) vs. Jordy Smith (ZAF)
Heat 2: Bede Durbidge (AUS) vs. Keanu Asing (HAW)
Heat 3: Italo Ferreira (BRA) vs. C.J. Hobgood (USA)
Heat 4: Kelly Slater (USA) vs. Michel Bourez (PYF)
Heat 5:  Mick Fanning (AUS) vs. Jamie O'Brien (HAW)
Heat 6: John John Florence (HAW) vs. Taj Burrow (AUS)
Heat 7: Filipe Toledo (BRA) vs. Mason Ho (HAW)
Heat 8: Joel Parkinson (AUS) vs. Kai Otton (AUS)
Heat 9: Jeremy Flores (FRA) vs. Sebastian Zeitz (HAW)
Heat 10: Julian Wilson (AUS) vs. Adam Melling (AUS)
Heat 11: Josh Kerr (AUS) vs. Adrian Buchan (AUS)
Heat 12: Adriano de Souza (BRA) vs. Glenn Hall (IRL)