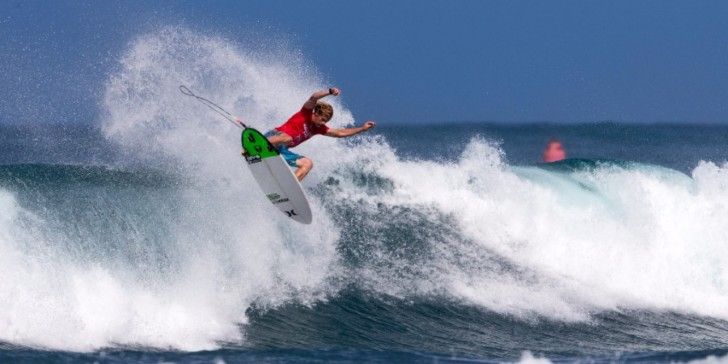 4pm
HALEIWA, Oahu/Hawaii – (Friday November 18, 2016) — 
JOHN JOHN FLORENCE  wins the Hawaiian Pro
Frederico Morais (Portugal) places second, just one one hundredth of a point short (0.01)
Marc Lacomare (FRA) and Adrian Buchan (AUS) 3rd and 4th respectively
World number 1 and top seed at the Hawaiian Pro at Haleiwa on Hawaii's North Shore, John John Florence, the local favourite and recently crowned WSL World Champion for 2016 took the narrowest of wins, placing equal first on points (15.66) with Portugal's Frederico Morais but on a countback to the highest scoring single wave, Florence took the win with an 8.83 top scoring ride compared to Morais' 8.33.
The win for Florence places him in perfect position to win the Vans Triple Crown of Surfing which includes the three major Hawaiian events,  Hawaiian Pro, Vans World Cup at Sunset Beach which begins next week and the the Billabong Pipe Masters which begins early December.
The 2nd and 3rd placed results for European surfers Frederico Morais (Portugal) and Marc Lacomare (FRA) were outstanding results for both surfers who both have excellent chances of qualifying for the elite World Surf League  Championship Tour for 2017. Both surfers will require excellent results at Sunset Beach next week to realise qualification, but both are now serious contenders.
Australia's Adrian Buchan was the top placed Australian placing 4th in the final which is also a great result for Buchan and also puts him in an excellent position to challenge for the Vans Triple Crown.
Brazilian Jadson Andre was the highest placed Sth American surfer, placing = 5th overall, narrowly edged out in the Semifinals.
7am 15 heats to go. 4th round, Quarter, Semi, Final. We'll have a Champ by 4pm sharp! Slater in heat 2, John John heat 3….GO LIVE HERE
QS Rankings Shakeup Underway at Haleiwa with only one more event to go: The Vans World Cup @ Sunset Beach Nov 24-Dec 6
The Qualifying Series is a brutal year-long test of grit, talent and toughness. While the pursuit takes surfers all over the world the most difficult part is their inward journey, where doubts and fears wreak havoc with desires. For the vast majority of competitors, the QS season lays waste to boards and bodies, hopes and dreams.
Australian upstart Ethan Ewing is holding ground at Haleiwa. The 17-year-old Junior Tour surfer is ranked No. 5 on the QS. – WSL / Kelly CestariBut for a small handful of surfers, those dreams of making the Championship Tour become a reality, and at the Hawaiian Pro, the second-to-last QS event of the season, the dream is getting every bit closer.
Every round of the Hawaiian Pro is crucial in this battle, and Round Three Tuesday had serious consequences. Here's a look at Tuesday's big winners, and a few fresh victims.
Gaining
Slipping ….
Ezekiel Lau
The Hawaiian has been on the edge before, so being ranked No. 13 on the QS heading into the Triple Crown is nothing new. But after his Round Three loss at Haleiwa to Frenchman Diego Mignot and Aussie veteran Nathan Hedge, all of Lau's CT hopes are resting on the Vans World Cup at Sunset. Fortunately for Zeke, he's a proven performer there, so there's nowhere he'd rather put it all on the line.
FULL ARTICLE HERE