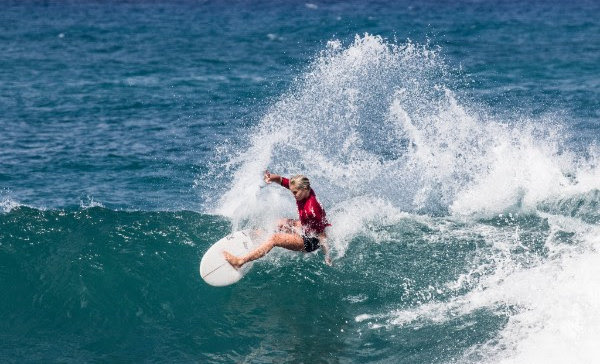 TITLE AT HYSDO PRO JUNIOR AT TURTLE BAY RESORT
FINALS DAY SET TOMORROW, HIGH-PRESSURE BATTLE FOR MULTIPLE AWARDS
Cover Shot: The WSL Hawaii/Tahiti Nui Women's Regional Junior series is led by Kauai's Gabriela Bryan (HAW), who set a strong pace today during Round 1 of the HYSDO Pro Junior at Turtle Bay Resort. Credit: © WSL / Chlala
Event/Rating:              HYSDO Pro Junior at Turtle Bay Resort, JQS 1,000
Holding Period:          October 13 – 19, 2018
Today's Conditions:   2-4ft. NW swell, moderate NE trades
Haleiwa, Oahu/HAWAII — (Monday, October 15, 2018) – The concluding event of the World Surf League (WSL) Hawaii/Tahiti Nui regional Pro Junior series – the HYSDO Pro Junior at Turtle Bay Resort – launched today with the first few rounds of competition ending in favor of Wyatt McHale (HAW) and Gabriela Bryan (HAW), current leaders of the Men's and Women's regional Pro Junior rankings respectively. The two progressed one step closer to securing not only the Regional Junior Champion title, but also the event win and a prominent slot into the World Junior Championship in Taiwan this December.
Bryan, who currently tops both the regional Pro Junior and regional Qualifying Series (QS) circuits, dominated her Round 1 battle with the best combined two-wave total of the heat, a 13.75 out of a possible 20, and put a stamp of confidence on her rankings lead. The Kauai athlete has four WSL victories under her belt for 2018 and is keenly eyeing a fifth to secure the title and a slot into the prestigious World Junior Championship, which will take place December 1 – 9, 2018.

Bryan earned a Semifinal finish at last year's Pro Junior at Turtle Bay Resort, but hopes to finish on top in 2018.
Credit: © WSL / Chlala
"I've never been to Taiwan, but I'm sure it's really cool and I'm sure there's some great waves so hopefully I can get a good result here and make it to the World Juniors," said Bryan. She was points ahead of fellow competitors today and secured an early advantage after earning a 6.75 for a combination of powerful frontside maneuvers, then scored a 7.00 later in the heat to advance in front of Tahiti's Aelan Vaast (PYF).
Bryan, 16, flew to Oahu a week early to put in time at the venue and is pleased with today's conditions at Pool Bars, the right-hand point break at Turtle Bay Resort. "There's been some really good waves, we've had a lot of swell lately and it's been super fun so I'm stoked to get a few practice days in before the contest," Bryan continued. "The waves are super fun today and there's a couple different peaks so I'm just trying to stay really focused, take it heat by heat and just do my best and stick to my game plan."
Keala Tomoda-Bannert (HAW), 16, had the best combined heat total of the entire day, a 16.00, and advanced into the Quarterfinals where she will go against defending QS Regional Winner, Savanna Stone (HAW) once competition resumes. Tomoda-Bannert currently sits in the No. 3 position on the regional Pro Junior rankings and with only two invites available to Taiwan, she is focused on finding a good result at this event in the hopes of representing Hawaii abroad.

Always a standout in challenging surf, Tomoda-Bannert demonstrated why she sits at the top of the rankings. Credit: © WSL / Chlala
"I'm trying to win this one so I can get up into the second-ranking right now and then go to the Junior Championships," she commented. "It would mean a lot to me, I would definitely have a lot of pressure, but I'm just sticking to the game plan and focusing."
In the Men's division, McHale worked toward dropping his low score of the season, a Semifinal finish at the Pipe Pro Junior in March, and easily advanced today into the next round along with second place athlete Makana Franzmann (HAW). At 17 years old, McHale has another year to compete in the Pro Junior series, which helps ease the pressure as he heads into the final day at the HYSDO Pro Junior at Turtle Bay Resort.
"It feels like the Juniors have flown by pretty fast," McHale commented. "It seems like not too long ago I was one of the younger kids in it and now I'm one of the older kids. I've never been to the World Juniors and I'd definitely like to go, but if I can't go this year I have another year in the Juniors so that could be an option."

McHale leads the pack with flair and progression and advanced in first into Round 3. Credit: © WSL / Chlala
McHale scored an excellent 8.50 for a blow tail reverse and snap on the end section to tie Barron Mamiya (HAW) and Shion Crawford (HAW) for the highest single wave score of the day. He nailed his backup score, a 6.25, on his opening ride in Round Two Heat 1 and will compete against defending event winner, Ocean Macedo (HAW), Kai Martin (HAW) and Dylan Franzmann (HAW) tomorrow in Round 3.
"The conditions are pretty fun for Turtle Bay," McHale said. "There are some good waves out there and the 25-minute heats makes it easy to wait and select the right waves. The swell is picking up, so tomorrow will probably be really good."
In his very first Pro Junior event, Crawford, 13, scored the highest single wave score of Round 1, an excellent 8.50 after taking a big risk on his first maneuver and maintaining confidence with a lip glide and strong committed turns. In Round 2, he continued his tear with stylish surfing, another excellent 8.25 score and a combined heat total of 14.75 for a spot in Round 3 against Eimeo Czermak (PYF), Robert Grilho (HAW) and Sage Tutterow (HAW).

WSL Pro Junior first-timer, Crawford impressed judges and earned the two highest scores of the day. Credit: © WSL / Chlala
"This is my first Pro Junior and I'm pretty stoked on it because I wanted to try and beat the kids that are better than me, learn some lessons and work on stuff," said Crawford. "In my last heat I got an 8.5, I was really excited, surprised too. If I make it to the Semifinals or the Finals, I'll just be super happy. I'm going to try and compete more in Pro Juniors and at least try to make it to Worlds eventually. And I really want to do the (Vans) Triple Crown, one of my home breaks is part of it, Haleiwa, so I'd like to compete there."
Defending Regional Pro Junior Champion, Mamiya, has targeted international QS events this year instead of concentrating squarely on the regional events. However, he is still committed to delivering a strong performance at the HYSDO Pro Junior at Turtle Bay Resort, which he proved today.

Crowds gathered at Turtle Bay Resort's Pool Bars today as Mamiya put on a clinic. Credit: © WSL / Chlala
"A lot of my focus has gone toward the QS, since I didn't go to Tahiti to do the Pro Junior there," said Mamiya. "This event is more just to enjoy myself and do my thing, but even with the QS, I've been trying to go out in my heats and free surf. I definitely want to practice that because I feel like that is when I surf my best. When I put pressure on myself, I'm not surfing as well as I could in a heat so that has been my strategy."
Finals day will commence tomorrow, Tuesday, October 16, at 8:00am HST with a Men's and Women's event winner and Regional Junior Champions being crowned at 4pm. Surfline forecasts a new, long period NW-NNW swell to steadily build with overhead to double overhead waves predicted in the afternoon. The conditions will challenge both the Men and Women as they put everything on the line for the ultimate regional title for 18 and under athletes.
The HYSDO Pro Junior at Turtle Bay Resort is a World Surf League (WSL) Junior Qualifying Series (JQS) 1,000 event and closes out the year's highly competitive 18 and under surf circuit for the Hawaii/Tahiti Nui region. The event will determine a Men's and Women's event winner, a Men's and Women's Regional Junior Champion, and six regional slots into the World Junior Championship in Taiwan this December. The HYSDO Pro Junior at Turtle Bay Resort has a holding window from October 13 – 19 and initiates the start of the North Shore surf season on Oahu. 
RESULTS
All surfers from Hawaii unless otherwise noted
Men's Round 2 (of 32), 1st and 2nd advance, 3rd = 17th place, 4th = 25th place
H1: Wyatt McHale, Makana Franzmann, Noah Hill, Riley Morgan (USA)
H2: Kai Martin, Cole Alves, Kainehe Hunt, Zac Hedemann
H3: Barron Mamiya, Ocean Macedo, Stellio Bobet (PYF), Levi Young
H4: Cole Frye, Dylan Franzmann, Kalani Rivero, Diego Ferri
H5: Finn McGill, Eimeo Czermak (PYF), Keanu Taylor, Brodi Sale
H6: Maikai Burdine, Sage Tutterow, Luke Swanson, Ian Montgomery
H7: Shion Crawford, Elijah Hanneman, Maxime Ratia (PYF), Gavin Hogan
H8: Robert Grilho, Logan Bediamol, Jackson Bunch, Makana Pang
Women's Round 1 (of 16), 1st and 2nd advance, 3rd = 9th place, 4th = 13th place
H1: Gabriela Bryan, Aelan Vaast (PYF), Pua DeSoto, Summer Ivy
H2: Luana Coelho Silva, Savanna Stone, Stella Valdez, Ariana Shewry (NZL)
H3: Keala Tomoda-Bannert, Nora Liotta, Kailey Bogart, Kelta O'Rourke
H4: Leila Riccobuano, Angelina Yossa, Gabriella Knudson, Kai Corrie
Men's Round 1 (of 40), 1st and 2nd advance, 3rd = 33rd place, 4th = 37th place
H1: Riley Morgan (USA), Kai Martin, Neil Piper, Tyty Kirby
H2: Stellio Bobet (PYF), Diego Ferri, Jake Riccobuano, Tosh Stratton (USA)
H3: Keanu Taylor, Ian Montgomery, Nakoaakeakua Kuamo'o-Mendiola, Kane Turalde
H4: Shion Crawford, Jackson Bunch, Joshua Chester, Jake Maki
About Hawaii Youth Surfing Development Organization (HYSDO)
Hawaii Youth Surfing Development Organization (HYSDO) is a 501c3 nonprofit working to deliver greater opportunities for Hawaii youth, in and out of the water. The organization strives to harness the power of surfing to build careers, strengthen communities and develop the athletes of tomorrow. HYSDO is dedicated to growing opportunities for the sport's youth through free, year-round programs that advocate for professional careers within the industry beyond competition by combining seminars, hands-on workshops, surf programs, guest appearances and more during Junior Development Days. In an ongoing effort to connect with Hawaii youth and offer one-to-one support, HYSDO works to enhance career opportunities for the next generation of local surfers and aspiring event contractors through the fundamentals of Junior Development, Community, Careers and Competition.