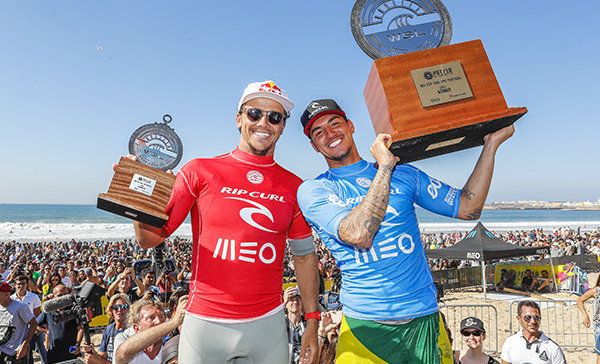 MEDINA CLAIMS BACK-TO-BACK EVENT TITLES IN EUROPE, CLIMBS UP TO NO. 2 ON THE JEEP LEADERBOARD
– JULIAN WILSON KEEPS WORLD TITLE HOPES ALIVE WITH RUNNER-UP FINISH
– WSL TITLE SHOWDOWN GOES TO HAWAII FOLLOWING QUARTERFINAL ELIMINATION FOR JOHN JOHN FLORENCE
The finalists of the MEO Rip Curl Pro Portugal.


Credit: © WSL /  Poullenot
Location:   
Supertubos, Peniche / Portugal
Event window:
October 20 – 

31, 2017

Today's Call:   
Event complete, Gabriel Medina Wins.
Conditions:

Three-to-five foot surf
SUPERTUBOS, Peniche/Portugal (Wednesday, October 25, 2017) – Gabriel Medina (BRA) has won the MEO Rip Curl Pro Portugal, Stop No. 10 on the World Surf League (WSL) Championship Tour (CT), over Julian Wilson (AUS) in a rematch of their 2012 final at Supertubos. The event culminated in good three-to-five foot waves with Medina's victory, the eighth event title of his career, only a short ten days after the Brazilian won in France.
"I'm really happy right now, I had a goal to just win an event in Europe so to win those two is incredible," Medina stated. "Now I feel tired, that was a lot of work! Julian (Wilson) got me so many times so it feels good to get one back over him. When he got the score at five minutes I thought 'Oh My God' not again, but I kept going and I'm so stoked I won in the end."

 Gabriel Medina takes flight and lands a second event win in Europe and the number 2 spot on the Jeep Leaderboard.
Credit: © WSL /  Poullenot
Coming into Europe ranked eighth on the Jeep Leaderboard, the 2014 WSL Champion rocketed up to second with his back-to-back wins in Hossegor and Peniche and will be a legitimate threat to John John Florence's WSL title ambitions when the tour concludes in Hawaii in December. If Florence fails to advance to the Final at Pipe, Medina could clinch his second WSL Title with a win there.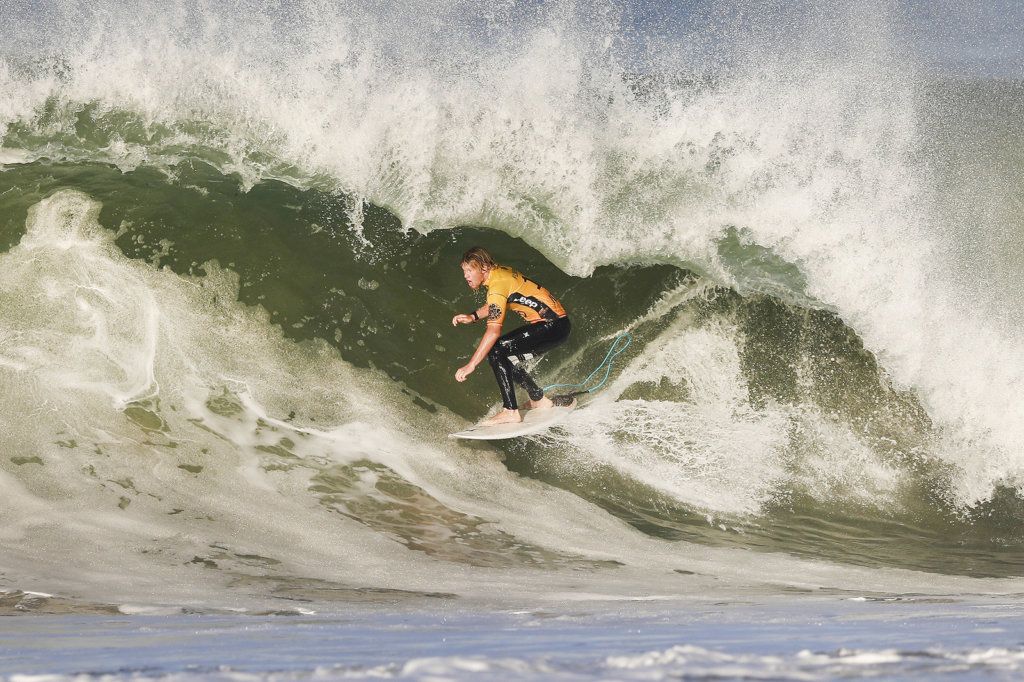 Reigning World Champion and current World No.1 on the Jeep Leaderboard John John Florence of Hawaii had his hopes of a second consecutive World Title dashed in the Quarterfinals of the MEO Rip Curl Pro Portugal at Supertubos, Peniche, Portugal.  Florence finishes in equal 5th place after placing second to Kolohe Andino of the USA in Quarterfinal Heat 2 and the title chase goes to the final event of the year in Hawaii today Wednesday October 25, 2017.  PHOTO: © WSL / Poullenot
"Before I wasn't but now I'm definitely thinking about the title," Medina added. "He (Florence) has an advantage with more points but you know anything can happen. I want to surf Pipe so bad, I love that wave and I got some good results there in the past, and nothing's impossible!"
In the final, Medina capitalized on average waves to build his scoreline and apply pressure to Wilson early on. The Brazilian surfed an incredible fourteen waves and kept scouring the lineup to improve his heat total, while Wilson stayed slightly more patient. The Australian turned the heat with a good little backhand barrel with five minutes on the clock, but Medina stayed active and posted two new scores to finally claim an event title in Peniche.

 Julian Wilson scored the last few barrels on offer at Supertubos.
Credit: © WSL /  Poullenot
Julian Wilson (AUS) won through every heat on his way to the Final and today defeated Sebastian Zietz (HAW) in the Quarterfinals and Kolohe Andino (USA) in the Semifinals before facing Medina in the Final clash. After a disappointing 25th place finish in France, this result keeps Wilson's title hopes alive and closes the gap on Jeep front-runner Florence. Previously in sixth place on the Jeep Leaderboard, today's result sees him move up to fourth.
"It was an awesome few days here, we had great challenging conditions before and cute smaller conditions today," Wilson stated. "We always get a good test coming here to Peniche, it can be intimidating, or super exciting going for big airs. I'm glad we got a couple of exchanges in that heat and congratulations to Gabriel! Thank's Peniche for having us again and supporting us, we all love the wave, the challenge, we really embrace your positivity "
In an epic Semifinal clash, Wilson and Kolohe Andino (USA) got off to a quick start to post two big scores each in the opening ten minutes of the heat. Both surfers found a long barrel to start things off, Andino on a right and Wilson on a left, both making impossible sections for an 8.83 and a 9.43 respectively. The battle for the highest back-up went Wilson's way with a good full rotation to eliminate Andino in equal third place.
Andino was stopped in the Semifinals for the third time this season, but will climb up a few spots into 8th position with his result in Peniche. The Californian had previously played spoiler in the WSL Title race by eliminating John John Florence in their Quarterfinal match-up.
"It was really tough out there, I thought we'd get more big scores," Andino said. "There's one I thought I could have come out of and maybe that would have been the score. I feel like I finally showed how I can surf, especially yesterday so I'm stoked on that. Six years on tour and I feel like I've never surfed at 100% and yesterday I feel like I did that so I'm really happy. I'm trying to be honest with myself and get better at the things I need to get better at so I'll continue to work hard on that."
In the second Semifinal conditions didn't provide many opportunities for Medina and Kanoa Igarashi (USA) and a battle of low scores ensued. Medina got a head start with a decent little tube on his forehand and quickly backed it up with his signature full rotation for a solid lead. Igarashi bounced back with only two minutes on the clock and an alley-oop to minimize the requirement for first place, but time ran out and the Californian was forced out in equal third position.
Igarashi claims his best result of 2017 and will jump up to 20th on the Jeep Leaderboard. Already re-qualified for the 2018 CT thanks to a massive Qualifying Series (QS) campaign, the young Californian in his second year on tour could free up one spot for a QS surfer if he ends the CT season inside the Top 22.
"This back-end of the year is my favorite part, I was really stoked to solidify my spot on the QS in Cascais and I surfed these last few events stress-free and that definitely helped," Igarashi said. "Hopefully with this result, I get in that Top 22 and open up a spot on the QS for maybe some of my other friends. Pipe is such a special place for me, especially with what happened at the end of last year there for me, I'm really excited to be going to Hawaii now."
Current World No. 1 John John Florence (HAW) was unusually out of rhythm in his Quarterfinal match-up with Andino and couldn't quite compose with the tricky lineup. While Andino found two good waves to build a solid scoreline, the Hawaiian selected average waves and fell on a few occasions, eventually eliminated in equal fifth position.
"It was just really hard to find waves out there," Florence said. "He found two really fun ones but even still it wasn't those ones we were seeing in the morning, I was excited to get out there and get barreled but couldn't find them. I get to go home now and I'm really excited to go surf Pipe and hopefully we get some good waves. If I win at home it will be even more meaningful I feel like."
Florence's defeat in the Quarterfinals means the WSL Title race will head to the final stop on the 2017 Championship Tour at the Billabong Pipe Masters on the North Shore of Oahu, Hawaii. Four surfers remain in contention heading into the final event: Florence who leads the rankings, Jordy Smith (ZAF), Medina and Wilson. Florence will win his second WSL Title if he makes the final at Pipeline.
World Title Scenarios going into the Billabong Pipe Masters:
–          If Florence gets 1st or 2nd at Pipe he will clinch the World Title;
–          If Florence gets a 3rd, Medina will need a 1st at Pipe to win the World Title;
–          If Florence gets a 5th, Medina will need a 1st at Pipe to win the World Title;
–          If Florence gets a 9th, Medina will need a 2nd,  Smith a 1st;
–          If Florence, gets a 13th or 25th, Medina will need a 5th, Smith a 2nd and Wilson a 1st .
Event highlights are available via WorldSurfLeague.com and the WSL app.
MEO Rip Curl Pro Portugal Final Results:
1 – Gabriel Medina (BRA) 13.26
2 – Julian Wilson (AUS) 10.94
MEO Rip Curl Pro Portugal Semifinal Results:
SF 1: Julian Wilson (AUS) 16.83 def. Kolohe Andino (USA) 14.56
SF 2: Gabriel Medina (BRA) 11.10 def. Kanoa Igarashi (USA) 6.24
MEO Rip Curl Pro Portugal Quarterfinal Match-Ups:
QF 1: Julian Wilson (AUS) 7.50 def. Sebastian Zietz (HAW) 7.40
QF 2: Kolohe Andino (USA) 14.00 def. John John Florence (HAW) 3.80
QF 3: Kanoa Igarashi (USA) 12.50 def. Miguel Pupo (BRA) 8.44
QF 4: Gabriel Medina (BRA) 11.33 def. Mick Fanning (AUS) 3.17
WSL Jeep Leaderboard Top 5 (after MEO Rip Curl Pro Portugal):
1 – John John Florence (HAW) 53,350 pts
2 – Gabriel Medina (BRA) 50,250 pts
3 – Jordy Smith (ZAF) 47,600 pts
4 – Julian Wilson (AUS) 45,200 pts
5 – Owen Wright (AUS) 39,850 pts
The next and final stop on the 2017 WSL Championship Tour will be the Billabong Pipe Masters in Memory of Andy Irons from December 8 – 20, 2017.
For more information, check out WorldSurfLeague.com