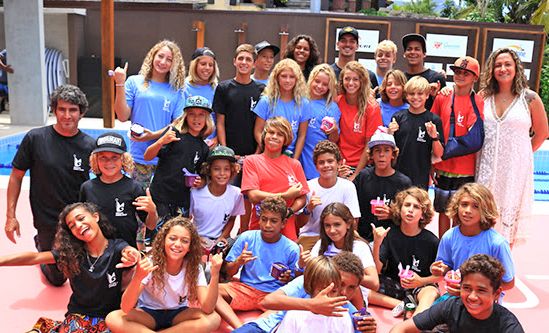 This idea sounds great for Hawaii, Mainland US….anywhere kids cans surf. Good on Gabriel.
Surf News Network, February, 2017 – Maresais, Sao Paulo, Brazil – Last week of January, history was made on Maresias' Beach in Sao Paulo, as Brazil's first World Surfing Champ, 2014,  Gabriel opened his new Institute of Surf – the first of its kind. Alongside his parents, Charles and Simone, Gabriel unveiled the entire Institute to the press and then to his sponsors, explaining that this was the first step to achieving his greatest goal – which is to form "new values" in sport.
"It has been always a dream of mine," said Gabriel "and also of my family's, to help support children – and, as a result, support the sport I love so much."
The Gabriel Medina Institute aims to provide a foundation for young new talents in the surf. From the ages of 10 to 16, hand-selected boys and girls will be trained under the same structure that Gabriel holds himself to, both physically and mentally. This includes providing other benefits beyond surfing, like computing and language classes, medical care, dentistry and more.
The Institute itself was built with Gabriel's own money, and is situated on the beachfront where he learned to catch his first waves.
"I hope these children are able to go out and act like conscious citizens, prepared to handle any kind of situation in life."
Gabriel's dad, Charles, explained how the project will work moving into the future. "The main idea came from Gabriel himself. He wanted to provide some of what the surf has given to him, to others… Simone and I have embraced the idea so far. It makes sense that the ages range from 10 to 16, because those are the most formative years in a child's life – the point in time where they can be pushed to become a professional athlete, and really make it. This is the stage where you can create a future champion in the sport.
"When Gabriel was at this age, we did everything we could to provide him the best. A lot of times I worked by myself, without a team to support. Now, he has this team, and he has so many resources – and he wants to provide that to kids who might not otherwise have that opportunity."
After the opening ceremony it was time to relax, and the crowd was greeted on the sand with live music from artists like Thiaguinho, Gabriel, o Pensador and Bruninho & Davi. Classes at the Institute began on February 1st, and it will be the first meeting of the 38 young athletes that have been selected to become a part of the Medina Circuit/ASM of Surf.