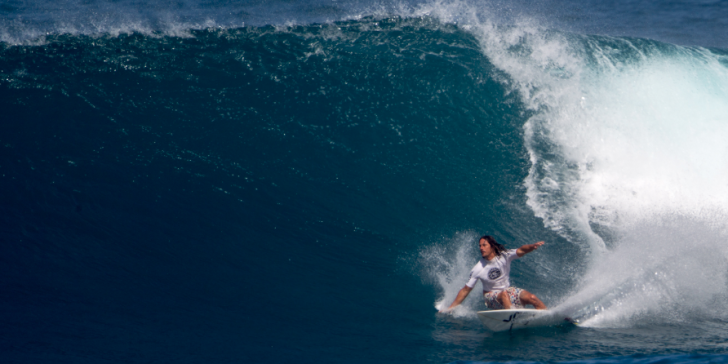 One more day of comp left. Saturday likely too small on the fading NNW at 4′ average. Better bet for a building WNW Sunday but winds may be fickle/shifty midday on.
Front page: Danny Fuller (HAW), hard off the bottom into Round 3. All Images: WSL/Freesurf/PhotoKeoki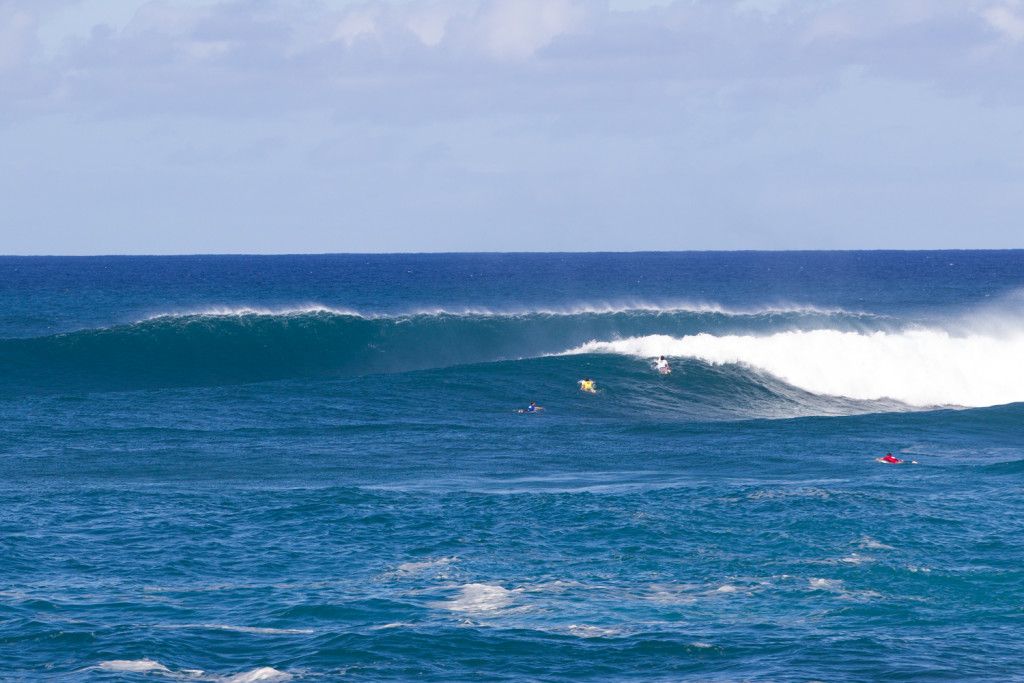 The beautiful Sunset line up.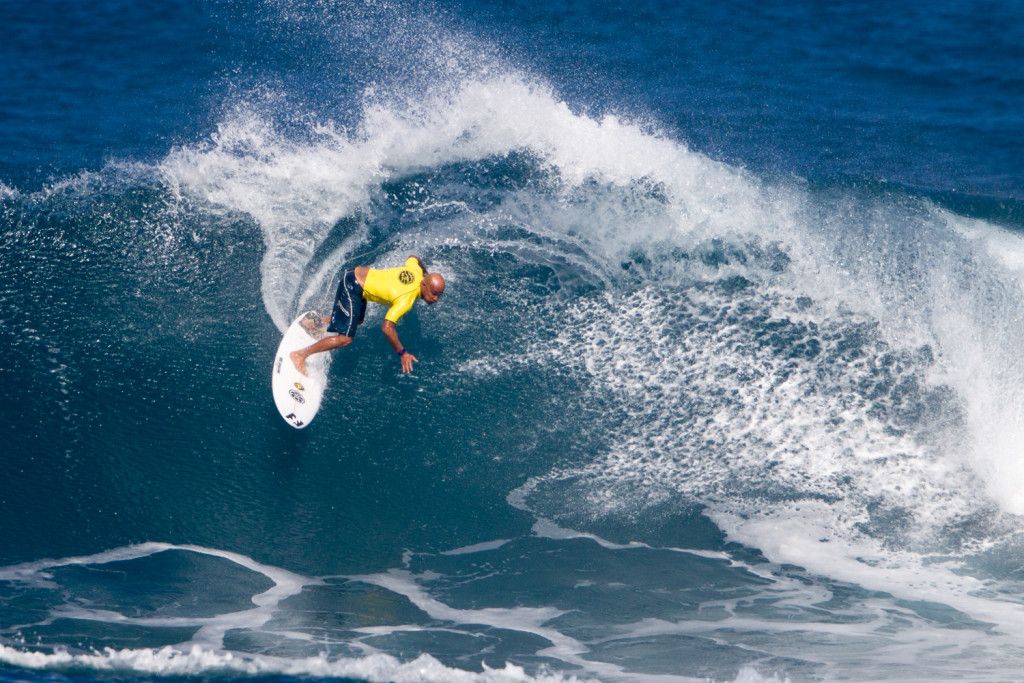 Awesome Coach & all round Human, not to mention a very good surfer. Rainos Hayes.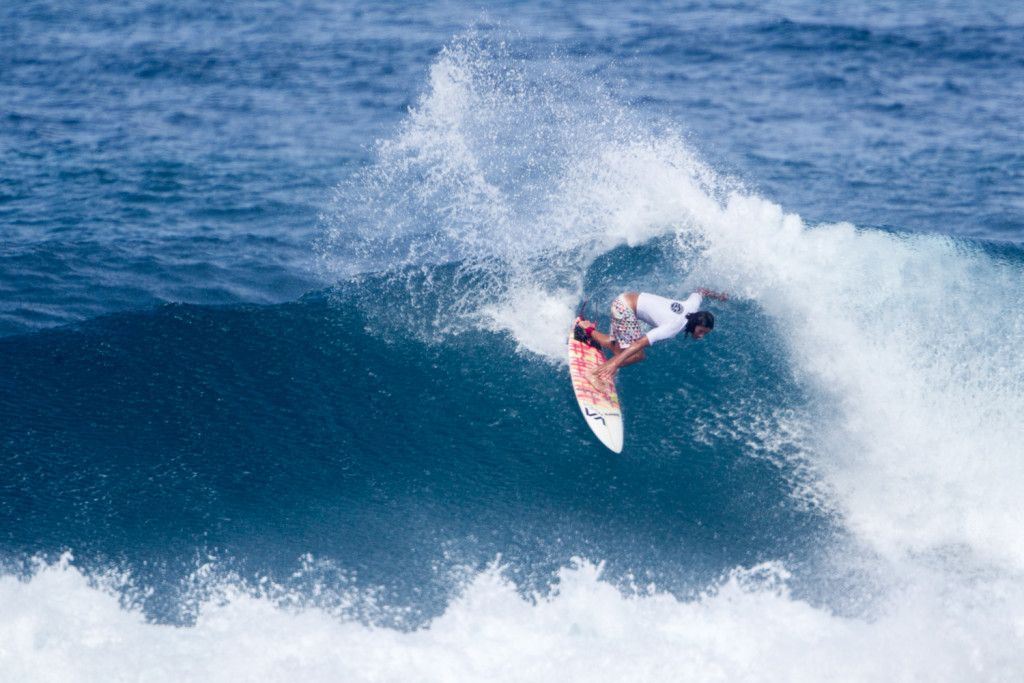 Danny Fuller, carving down and into the next round.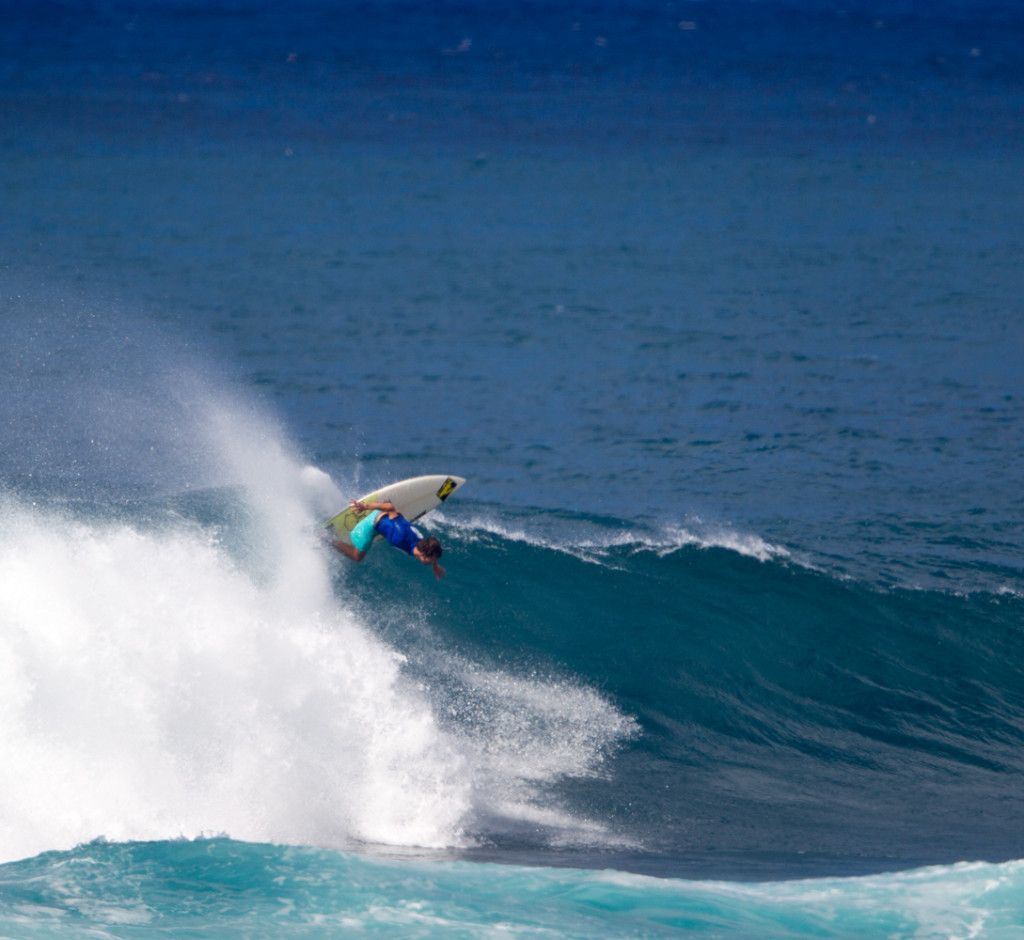 Hank Gaskell cracking left.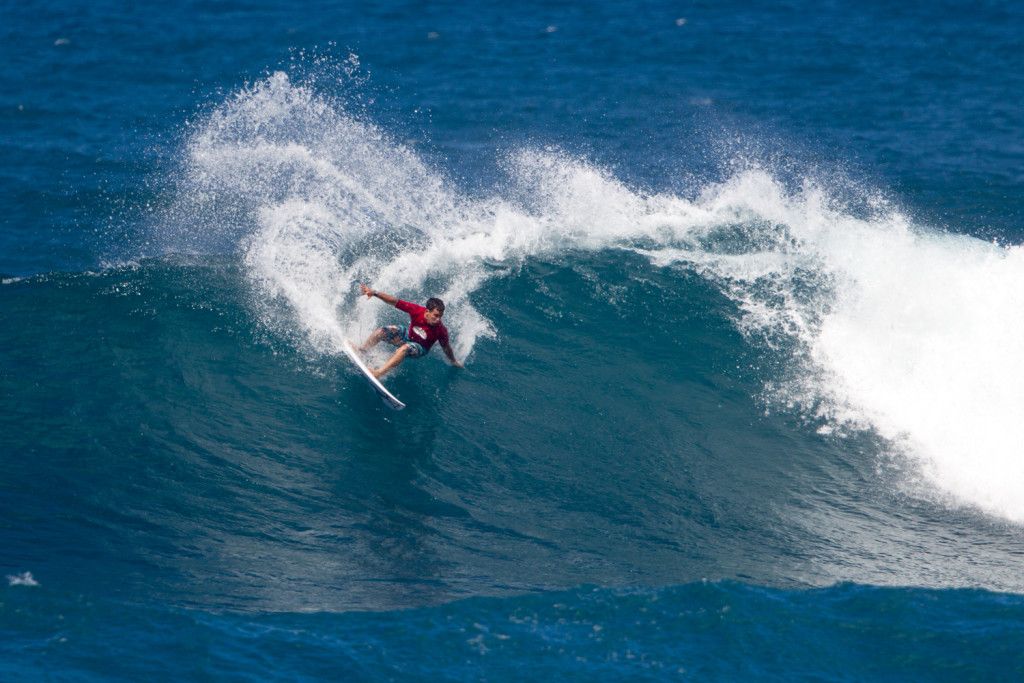 Mason Ho drawing lines.
| | |
| --- | --- |
| Event / Location:   | Sunset Pro, North Shore, Oahu, Hawaii |
| Dates: | January 17 – 27, 2016 |
Rating:                            WSL Men's QS1,000
Sunset Beach, North Shore, Oahu, HAWAII – (Friday, January 22, 2016) — Whales dotted the horizon as surfers weaved through playful 4-6+ foot waves during Day 1 of the Sunset Pro, a World Surf League (WSL) men's Qualifying Series (QS) 1,000 event. Earlier this week the Sunset Pro Junior was held here, won by Riley Laing (AUS) and Brisa Hennessy (HAW).
Regional favorites Danny Fuller (Kauai), Mason Ho (Oahu), Jamie O'Brien (Oahu) and Sunset Pro defending champion Hank Gaskell (Maui) saw success in the tricky conditions, while Rainos Hayes (Oahu) was the only surfer to advance into the Round of 64 after competing as an alternate in the first round.
Hayes is a surf coach and mentor for Billabong team riders and works closely with the up-and-coming juniors of Hawaii. The 46-year-old talked about the talent here today:
"The level of competition and the quality of the competitors is world class. Here we are at a world class venue with conditions that are tricky, but the quality of the young kids coming up, the veterans that are here, and the guys that are absolutely in the prime of their life is through the roof."
Ulualoha Napeahi (HAW), 19, had one of the highest combined scores of the day, a 14.50, in his heat against Cody Young (HAW), Jason Shibata (HAW), and Edrick Baldwin (HAW). The Big Island athlete will surf on Day 2 of the competition.
Young also advanced and is one of the youngest competitors in the Sunset Pro. At 16, the Maui athlete looks forward to the next day of competition.
"We've had a bunch of big days for this contest where it was just too big to run, and with the forecast being as big as it is, I'm a little bit nervous," said Young. "But I have big boards so I'm ready if it comes down to it."
Cody is looking to get a slot into the upcoming Volcom Pipe Pro, whose holding period begins this Thursday.
"I was a couple spots off in the regional rating, and I think it's the next two remaining people in the region that do the best in this contest who get a seed in the Volcom Pipe Pro," said Young. "I'm just trying to make as many heats as I can and try to get into that contest."
Sunset standout and 2014 HIC Pro champion Danny Fuller (HAW) posted the second highest single wave score of the day behind Brazil's Victor Bernardo (8.90) – an 8.75 for a few solid turns on a set wave. With a decreasing swell however, the lineup proved difficult to read and surfers found themselves scratching for scores.
"The conditions are absolutely beautiful, but we have a dropping swell so it's kind of going in between the outside and the inside," said Fuller. "A lot of guys are getting lost and not really getting good scores, so I just got really lucky and got a few good waves and I'm stoked."
Official event forecaster, Surfline.com predicts head-high surf for Saturday as the old NW swell drops and a new WNW swell moves in for the late afternoon. The surf builds for Sunday and Monday as the new swell fills in, which could see waves up to 25 feet pound the North Shore. As a notorious big wave venue, Sunset Beach is known to handle large surf and adds to the excitement for beach spectators and challenge for competitors.
Contest officials will determine by 7am tomorrow morning if the Sunset Pro will resume for the final day of competition.
Remaining Round of 64 Matchups:
H12: Kiron Jabour (HAW), Keoni Yan (HAW), Travis Beckmann (HAW), Rainos Hayes (HAW)
H13: Tanner Hendrickson (HAW), Gavin Gillette (HAW), Dylan Goodale (HAW), Danny Fuller (HAW)
H14: Billy Kemper (HAW), Brian Toth (PRI), Eala Stewart (HAW), Chris Foster (HAW)
H15: Joshua Moniz (HAW), Makuakai Rothman (HAW), Mikey Bruneau (HAW), Ulualoha Napeahi (HAW)
H16: Kaito Kino (HAW), Kaimana Jaquias (HAW), Elijah Gates (HAW), Cody Young (HAW)
RESULTS
Shown in order of 1st through 4th. All surfers from Hawaii unless otherwise noted.
Round of 64 – 1st and 2nd advance, 3rd=33rd place, 4th=49th place
H1: Makai McNamara, Gregg Nakamura, Ian Gentil, Kalani Chapman
H2: Victor Bernardo (BRA), Kai Barger, Eli Olson, Takumi Nakamura (JPN)
H3: Mason Ho, Koa Smith, Landon McNamara, Gavin Sutherland
H4: Lucas Silveira (BRA), Imaikalani deVault, Kekoa Cazimero, Logan Bediamol
H5: Jamie O'Brien, Myles Padaca, Ian Walsh, Love Hodel
H6: Alex Smith, Luke Shepardson, Torrey Meister, Taichi Wakita (JPN)
H7: Evan Valiere, Miguel Tudela (PER), Tereva David (PYF), Kevin Sullivan
H8: Hank Gaskell, Joel Centeio, Jonah Morgan, Isaiah Moniz
H9: Patrick Gudauskas (USA), Shayden Pacarro, Reo Inaba (JPN), Schuyler Allen
H10: Noa Mizuno, Seth Moniz, Riley Laing (AUS), Alex Pendleton
H11: H11: Coconut Willie, Benji Brand, Slade Prestwich (ZAF), Marco Giorgi (URY)
Round of 80 – 1st and 2nd advance, 3rd=65th place, 4th = 73rd place
H1: Gregg Nakamura, Eli Olson, Nathan Florence, Ryan Hipwood (AUS)
H2: Gavin Sutherland, Logan Bediamol, Jud Lau, Ezra Sitt
H3: Love Hodel, Taichi Wakita (JPN), Joao Marco Maffini, Lance Gruver
H4: Tereva David (PYF), Jonah Morgan, Sheldon Paishon, Finn McGill
H5: Shayden Pacarro, Alex Pendleton, Wyatt McHale, Kai Mana Henry
H6: Coconut Willie, Rainos Hayes, Flynn Novak, Derek Wong
H7: Danny Fuller, Chris Foster, Joey Johnston, Kelson Lau
H8: Ulualoha Napeahi, Cody Young, Jason Shibata, Edrick Baldwin
Round of 88 – 1st and 2nd advance, 3rd=81st place, 4th=85th place
H1: Ryan Hipwood (AUS), Jud Lau, Derek Ho, Laka Burgess
H2: Lance Gruver, Kekoa Bacalso, Jonah Morgan, Patrick Furlotti (USA)
H3: Wyatt McHale, Rainos Hayes, Koa Rothman, Braiden Maither (AUS)
H4: Joey Johnston, Edrick Baldwin, Reef McIntosh, Kainoa Haas
worldsurfleague.com