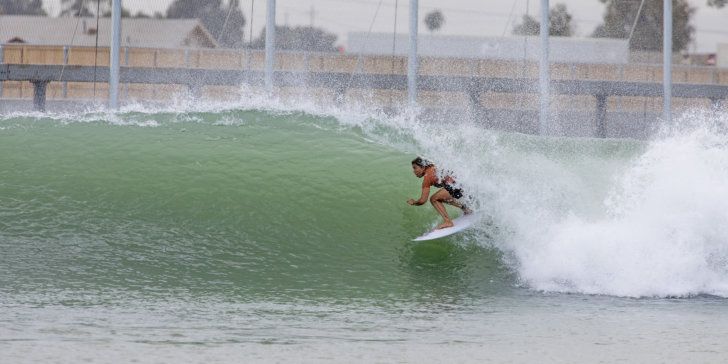 GAME CHANGER OR AT LEAST GAME ENHANCER FOR PRO SURFING
MAY EVENT SLATED TO BE HISTORIC FIRST FOR WORLD SURF LEAGUE
Silvana Lima (BRA) will represent the Brazil Team at the WSL Founders' Cup of Surfing specialty event in May.
Credit: © WSL /  Morris
SNAPPER ROCKS, QLD/Australia (Monday, March 12, 2018) – The World Surf League (WSL) today announced the full teams for the Founders' Cup of Surfing presented by Michelob ULTRA Pure Gold. The specialty event will be the first public event at the world-famous Surf Ranch facility in Lemoore, California and will be held from May 5 – 6, 2018.
A first for the world's best surfers, the continental co-ed teams event will see a cross-section of the world's best surfers battling it out for the public at the world's most high-performance man-made wave.
"The Founders' Cup of Surfing is going to be a really special part of the 2018 calendar," Kieren Perrow, WSL Commissioner, said. "We're really excited to be opening up this amazing facility to the public with this teams event. It's something new for surfing, but I think it will be a lot of fun and exciting to see how the world's best surfers perform in this kind of a format."
AUSTRALIA TEAM:
Captain: Stephanie Gilmore (AUS)
Mick Fanning (AUS)
Matt Wilkinson (AUS)
Julian Wilson (AUS)
Tyler Wright (AUS)
BRAZIL TEAM:
Captain: Gabriel Medina (BRA)
Adriano de Souza (BRA)
Filipe Toledo (BRA)
Silvana Lima (BRA)
Taina Hinckel (BRA)
EUROPE TEAM:
Captain: Johanne Defay (FRA)
Jeremy Flores (FRA)
Frederico Morais (PRT)
Leonardo Fioravanti (ITA)
Frankie Harrer (DEU)
USA TEAM:
Captain: Kelly Slater (USA)
John John Florence (USA)
Kolohe Andino (USA)
Carissa Moore (USA)
Courtney Conlogue (USA)
WORLD TEAM:
Captain: Jordy Smith (ZAF)
Michel Bourez (PYF)
Kanoa Igarashi (JPN)
Paige Hareb (NZL)
Bianca Buitendag (ZAF)
The Surf Ranch facility, which was revealed online to the public in December 2015, boasts the best man-made wave in history – a 700-yard, high-performance, bi-directional wave featuring barrel sections and maneuver sections.
Primarily existing as a testing facility, the Lemoore site has spent the past two years dialing in the technology under the guidance of 11-time WSL Champion Slater and feedback from visiting WSL surfers. A private test event last September proved very successful, paving the way for the May Founders' Cup of Surfing and the Surf Ranch CT event in September.
Tickets will be available tomorrow, March 12, 2018 (Pacific Time) at WSLFoundersCup.com.
For more information, please visit WSLFoundersCup.com and WorldSurfLeague.com.