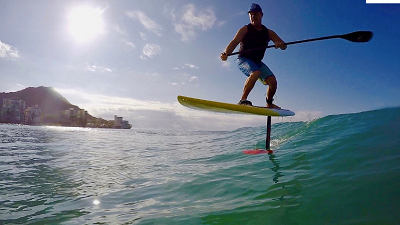 May 17th! Don't miss this one…
The FIRST EVER… "Full On Foil" Surfing comp, showcasing Hawaii's talent and…. 
An awesome benefit for the incredible 'Boys to Men Mentoring Hawaii' program…
Teams compete for the most team waves in 3 twenty minute heats.
Full on Foil Challenge…below event mastermind Todd Bradley flying through the line-up!
Aloha Full on Foil Team!
Thank you for being part of the first Full on Foil fundraiser for Boys to Men Mentoring Hawaii.
We mentor fatherless and at-risk boys within school group mentoring programs at no cost to the parents or the schools. We count on grants, foundations, donors and fundraisers like the Full on Foil event to the function. As part of the event, you have the chance to help us raise money on Facebook and win a prize of your own!
This event is getting a lot of exposure and will be filmed by Alex and his team at 
zon3.com
 to run on Hawaii Extreme Sports.
From now until close of the event, we are running a fundraiser via Facebook. Just follow the instructions below, it's easy. The top three fundraisers will win epic prizes valued at over $1,000. Prizes to be announced prior to event.
How to Fundraise: It's simple!
To enter the contest, just follow the instructions below:
Click Fundraisers in the left menu of your news feed on Facebook.
Click Raise Money.
Select Nonprofit/Charity.
Select a charitable organization, in this case, Boys to Men Mentoring Network of Hawaii.
Use the cover photo provided, or one you prefer.
Fill in the fundraiser details. (Written below)
Click create.
You can then invite all of your contacts to donate to your campaign.
You can create as many posts as you want until the end of the Full on Foil Challenge to raise money.
Upload photos / video from Friday's event.
If you need help call or email me!
(808) 927-5611
Fundraiser Details (just copy this in for step 6):
Please help me to support this great cause! I'm raising money for Boys To Men Mentoring Network of Hawaii and your contribution will make an impact, whether you donate $5 or $500.Every little bit helps the fatherless and at-risk boys here on Oahu! We are on a mission to raise $25,000 via Facebook with our Full on Foil Challenge Event in Waikiki on May 17, 2019.
This will support us with the funds to open three new schools with our mentoring program on Oahu in the 2019-2020 school year.

| | |
| --- | --- |
| | |
(877) 814-0457 B2MHawaii.org
All proceeds go to the in-school group Boys to Men mentoring programs for fatherless and at-risk boys on Oahu.
Log on for more on this First Ever Foil Competition/fundraiser…FULLONFOIL.ORG

Front Page Photo: Todd Bradley (mastermind for B2M Benefit) pumping fast toward the Full On Foil Event May 17th