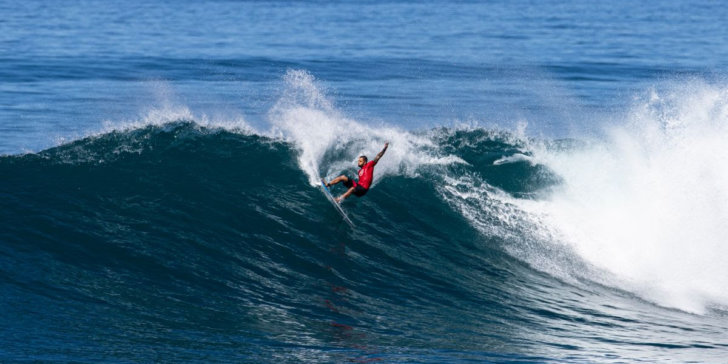 • Sunset Specialist Kiron Jabour Earns High Score of the Day
• Defending Event Winner Cody Young Advances into Round 4
• Finals Day Anticipated This Weekend in XL Surf
Pictured: Billy Kemper ping-ponged between Maui and Oahu to score the best wave of his life at Jaws yesterday and a spot into Round 4 at the Sunset Open today.
Credit: © WSL / Chlala
Haleiwa, Oahu/HAWAII – (Friday, January 24, 2020) – The Sunset Open accelerated today in clean 8-10ft. conditions at Sunset Beach as top-seeded surfers in Round 3 opened their 2020 competitive campaigns, including big wave phenom Billy Kemper (HAW), who is coming off an all-time high after riding the wave of his life yesterday at Pe'ahi on Maui. Kemper went straight into a heat win at Paumalū (Sunset Beach) today during Round 3 and is excited for the next big swell anticipated this weekend.
A World Surf League (WSL) Hawaii/Tahiti Nui regional competition, the Sunset Open is a Men's Qualifying Series (QS) 1,000 rated event and runs in conjunction with the Men's and Women's Sunset Pro Junior, which ran earlier this week and crowned two winners. Contest organizers expect to hold finals day this weekend in XL conditions that will see athletes tested physically and mentally as Sunset Beach delivers the best swell of the new year.
"Made my heat, that's the goal, onto the next one and hopefully tomorrow it's double the size and I can ride a bigger board and lay down some turns," said Kemper following Round 3 Heat 9. "The last 24 hours has been crazy. That wave I rode yesterday was a wave I've been visualizing and manifesting my whole life…To make a wave like that it's what I dreamt of being a little kid…It's something that I train for mentally, I like putting myself under pressure and I like performing under pressure, it's something I truly enjoy and I'm addicted to."
Pictured: Billy Kemper (HAW).
Credit: © WSL / Chlala
Kemper is a true athlete, primed for competition every time he dons a jersey and a proven champion at waves of consequence, including Pe'ahi and Sunset Beach. He won the Sunset Open in 2018 and claimed victory at the venue in 2010 at the Vans Pro.
"Today's the day we dream of surfing Sunset," Kemper continued. "If you could turn Sunset into Lowers, this is the perfection of Sunset Beach. Four-to-six-foot with the odd eight-footer and a WNW swell right off the corner of the point and it's beautiful out there, just having fun, really enjoying myself. I put on a jersey and if I'm surfing two-foot waves on the other side of the world or fifty-foot waves at Jaws, I always have that feeling. I think that's also the urge and determination to win, it's just being a competitor at heart. I think everyone knows I'm very competitive and I love competing. I take these 1,000 events the same way I take the Pe'ahi Challenge, it's all the same to me, I'm in a jersey, I want to win."
The top score of the day, an excellent 8.00 (out of a possible 10) went to Sunset specialist Kiron Jabour for a combination of turns that saw him dominate his heat against Eimeo Czermak (PYF), Mason Ho (HAW) and Logan Bediamol (HAW).
Pictured: Kiron Jabour (HAW).
Credit: © WSL / Chlala
"I had been sitting for fifteen minutes and I saw the ten-minute mark on my watch and finally got a chance to catch a wave and I was a little nervous and excited," said Jabour. "The wave stood up, I knew it was a good wave, I tried to surf it my best. The second turn I almost fell, I did the turn and the wave kind of picked me up and I was on my tippy toes. I was super stoked I completed the wave because there wasn't that much time left."
Jabour has spent the past seven years chasing the higher rated events on the QS, which has taken him around the world. However, this year, he plans to switch things up and focus on the regional competitions with the ultimate goal of qualifying for the year-ending heritage surf series, the Vans Triple Crown of Surfing. He has seen recent success at his home break, with a fourth place finish last year at the Sunset Open and a win at the 2018 Vans Pro. One of the most skilled and knowledgeable surfers in the lineup, both in competition and free surfing, Jabour seems to have the wave wired and maintains a consistent mindset.
Pictured: Kiron Jabour (HAW).
Credit: © WSL / Chlala
"Sunset is funky you just have to adapt, every heat is different," Jabour continued. "I was watching the heats hours before mine and there was more than a few sets per heat and my heat was just slow the first fifteen minutes. You just have to adapt and try to be in the right flow state and get in the right rhythm and once you catch waves you have to try and surf your best. Just put it all together. It's definitely a tricky spot like anywhere else, but I grew up surfing right here and had good results from the juniors into last year and the year before. I enjoy surfing here at home, so stoked."
Tahitian standouts Czermak and Kauli Vaast (PYF) both advanced today after lighting up the point, with Vaast nailing one of the higher combined two-wave totals of the day, a 12.70 in Round 3 Heat 5. As a regular at Teahupo'o, one of the heaviest waves in the world, Vaast is no stranger to big surf and has been earning his place in the North Shore lineup after his 9th finish at the 2019 Sunset Open and his performance so far in 2020.
Pictured: Kauli Vaast (PYF).
Credit: © WSL / Chlala
Defending event winner Cody Young (HAW) kept his hopes alive for back-to-back titles after a compelling Round 3 Heat 8, which saw confident power-surfing and a 12.75 combined heat total to Michael O'Shaughnessy's (HAW) 7.70, who advanced behind Young.
The Maui standout had a breakthrough year in 2019 after earning his first professional victory at the Sunset Open followed by a 5th place at the Volcom Pipe Pro Men's QS 3,000 and ending with 4th at the Vans World Cup of Surfing Men's QS 10,000, a career-high.
"It's amazing to start and finish here, it was just a month ago that we were over here for the World Cup and I did pretty well in that event," said Young. "I won this contest last year so I have a little bit of pressure going into it, I obviously want to win. But at the same time, it's a lower rated event so it's kind of just my warm-up for the year, but hopefully I make the final, hopefully win, that would be ideal. Surfing more and more heats out here at Sunset is such a good way to gain experience. I love this wave and feel like this wave suits my surfing pretty well, so I'll try to keep going. The more and more good results that you get at a spot the more confidence you can bring into the next one."
Pictured: Cody Young (HAW).
Credit: © WSL / Chlala
Young will stay in Hawaii for the next regional event, the Volcom Pipe Pro, then head to Australia for the Vissla Central Coast Pro QS 3,000 and the Surfest Newcastle Pro QS 5,000, then plans to compete around the world in the Challenger Series.
North Shore household name, Finn McGill (HAW) set the benchmark for scores this morning after nailing a 7.25 for one of the most progressive moves of the competition. McGill dropped into a big set wave in the 10-12ft. range and started off with a swooping carve to set up for his second maneuver, a powerful turn on an impossibly steep section which he navigated with expertise, despite riding only a 6'4 shortboard.
"I wasn't going to go on it actually, then I was paddling up the face and thought I was too deep and under it, and then I ended up just turning and going," said McGill. "I ended up making the drop and then my board was really small, just everything was kind of not going with me and then that last section came and it ended up being a super good section, yeah I'm stoked I got that wave."
Pictured: Finn McGill (HAW).
Credit: © WSL / Chlala
McGill advanced into Round 4 where he will tackle the first heat of Finals day alongside Eli Hanneman (HAW), Max Beach (USA) and Lahiki Minamishin (HAW).
Day 1 standout Noah Beschen (HAW) continued his tear today as he collected two 7-point rides during Round 3 Heat 7, a 7.15 and 7.10, for stylish turn combinations. The North Shore local continues to impress with his casual confidence and ended up eliminating 2020 Sunset Pro Junior winner Brodi Sale (HAW) and Sunset Pro Junior finalist Shion Crawford (HAW) en route to Round 4.
"I feel like it was a pretty dreamy heat, I didn't feel that much pressure," said Beschen. "I felt good, my first 7, I just took my time on the wave. I feel like if you look confident and mature they're going to give you scores, so I surfed my first wave calm. Then my second wave I got another 7 and I was like yeah, stoked, that felt good!"
Finals day is anticipated for this weekend given the excellent forecast; contest organizers will reconvene in the morning to assess conditions and determine the call by 7:00 am HST. Surfline predicts a new XL size WNW-NW swell to quickly build in and peak late with waves ranging between 8 and 18ft. When the Sunset Open is called back ON, Round 4 Heat 1 will hit the water first at 8:00 am and a winner will be crowned around 2:30 pm during the awards ceremony on-site at Sunset Beach.
Pictured: Noah Beschen (HAW).
Credit: © WSL / Chlala
About the WSL 
The World Surf League (WSL), established in 1976, is the enablement platform for surfing and surfers worldwide. The WSL is dedicated to changing the world through the inspirational power of surfing by creating authentic events, experiences, and storytelling to inspire a growing, global community to live with purpose, originality, and stoke.
The WSL is a global organization, headquartered in Santa Monica and with regional offices in North America, Latin America, Asia Pacific, and EMEA. The WSL possesses a deep appreciation for the sport's rich heritage while promoting progression, innovation, and performance at the highest levels.
The WSL is comprised of Tours & Events, celebrating the world's best surfers across all disciplines and annually running more than 180 global contests and crowning the undisputed World Champions across all divisions; WSL WaveCo, where innovation meets experience; and WSL Studios, which offers best in class storytelling across competition, lifestyle, and conservation.
For more information, please visit WorldSurfLeague.com