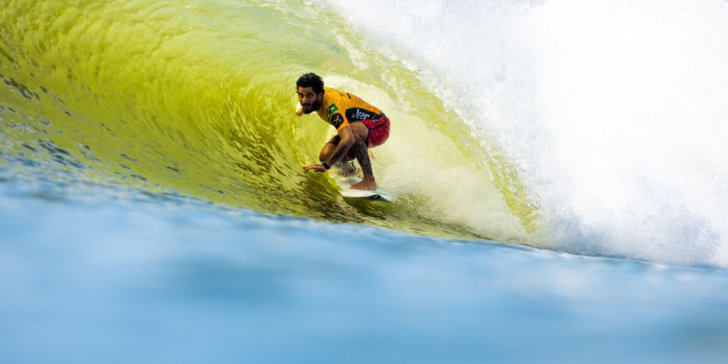 Finals Day Draw Takes Shape
Toledo and Smith Take Control as World No. 1 and No. 2
Defending Event Champ Moore Stomps Her Authority in Debut
Wildcards, Rookies Fail to Make the Cut Among World's Best
 Front page
Event standout Filipe Toledo (BRA) debuted brilliantly and earned near-perfection at the Freshwater Pro pres. by Outerknown.
Credit: WSL/ Miers
LEMOORE, California/USA (Friday, September 20, 2019) – The World Surf League (WSL)  Freshwater Pro presented by Outerknown, the seventh stop on the women's Championship Tour (CT) and eighth stop of the men's CT, witnessed its first eliminations on cut day as the finals day picture became more clear. To celebrate California Surfing Day, the competition sizzled through the remaining Round of 36 men's heats and Round of 18 women's heats to secure surfers who would earn their chance at a bonus wave to save their campaign. The upper echelon of the event leaderboard will have one last chance in the morning to regain their places among the Top 8 and Top 4 women who will compete for the 2019 event win.

Cut Day: Who's In, Who's Out
Pictured: Laser focus from Courtney Conlogue (USA) pushed the Californian into No. 4 on the event leaderboard for now.
Credit: WSL/ CestariHeavy implications awaited on cut day with surfers sitting beyond the Top 24 cutline for the men and Top 12 cutline for women facing elimination from competition. However, there was a bonus opportunity for those hoping to find their way into finals day, but unfortunately for some heavy-hitters, that opportunity went squandered.

World Title contender Sally Fitzgibbons (AUS) was the first to face elimination, falling just .07 short of the required score while fellow contender Courtney Conlogue (USA) capitalized on her bonus attempt and pushed her way into the Top 4. Conlogue must await the likes of seven-time WSL World Champion Stephanie Gilmore (AUS) and fellow Californian contender Lakey Peterson to have their bonus waves tomorrow before her position is secure.

"There's a lot of anticipation for these four waves and just composing yourself and realizing your surfing this amazing wave," said Conlogue. "I always just love to improve and draw some different lines after seeing the same ones over and over again – just give it a little twist. Whatever happens, happens. I gave it everything I had and I enjoyed it."
 Owen Wright (AUS) not only bettered his opening day performance but shattered it in clutch form.
Credit: WSL/ Van KirkA surfer-by-surfer shuffle followed in the men's contingent beginning with rookie Deivid Silva (BRA) who made his way to the No. 8 spot before Ezekial Lau (HAW) pushed him out by going to No. 7. Wade Carmichael's (AUS) power display and then Kanoa Igarashi's (JPN) signature flair then took over the qualifying spots. But it was Owen Wright (AUS) who played ultimate spoiler with a clutch performance moving from No. 20 to No. 3 on the leaderboard heading into finals day.

"I just dug deep and it was that Aussie spirit there and I knew I had to perform," Wright said. "The entire day I just knew that this was it and make the few tweaks I know I needed to make but got it done. I trusted that I'm just a competitor and if I get that opportunity to catch a wave, just let me at it."

Tomorrow features 11-time WSL World Champion Kelly Slater (USA), Australian threats Julian Wilson (AUS) and Adrian Buchan (AUS), and the high-flying Yago Dora (BRA) among others remaining to vie for a Top 8 spot.

World Title Contenders Debut in Defining Fashion
Last year's event runner-up and current Jeep Rankings Leader Filipe Toledo (BRA) wasn't to be outdone by World No. 2 Jordy Smith (ZAF) and dropped a near-perfect 9.27 on his first righthander. An early stumble on the left showed an uncharacteristic mistake from the World Title contender but Toledo was able to reset and deliver his signature flair with a critical, inverted finish to recover from a near-detrimental start. Both Smith and Toledo sit comfortably on the leaderboard heading into a big finals day tomorrow where they must fend off a hungry field.

"That was interesting, I was feeling really good on that wave and it's just one little mistake and you're done," Toledo said. "I tried to throw the fins a little bit and got stuck behind but it happens and I was stoked to be able to make it up on the right. The main goal from that second run was to improve on my left and I'm excited I did that. I wanted to push more on the right and I haven't tried an air-reverse coming out of the barrel yet so I went for it but just got disconnected from my board."
Fellow World No. 1 Carissa Moore (HAW) arrived at the Freshwater Pro as defending event winner on the hunt for a fourth WSL Title. The Hawaiian wasn't phased after stumbling on her opening lefthander and recovered incredibly with a near-perfect 9.03. Solid performances from fellow Hawaiian Coco Ho (HAW) and World Title threat Courtney Conlogue (USA) kept Moore out of the Top 10 until she redeemed herself on the left with a 7.20 to move up to No. 2 on the event leaderboard to all-but guarantee a finals day spot.

"I think this event is just mental because we all know how to surf so it's all just not overthinking anything, letting go of the pressure and expectations, and just trusting you know what you're going to do," Moore said. "It's tough when you only have a few opportunities and you fall then you know you have to perform. That second left helped take the pressure off a little bit and it's nice to be sitting where I am heading into tomorrow."
Current World No. 2 Smith recovered in amazing form after a disappointing first run.
Credit: WSL/ CestariSmith put on a show in his second run after a disappointing first attempt before Toledo took to the water that had him sitting at No. 12 on the event leaderboard. A dominant backhand attack started his second lefthander and garnered a 7.33 to enter the Top 10 before wreaking havoc on his forehand to earn an excellent 8.57. Smith's signature power was on full display for the world's best to watch and catapulted him into the No. 2 spot on the leaderboard which drew pure elation from the South African veteran.

"I just put everything in that last one and just engaged the core (laughs)," Smith said. "My plan is just to stick with what I do best and that's power turns. I'm not competing with what other guys do well and focus on my own surfing which is the big open face turns. That leaderboard is the best thing ever just to see it change like that."
 Caroline Marks (USA) all smiles before decimating her debut with her backhand attack.
Credit: WSL/ CestariThe 17-year-old phenom Caroline Marks (USA) made noise at the Surf Ranch last season with an immaculate air-reverse and brought that fire back in her 2019 debut. Currently No. 5, Marks finds herself in striking distance of being a World Title threat and showcased her composure under pressure with a dominant 8.73 backhand attack to start. The San Clemente, California, transplant rocketed to No. 2 – before Moore pushed her to No. 3 – on the event leaderboard and has the opportunity to be in the Top 4.

"Improving on the left was a goal of mine so I'm stoked but it's unique not surfing a wave for two days and hanging around Lemoore," Marks said. "I haven't really been focusing on the results. That's when I'm doing my best because I just love surfing so much and try not to put too much pressure on myself. My goal is to just get better and better every day and just be the best person I can be and I'm having so much fun with it."
Surf Ranch CT First-Timers Falter 
An unfortunate day unfolded for rookies and wildcards hoping to give the world's best a run, with none left standing following the first cut day. Jett Schilling (USA) let the world know what he's capable of on his first-ever CT wave, garnering a 7.23 to start his Freshwater Pro campaign but couldn't find a righthander to back it up. Fellow San Clemente, California, native and wildcard Kade Matson (USA) earned a bonus opportunity to put his name into the finals day draw but also fell victim to the power of perfection.
Rookie sensation Brisa Hennessy (HAW) came into this event with plenty of momentum currently ranked No. 9 but failed to post a number higher than her 5.83 while fellow rookie Macy Callaghan (AUS) continues her search for a big result in 2019.
Freshwater Pro pres. by Outerknown Schedule
The Freshwater Pro will be broadcast LIVE on WorldSurfLeague.com and the free WSL app. Also, check local listings for coverage from the WSL's broadcast partners.
Men's Freshwater Pro pres. by Outerknown Leaderboard Top 8
Gabriel Medina (BRA) 17.77
Filipe Toledo (BRA) 16.07
Owen Wright (AUS) 15.97
Jordy Smith (ZAF) 15.90
Griffin Colapinto (USA) 15.50
Italo Ferreira (BRA) 14.97
Wade Carmichael (AUS) 14.90
Willian Cardoso (BRA) 14.70
Click here for full leaderboard
Women's Freshwater Pro pres. by Outerknown Leaderboard Top 4
Johanne Defay (FRA) 17.50
Carissa Moore (HAW) 16.23
Caroline Marks (USA) 16.10
Courtney Conlogue (USA) 15.83