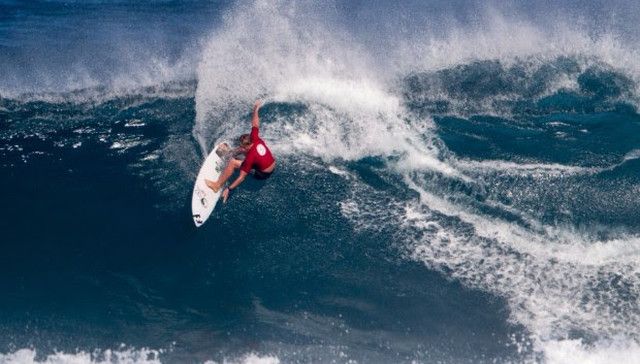 Finn McGill © WSL/Freesurf/PhotoKeoki
WSL Hawaii launches new Junior Development Program
Surf News Network, 25 March, 2016 – At a point in time when Hawaii's representation on the men's World Surf League (WSL) Championship Tour is at an all-time, 41-year low of just two surfers – John John Florence and Keanu Asing, WSL Hawaii is pleased to launch a new Junior Development Program for its members aged 18 and under.
The Junior Development Program will focus on career readiness, mentorship, tour preparation, and a path to global surf industry opportunities. The first workshop will be held this Saturday, March 26, in conjunction with the Pipe Pro Junior and Wahine Pipe Pro holding period of March 21 – 28, 2016.
The day will include tour scheduling and planning with Pancho Sullivan, mentorship and goal setting with Fred Patacchia, priority rules and judging, social media procedure and etiquette, injury prevention and more, and will be free and open to Hawaii's 70 junior members – boys and girls.
All activities will be geared to complement the rigorous, private in-surf training many of Hawaii's aspiring youth already participate in, rounding out their skills.
The Junior Development Program, coupled with a concerted effort to increase Junior and entry level Qualifying Series events in the Hawaii/Tahiti Nui region, is the first step toward Hawaii's hopes of reigning in Australia and Brazil, who collectively hold 24 of the 34 Championship Tour slots available in 2016, and between them have won the men's world title the past four years.
Hawaii has not seen a world champion since Andy Irons in 2004, 12 years ago. Furthermore, there have onlyever been three male world champions from Hawaii in the history of professional surfing. Australia has won 16 titles by way of nine different world champions.
Australia's hefty government support of surfing events, youth surfing programs, and a national school surfing program has long been credited with churning out an endless line of polished surf stars that include Mick Fanning, Joel Parkinson and Stephanie Gilmore.
Local beaches around Australia's 16,000 miles of coastline also offer regular club-level competition that is encouraged by local municipalities and offers another competitive training platform.
Surfing develops confidence and sportsmanship, rounds out worldliness to create unities with different cultures, provides a connection with the ocean and ultimately our environment, and networks individuals in important industry opportunities. Surfing is a healthy lifestyle, and it promotes a positive future for our communities.
"Somewhere along the way, Hawaii's pride and place in surfing slipped," said WSL Hawaii General Manager Jodi Wilmott. "Our kids and our surfing community will be our new partners in bringing surfing back to its rightful place in Hawaii. It's a very exciting time.
"Throughout history, surfing has been a vital part of Hawaii's story, from surfing royalty, to modern times. Duke Kahanamoku was an incredible ambassador for surfing and Hawaii around the world. Professional surfing was born here with original members the likes of Eddie Aikau, Michael Ho and Rory Russell sharing the same message.
During its first decade, as many as half of the Top 16 were from Hawaii.
"But while we still offer the sport's pinnacle events, like the Vans Triple Crown of Surfing, it has becoming increasingly difficult for Hawaiians to get a start in their own backyard. We are embarking upon a course that will help to correct that."
Hawaii's challenges are:
Geography – isolation from the US mainland and the continentally-based surf industry, resulting in limited sponsorship and competitive opportunities.
Policy – a limited number of beaches available to competition, with a limited number of permits and competition days therein.
Infrastructure – unlike football, golf, soccer, basketball, swimming and track and field sports, competitive surfing has no dedicated fields or arenas. Event sites have to be built from scratch at incredibly high cost, and then torn down, over and over.
Complacency – surrounded by ocean with a disproportionately high surfing population compared to the rest of the world, surfing can be so commonplace as to be overlooked. Local government support of surfing programs, athletes and events here has been minimal, but we are encouraged to see a renewed interest in surfing coming about.
High demand/low supply – with limited events and starting opportunities, it is not uncommon to see up to 100 local surfers being turned away from their own events. If they can't earn points at home, they cannot get into events overseas…and the vicious cycle continues.