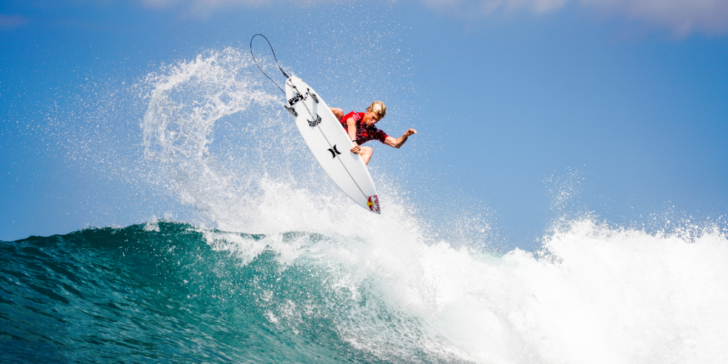 Defending Event Winner Ferreira and World No. 1 Florence Eliminated in R/32
Frenchmen Duru, Flores, and Bourez Advance to Next Round
Andino, Wilson, Toledo, and Slater Dominate Keramas


 
FRONT PAGE:  Kolohe Andino (USA) flies through another heat at the Corona Bali Protected with the highest two-wave score of the day. 
Credit: © WSL / Dorsey
Keramas, Bali/Indonesia (Sunday, May 19, 2019) – The Corona Bali Protected, the third stop on the 2019 World Surf League (WSL) Championship Tour (CT), completed the first twelve heats of the men's Round of 32 (Round 3) today in three-to-five foot (1 – 1.5 metre) waves at Keramas in Bali, Indonesia. Big upsets and close calls ripped through the head-to-head elimination round, saying goodbye to top seeds such as Italo Ferreira (defending event winner) and John John Florence (current World No. 1).
Jack Freestone Sends Italo Ferreira Packing with R/32 Win
Following his win on the Gold Coast, Ferreira came into Bells Beach and Bali as the defending event winner for both events. Disappointingly, Ferreira relinquished the Jeep Leader Jersey to Florence (HAW) at Bells and fell short in the Round of 32 (Round 3) to Jack Freestone (AUS) today at the Corona Bali Protected.

Freestone, the recent winner of the Red Bull Airborne Bali, was on the hunt throughout the entire heat and capitalized on opportunities under Ferreira's priority. As time counted down, the Brasilian was at a loss without any strong scores and leaves Bali in Equal 17th place. Freestone progresses into the Round of 16 as he aims for a fourth event win at Keramas to go with his two World Junior Titles and Red Bull Airborne win.

"That was definitely a big win for me," Freestone said. "Every time you can get out of the Round 3, it's a big win. I've put a lot of time out here at Keramas and have surfed it so many times and in events as well, so I definitely have a special relationship with it and feel like I know the line up well. I'd love to win this event for sure."
World No. 1 Florence Falls to World No. 30 Duru
Florence, two-time WSL Champion, was eliminated by France's Joan Duru in Heat 3 by only one-tenth of a point. Duru, who narrowly requalified for the CT this year, got an early lead and secured three consecutive mid-range scores. Florence then battled back to overtake the lead, but Duru refused to back down and his 6.17 in the dying minutes gave him just enough to take down the Jeep Frontrunner.

"My first wave I maybe pushed too hard and was kind of falling," Duru said. "I knew I needed to surf that heat well but I didn't think too much. I just went for it. I remember my fellow Frenchman Marc Lacomare back in the day during the Juniors. He was really ripping here and getting 9-point rides, so I just tried to surf like him."

"That was a super tough heat for sure," Florence said. "I made a few mistakes in that heat, which right now is all I can think of. I'll have to go back and watch it again to see where I went wrong. The waves are super fun and, obviously, Joan (Duru) ripped that last wave really well, but I didn't see it.  I'll probably hang out here for a couple of days and then head to Margaret River next week. I'm so stoked to be heading back there this year and hopefully, we get some pumping waves at North Point or something."
2018 Corona Bali Protected event runner-up Michel Bourez (FRA) had a close call in his head-to-head heat with Indonesian wildcard Rio Waida (IDN), who fell short by only 1.03 in the last heat of the day. Waida struggled to find opportunities in the low tide conditions as the local crowds cheered him on from the beach. Jeremy Flores (FRA) also advanced with a buzzer-beater win over Willian Cardoso (BRA) in Heat 6.
Julian Wilson (AUS) advanced through his first Round 3 heat of the season after sending home CT returner Jadson Andre (BRA). Wilson's well-rounded approach is a perfect match for Keramas with the Title hopeful showcasing tube-riding, tight rail-carves and big aerials to win the heat and guarantee his best finish of the year so far. Andre is eliminated in Equal 17th place for the second time this year.

"It definitely feels good to rip off that Round 3 band-aid and progress past Round 3 for the first time this year," Wilson said. "It's only really early in the year but two 17th place finishes don't do much for your confidence, so it was great to get through that heat against a great competitor like Jadson (Andre). We've had some awesome matchups over the years. I love this wave. It throws everything at you, so you can just explore what's possible and maybe surprise yourself with something you've never done before. I try my best to treat my heats like a freesurf as there are good waves that break all over the reef, so it pays to stay busy."
Julian Wilson (AUS) Credit: © WSL / Dunbar
Fresh off a Final finish at the Rip Curl Pro Bells Beach, Brasilian sensation Filipe Toledo (BRA) seems to be hitting his straps in 2019 posting the two highest single-wave scores of the event so far. The second highest, an 8.33 came in his Round of 32 matchup with countryman Caio Ibelli for an epic combination of rail and aerial surfing. With Florence and Ferreira, two surfers who sit ahead of him on the Jeep Leaderboard, current World No. 4 Toledo, has a big opportunity to jump closer to attaining top spot with another solid performance at Keramas.

"I was watching a few heats here this morning and noticed it was really slow," Toledo said. "I noticed that the surfers that were doing well were the most active surfers, so that's what I tried to do was to surf waves and build through the heat. When waves came to me I tried to capitalize on it by going big on the face and in the air and finish strong. I was bummed to see Italo (Ferreira) go out. That was stressful to watch but at the same time, it's a good thing when playing the game. It's early in the year but right now is when everything starts to build and we need big results."
11-time World Champion Kelly Slater (USA) took a convincing win over perennial title threat Owen Wright (AUS) in Heat 11 of the Round of 32. In a heat that saw the waves begin to slow with the outgoing tide, it seemed to be a Slater of old as the Floridian willed waves with both tubes and walls, while Wright struggled to find opportunity.

"I love Owen (Wright), he's a great guy," Slater said.  "We had a fun surf a Winki a couple days after the Bells event. He's obviously been through a lot of hardship but you kind of have to put all that stuff out of your mind. I went in with the mindset that I have the advantage here. I was able to play the heat right. My board feels stuck to my feet, which is a real confidence booster."

Kolohe Andino (USA) earned the day's highest two-wave total with a 14.54 (out of a possible 20) against Ricardo Christie (NZL) in Heat 8. Andino will advance to the Round of 16 where he will face fellow Californian Conner Coffin (USA) in Heat 4.
The next call for the Corona Bali Protected will be tomorrow, Monday, May 20, at 7:00 a.m. WITA for a possible 7:05 a.m. start. At this time, event organizers will assess the conditions to decide the day's competition schedule.

For more information, please visit WorldSurfLeague.com.
Corona Bali Protected Men's Round 3 (Round of 32) Results:
Heat 1: Julian Wilson (AUS) 12.23 DEF. Jadson Andre (BRA) 8.00
Heat 2: Michael Rodrigues (BRA) 12.27 DEF. Yago Dora (BRA) 3.57
Heat 3: Joan Duru (FRA) 12.14 DEF. John John Florence (HAW) 12.04
Heat 4: Wade Carmichael (AUS) 11.63 DEF. Deivid Silva (BRA) 11.44
Heat 5: Jack Freestone (AUS) 11.26 DEF. Italo Ferreira (BRA) 4.77
Heat 6: Jeremy Flores (FRA) 13.74 DEF. Willian Cardoso (BRA) 11.34
Heat 7: Conner Coffin (USA) 10.33 DEF. Griffin Colapinto (USA) 7.33
Heat 8: Kolohe Andino (USA) 14.54 DEF. Ricardo Christie (NZL) 8.37
Heat 9: Filipe Toledo (BRA) 13.00 DEF. Caio Ibelli (BRA) 7.13
Heat 10: Ryan Callinan (AUS) 11.76 DEF. Seth Moniz (HAW) 9.50
Heat 11: Kelly Slater (USA) 12.50 DEF. Owen Wright (AUS) 8.30
Heat 12: Michel Bourez (FRA) 9.13 DEF. Rio Waida (IDN) 8.10Corona Bali Protected Men's Round 3 (Round of 32) Matchups:
Heat 13: Gabriel Medina (BRA) vs. Leonardo Fioravanti (ITA)
Heat 14: Mikey Wright (AUS) vs. Adrian Buchan (AUS)
Heat 15: Kanoa Igarashi (JPN) vs. Peterson Crisanto (BRA)
Heat 16: Jordy Smith (ZAF) vs. Jesse Mendes (BRA)Corona Bali Protected Men's Round 4 (Round of 16) Matchups:
Heat 1: Julian Wilson (AUS) vs. Michael Rodrigues (BRA)
Heat 2: Joan Duru (FRA) vs. Wade Carmichael (AUS)
Heat 3: Jack Freestone (AUS) vs. Jeremy Flores (FRA)
Heat 4: Conner Coffin (USA) vs. Kolohe Andino (USA)
Heat 5: Filipe Toledo (BRA) vs. Ryan Callinan (AUS)
Heat 6: Kelly Slater (USA) vs. Michel Bourez (FRA)
Heat 7: TBD
Heat 8: TBDCorona Bali Protected Women's Quarterfinal Matchups:
QF 1: Carissa Moore (HAW) vs. Brisa Hennessy (CRI)
QF 2: Silvana Lima (BRA) vs. Sally Fitzgibbons (AUS)
QF 3: Stephanie Gilmore (AUS) vs. Courtney Conlogue (USA)
QF 4: Bronte Macaulay (AUS) vs. Nikki Van Dijk (AUS)