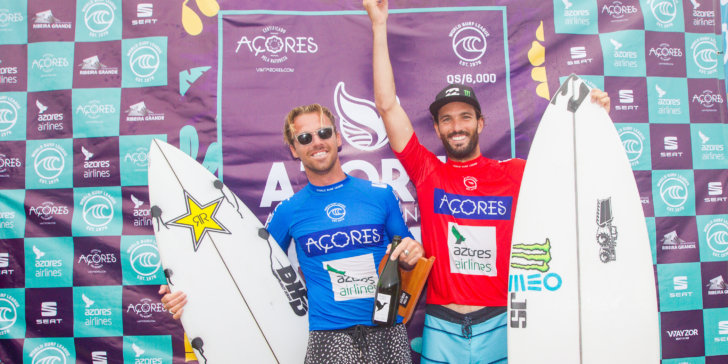 Portuguese Morais claims victory on home soil, makes QS Top 10

10 point ride from Joshua Moniz

Azores deliver a barreling day for the history books
Frederico Morais (PRT) scored some of the most beautiful waves of the day on his way to victory.
Credit: © WSL /  Masurel
PRAIA DE SANTA BARBARA, Sao Miguel – Azores Islands (Sunday, September 22, 2018) –  Frederico Morais (PRT) has won the QS6,000 Azores Islands Pro in historic fashion today, claiming victory in the Final bout against Mitch Crews (AUS) held in perfect six foot surf at praia de Santa Barbara.

Stop No. 10 of 11 on the 2019 World Surf League (WSL) European Qualifying Series (QS), the Azores Islands Pro witnessed one of the most epic days of competition on the QS, culminating with Morais' win in the Final. The powerful regular-foot surfer becomes the first Portuguese to make the Final and win in Azores in an event vastly dominated by the Brazilian contingent since its inception.

"I think today was one of the best days we've ever seen on the QS," Morais said. "It was just a perfect day with big barrels and a lot of opportunities for everyone. This is a dream to have conditions like this on finals day, your result doesn't depend on luck so much but rather your surfing and decision making, this is what surfing is all about."
Morais and Mitch Crews (AUS) on the podium of the 2019 Azores Airlines Pro
Credit: © WSL /  MasurelMorais had been rather discrete in the early rounds but went on a tear on finals day as he kept finding deep tubes and big sections to lay down his signature power turns. The 6,000 ranking points claimed today will push him up to No. 10 on the Qualifying Series heading into another major event in Ericeira next week."Those points are what we're all after and jumping up in the rankings puts me in a good spot for the re-qualification especially right now before Ericeira," Morais added. "I'm going to enjoy this moment but not for very long as Tuesday we're back in the lineup."

Morais slid under the lip of a clean little right to kick things off in the Final, stood up tall and rode out clean for a 6.17 to get into rhythm. While Crews got closed out on a few times, the Portuguese continued on a second wave with a deeper and heavier barrel and a closeout reentry to post an excellent 8.50 and take a firm lead.

Trouble kept Crews busy as on the next wave the Australian broke his leash and wasted valuable time swimming in to change his equipment. By the time he made it out the back again, 17 minutes had ran away from him and he was yet to put a decent score on the board.
 Today witnessed moments of perfection like this 10 point ride from Joshua Moniz (HAW).
Credit: © WSL /  MasurelMeanwhile Morais continued to find the gems in the lineup and extended his lead with a 7.43 to eventually seal the deal on his second QS win this season.Unfortunately Mitch Crews (AUS)  didn't get many opportunities to fight in the Final as waves kept shutting down on him, but the Australian did get his own deep and clean barrel previously in the Semis. This marks the former Championship Tour surfer's biggest result since 2013, the year he qualified for the tour.

"I have done so poorly the past few years and have broke both my ankles so I'm super stoked to get a result today," Crews said. "Today was so sick and I was really tired for the Final, four heats in those conditions was tough and I'm clearly not fit enough at the moment. Azores always provide good conditions, every year we come here and have waves so I hope it continues next year!"

In Semifinal 1, Morais put on a clinic to eliminate Gatien Delahaye (FRA). The Frenchman had been a standout up to that point, even scoring a near-perfect 9.67 for an incredible barrel ride earlier today. After a solid performance in Galicia a few weeks ago, Delahaye showed his current form is there to stay as he moves into the QS Top 20, the highest ranking ever achieved by the surfer from Guadeloupe.
Delahaye in a throaty right scored 9.67 out of 10.
Credit: © WSL /  Masurel"I'm really happy to get another keeper result here today," Delahaye stated. "To finish on a day like this and being able to show what I can do in barrels and turns was just icing on the cake. That 9 I got honestly I wasn't sure what the wave was going to do and when I saw it double up I really didn't think I'd make it out."In the second Semifinal, the recent winner in Pantin Miguel Pupo (BRA) couldn't find the waves he'd been riding all day and was forced out in equal third, adding another stellar result to his season tally. The talented goofy foot moves up a spot ahead of compatriot Alex Ribeiro (BRA) on the rankings with 20,350 points, possibly above the projected cutoff line for the 2020 qualification."I came to the Europe leg with a goal, thinking three events can change everything, and two already have," Pupo said. "We really had challenging conditions this week, yesterday was like a triathlon running, paddling and surfing and I was really happy to make it through to surf this today. It was incredible to share this week with my brother too, I think being together helped us relax and enjoy ourselves more and it showed in surfing."

As the last event counting in the European title race, the battle was close with multiple surfers potentially able to overtake Jorgann Couzinet (FRA) on finals day in the Azores. Delahaye was the closest but he needed to take out the event and was unfortunately stopped in the Semis.
Massive sets cleaned up the beach regularly again today.
Credit: © WSL /  MasurelCouzinet's consistency on the European events was hard to beat as the Reunion Island surfer claimed two equal 3rd in Netanya and Santa Cruz, a runner-up in Caparica and a 5th in Lacanau to claim his third consecutive European QS Title."I'm super happy to get No. 3 but it was strange watching it unfold from the sidelines," Couzinet admitted. "I really wanted the title but at the same time I'm watching my friends compete and I want them to do well so it's a bit of a strange feeling. Competing in the regional events is always a huge confidence boost and I need this to perform at the highest level so it's great to have a good regional tour."Couzinet adds his name for the third time alongside the likes of compatriots Jeremy Flores, Michel Bourez and Joan Duru, all former European title winners before then went on to bigger and better things on the Championship Tour.

With the completion of the Azores Islands Pro, the European rankings are now final, here is the season's Top 5:

European Men's QS Top 5:
1 – Jorgann Couzinet (FRA) ***European Title Winner***
2 – Maxime Huscenot (FRA)
3 – Vasco Ribeiro (PRT)
4 – Frederico Morais (PRT)
5 – Gatien Delahaye (FRA)

Surfers will now fly across to mainland Portugal for the upcoming QS10,000 EDP Billabong Pro Ericeira, starting Tuesday at the famed righthand point break of Ribeira d'Ilhas.

The Azores Islands Pro will unfold from September 17-22, 2019 at PRAIA DE SANTA BARBARA, Sao Miguel – Azores Islands. For all results, photos, video highlights and press releases, log on to worldsurfleague.com.

The Azores Islands Pro are organized by DAAZ Eventos with the support of the following event partners:  Azores Airlines, Governo Regional dos Acores, Turismo dos Açores, Câmara Municipal da Ribeira Grande, SEAT , MEO amongst others.