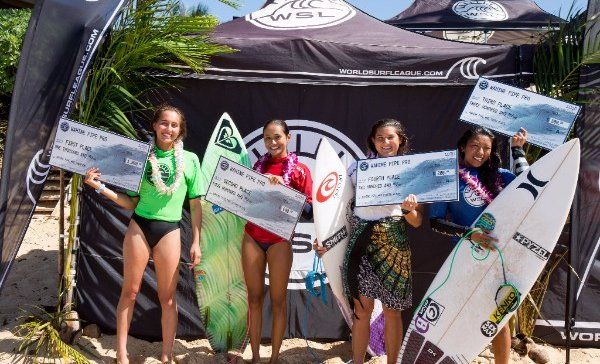 – RUNNER UP VAHINE FIERRO MAKES THIRD FINAL IN ONE WEEK
Finalists from L to R: Frankie Harrer (1st), Vahine Fierro (2nd), Brisa Hennessy (4th) and Mahina Maeda (3rd).
Credit: © WSL / Freesurf / Heff
Pipeline, Oahu, HAWAII – (Thursday, March 23, 2017) — The coveted Pipe lineup was dedicated solely to the women today for the World Surf League (WSL) Wahine Pipe Pro and saw Malibu's Frankie Harrer (DEU) rule the peeling 4-6ft. surf with big wave competitor and Pipeline charger Makua Rothman (HAW) as her mentor. Tahitian Runner Up Vahine Fierro (PYF) claimed her third Final berth in seven days after today's performance, last week's win at the Papara Pro Vahine Open and a second place finish in the Pro Junior division in Tahiti, while last year's Wahine Pipe Pro winner Mahina Maeda (HAW) took third place and Oahu powerhouse Brisa Hennessy (HAW) took fourth.
This is Harrer's maiden QS win and rightfully so, as she charged through the Pipe barrels with confidence and scored the best wave of the event in the Quarterfinals, a 9.25 for a proper Pipe barrel on her forehand.

Harrer positioned  for down the line surfing. Credit: © WSL / Freesurf / Heff
"There were so many sets I was pretty psyched," said Harrer, 19. "I just like dropped into it and got a little barrel." Her combined heat total for Quarterfinal 3 was 17.55, the highest of the event, and she continued to impress judges and the beach crowd with her fearless commitment all the way through the Final.
"This whole week has been really fun at Pipe, some of the best waves I've gotten out here," she continued. "Definitely the best waves I've ever seen for a QS so I'm psyched. It's a little easier when there's not a bunch of boys in the lineup."
But one of the boys was there to help elevate her to the podium; Makua Rothman (HAW), Big Wave World Champion and Pipeline specialist, offered critical insight throughout each round.

Harrer combined barrels with turns to come out on top. Credit: © WSL / Freesurf / Keoki
"He's not my coach, he's just a really good friend and said he'd help me out because he knows this spot better than anybody," said Harrer. "He just gave me really good inside knowledge about lineups and that was pretty much all I was focusing on out there, sitting in the right spot. Because once you're in the right spot that's kind of all that matters out here. So I'm definitely really lucky that he was here to help me."
Rothman cheered her on from the Volcom house all the way through the Final, when the surf went uncharacteristically quiet. But competitors were hopeful as lines appeared on the horizon and whistles pierced the air from coaches and excited onlookers.

Rothman (right) and Shaun Ward chair Harrer up the beach. Credit: © WSL / Freesurf / Heff
Fierro and Maeda traded waves in the first half of the heat while Harrer and Hennessy shared neutral priority and waited patiently to attack. Finally, the best set of the 30-minute heat arrived and Frankie was in perfect positioning to drop in. She pulled into a left-reeling barrel then slashed one off the top for a 7.0, which propelled her to first place.
"She waited pretty much the whole Final to get that 7 and that was our game plan," said Rothman. "I'm a competitor, I'm not a coach and I just tried to pass along the theories that I use. One of them was at Pipeline, it's all about the barrel. You get a nice barrel, come out and do a big carve at the end you're going to get a good score, and that's what she ended up doing. Today was just her day, she surfed well and I'm very proud of her and hopefully she can keep this momentum going this year and do it a couple more times."
French Polynesia's Fierro is on a Finals streak this week and will continue her competitive campaign in Portugal for a QS and Pro Junior event at the Caparica Pro in April. She spent the last six days on Oahu fine-tuning her skill and strategy at Pipeline, which paid off tremendously.

Huahine threat Fierro was on fire from start to finish. Credit: © WSL / Freesurf / Keoki
"My goal for this event was to make at least two heats, and I made it all the way to the Final so I was happy," said Fierro. "I just kept the same game plan and I had fun out there, because Pipeline is so fun with only three people out."
World-famous surfer and wildcard Bethany Hamilton (HAW) reiterated this sentiment despite missing out on advancement by 0.25 points in Round 1. Happy to surf Pipe with just the girls, Hamilton competed for the first time this year and went against Hennessy and Aloha Lopez (HAW) in a 25-minute heat filled with power-packed sets.

Hamilton sets up with a bottom turn. Credit: © WSL / Freesurf / Keoki
"I was so excited to be competing here," said Hamilton. "The conditions are so nice, it's perfect for all the girls who don't usually get to surf here to get some experience and push themselves with no one out. I had a blast out there, I think I was a little too excited and just caught too many waves and should have just been a little more picky but it's a good day. I'm so happy just to be surfing Pipe with no one out, it's a great opportunity for all us women, we're super thankful to WSL for putting on this event."
WAHINE PIPE PRO RESULTS
Surfers listed 1st through 4th, all athletes from Hawaii unless otherwise noted.
1st – Frankie Harrer (DEU), 9.00
2nd – Vahine Fierro (PYF), 7.50
3rd – Mahina Maeda, 4.75
4th – Brisa Hennessy, 3.00
Semifinal, 1st and 2nd advance, 3rd = 5th place, 4th = 7th place
SF1: Vahine Fierro (PYF), Mahina Maeda, Keala Tomoda-Bannert, Bailey Nagy
SF2: Brisa Hennessy, Frankie Harrer (DEU), Claudia Goncalves (BRA), Zoe McDougall
Quarterfinals, 1st and 2nd advance, 3rd = 9th place, 4th = 13th place
QF1: Keala Tomoda-Bannert, Mahina Maeda, Summer Ivy, Luana Coelho-Silva
QF2: Vahine Fierro (PYF), Baily Nagy, Leila Riccobuano, Emily Nishimoto
QF3: Frankie Harrer (DEU), Zoe McDougall, Summer Macedo, Aloha Lopez
QF4: Brisa Hennessy, Claudia Goncalves (BRA), Gabriela Bryan, Marissa Shaw
Round 1, 1st and 2nd advance, 3rd = 17th place, 4th = 25th place
H1: Mahina Maeda, Leila Riccobuano, Emilia Perry, Julie Nishimoto
H2: Summer Ivy, Emily Nishimoto, Ariana Shewry (NZL), Dax McGill – NS
H3: Vahine Fierro (PYF), Luana Coelho Silva, Ashlee Spence (AUS), Brittany Penaroza
H4: Bailey Nagy, Keala Tomoda-Bannert, Kahanu Delovio, Kloee Openshaw (USA)
H5: Zoe McDougall, Marisa Shaw (USA), Nakia Fleuren (AUS), Raquel Heckert (BRA)
H6: Frankie Harrer (DEU), Gabriela Bryan, Kulia Doherty (USA), Alexa Muss (USA)
H7: Claudia Goncalves (BRA), Summer Macedo, Kelta O'Rourke, Bodhi Leigh-Jones (AUS)
H8: Brisa Hennessy, Aloha Lopez, Bethany Hamilton, Brittany Gomulka