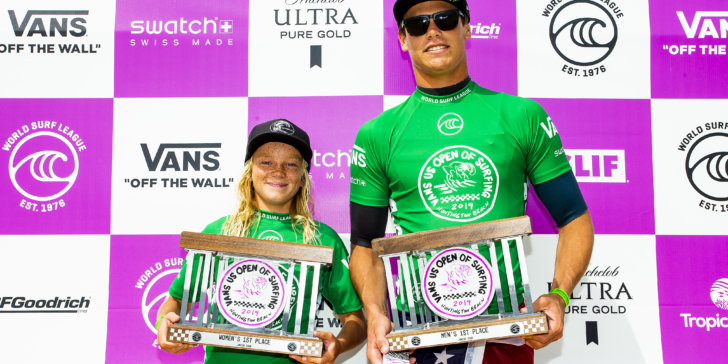 Matson and Simmers Claim First-Ever Vans US Open Titles
Quintal Earns 9th Duct Tape Invitational Win, Kaleoppa Wins Her First in all Hawaii Final
Women's Vans US Open QS 10,000 Decide Quarterfinalists
Both Men And Women's QS Event Winners Set To Be Crowned
 2019 Vans US Open Pro Junior Winners Caitlin Simmers (L) and Kade Matson (R) bring the event titles back to mainland USA.
Credit: © WSL / Morris
HUNTINGTON BEACH, California/USA (Saturday, August 3, 2019) – Kade Matson (USA) and Caitlin Simmers (USA) were crowned victors at the Vans US Open of Surfing presented by Swatch, respectively, a World Surf League (WSL) Men's and Women's Pro Junior event. The Vans Joel Tudor Duct Tape Invitational also celebrated its respective winners Justin Quintal (USA) and Kelis Kaleoppa (HAW) after a brilliant Finals day in solid, three-to-five foot (1-1.7 metre), occasional plus swell at Huntington Beach following critical Women's Qualifying Series (QS) 10,000 Round 4 battles.
Matson, 16, garnered his first-ever Vans US Open title in the men's event after overcoming fellow San Clemente, California, competitor Jett Schilling (USA) along with international threats Joh Azuchi (JPN) and Caleb Tancred (AUS) in a premier Final of talent to reclaim the event title for mainland North America for the first time since 2015. A near-perfect 9.00 (out of a possible 10) just before the 20-minute mark pushed the still No. 1 ranked North America Pro Junior from third-place into second before finding a 6.17 back up toward the end and take the lead that he was able to maintain as the clock expired.
This marks back-to-back regional Pro Junior wins for Matson as he now puts plenty of space between himself and the field trying to secure a Top 3 spot toward World Junior Championships qualification.
A dream run continues for 13-year-old Caitlin Simmers (USA) by also claiming back-to-back wins alongside Matson and her first-ever Vans US Open title. Simmers proved she's the outright regional No. 1 taking down sequential North America Regional Title winners Alyssa Spencer (USA) (2017) and reigning World Junior Champion Kirra Pinkerton (2018) alongside 2018 World Junior runner-up Keala Tomoda-Bannert (HAW). The Oceanside, California, competitor held her composure in the dying minutes needing a 7.11 and locked in an excellent 8.53 to post the event's highest heat total so far — a 17.23 (out of a possible 20).
Matson and Simmers now prepare for the RVCA Pro Junior September 27-29 at Newport Beach, California, for a chance at securing a spot into the World Junior Championships to finish 2019.
Colapinto enters the Quarterifnals as the last-standing American and hopes to keep bring the title to San Clemente, California
Credit: © WSL / Morris
The Vans Joel Tudor Duct Tape Invitational displayed some incredible style and amazing footwork as some of North America and Hawaii's premier longboarders put on an exhibition during their Finals.
Quintal solidified himself yet again as one of the DTI's most decorated competitors with a fifth consecutive, nine total, victory at this event over Kevin Skvarna (USA), Andy Nieblas (USA), Troy Mothershead (USA). The current Longboard Tour (LT) No. 1, and Jacksonville Beach, Florida, native's poise on the nose in critical sections in the head-high set waves earned him a 17.00 heat total within the first 10-minutes and all but secured his win. But, Quintal and runner-up Kevin Skvarna (USA) finished off their heat with a shared wave and show what this event truly embodies.
"It feels really good to win today and I'm fired up after that one," Quintal said. "It's pretty insane with the crowd on the beach but it gets me going and I'm psyched Jimmy Wilson brought me a Florida flag to represent. Kevin and I looked at each other and both said 'let's double this thing' which is so rad for something at this level where it's a little more serious but we still have fun. I'll be doing the events in Spain and then New York so I'm really excited to have a guaranteed spot into those after winning this one."
Kaleoppa showed her poise from day one and finished with that same style to take her first Vans Joel Tudor Duct Tape Invitational win.
Credit: © WSL / Herron
Kaleoppa became the youngest women's DTI winner at just 14 years of age after a beautiful display against her fellow Hawaii contingent Haley Otto (HAW), Kirra Seale (HAW), and 2017 WSL Longboard Champion Honolua Blomfield (HAW). The Oahu, Hawaii, native has a big year ahead of her and the teenager was beside herself getting chaired-up the beach for her first-ever Vans Joel Tudor Duct Tape Invitational victory.
"I'm just so humbled and grateful that I got to come this year and compete so I'm just really excited," Kaleoppa said. "This is for everybody back at home, thank you so much for your support. I can't wait to go home for a bit and then head over to Europe, I'll be gone for almost a month between that event and New York which is insane but I'm really excited about the opportunity. That was the most fun anyone could have just surfing with all my friends in the Final and it was such an honor to take that win."
Sage Erickson (USA) looks for a second Vans US Open win in three years to get herself back into the qualification hunt.
Credit: © WSL / Herron
Hometown hero Courtney Conlogue (USA) remains on track to successfully defend her title and become the first women to repeat the women's Vans US Open title after a fantastic showing over Australia's in-form Zahli Kelly (AUS). 2017 Event winner, fellow Californian, Sage Erickson (USA) also looks to reclaim a big win to put her back in qualification contention after taking down CT elite Nikki Van Dijk (AUS) in Round 4, but for Erickson a win here goes beyond the points.
"I have a lot of special memories with my grandma here every year and with her passing away I think that's what has hit me the most when I paddle out," Erickson said. "Just thinking about how happy she was when I won and my whole family being here.  I have that special feeling in my heart at this event and I'm just inspired by her and my mom, and I got home from South Africa in time to see her before she went — a win's a win, but it's who you get to celebrate those victories with."
Caroline Marks (USA), 17, took down former 2017 North America Regional Pro Junior titleholder Alyssa Spencer (USA), 16, to start the day in a back-and-forth battle that Marks was able to gain the upperhand in before Spencer went on to earn runner-up in the Pro Junior event.
"I've had a lot of success out here and to win this event would incredible with all the women that are here, it really feels like a CT so it'd be special," Marks said.
Following Marks into the Quarterfinals, former Vans US Open Pro Junior winner Brisa Hennesy (CRI) also has the opportunity to earn a career win in both divisions, third-year CT competitor Bronte Macaulay (AUS) after defeating reigning WSL Champion Stephanie Gilmore (AUS) and Malia Manuel (HAW)along with former Vans US Open winners Sally Fitzgibbons (AUS) and Tatiana Weston-Webb (BRA).
The Vans US Open of Surfing presented by Swatch will resume tomorrow, Sunday, August 4, at 7:30 a.m. PT in Huntington Beach. The event will be broadcast LIVE on WorldSurfLeague.com and Facebook.com/WSL. Also, check local listings for coverage from the WSL's broadcast partners.
Alongside the surfing, the Vans US Open of Surfing also hosts skateboarding and BMX competitions alongside authentic community activations and artful entertainment in Surf City USA.
Recognized as the largest professional sports competition and action sports festival in the world, the Vans US Open of Surfing presented by Swatch is currently sanctioned and operated by the World Surf League under license from IMG, the event owner. Official partners of this year's event include Vans, Swatch, Jeep, ULTRA, Red Bull, Jose Cuervo, Barefoot Wine, Hydro Flask, Harley-Davidson, Polo Blue, BF Goodrich, CLIF Bar, and Frontier Communications.
Vans US Open of Surfing pres. by Swatch Men's Pro Junior Final Results:
1 – Kade Matson (USA) 15.17         1,000 points
2 – Caleb Tancred (AUS) 14.90
3 – Joh Azuchi (JPN) 11.44
4 – Jett Schilling (USA) 9.53               525 points
Vans US Open of Surfing pres. by Swatch Women's Pro Junior Semifinal Results:
1 – Caitlin Simmers (USA) 17.23                      1,000 points
2 – Alyssa Spencer (USA) 15.80                         750 points
3 – Kirra Pinkerton (USA) 14.70                          560 points
4 – Keala Tomoda-Bannert (HAW) 12.47
Vans US Open of Surfing pres. by Swatch Men's Pro Junior Semifinal Results:
SF 1: Joh Azuchi (JPN) 13.80 DEF. Jett Schilling (USA) 12.27, Mateus Herdy (BRA) 11.03, Taj Lindblad (USA) 10.83
SF 2: Caleb Tancred (AUS) 12.60 DEF. Kade Matson (USA) 12.20, Taro Watanabe (USA) 11.77, Hagan Johnson (USA) 11.77
Vans US Open of Surfing pres. by Swatch Women's Pro Junior Semifinal Results:
SF 1: Kirra Pinkerton (USA) 14.93, Alyssa Spencer (USA) 14.50, Sawyer Lindblad (USA) 12.87, Eva Woodland (CRI) 6.40
SF 2: Keala Tomoda-Bannert (HAW) 11.27, Caitlin Simmers (USA) 11.00, Samantha Sibley (USA) 11.00, Sol Aguirre (PER) 7.70
Vans Joel Tudor Duct Tape Invitational Men's Final Results:
1 – Justin Quintal (USA) 17.00
2 – Kevin Skvarna (USA) 15.67
3 – Andy Nieblas (USA) 13.40
4 – Troy Mothershead (USA) 12.40
Vans Joel Tudor Duct Tape Invitational Women's Final Results:
1– Kelis Kaleoppa (HAW) 14.33
2 -Kirra Seale (HAW) 14.10
3 – Honolua Blomfield (HAW) 12.10
4 – Haley Otto (HAW) 7.17
Vans US Open of Surfing pres. by Swatch Women's Quarterfinal Results:
QF 1: Caroline Marks (USA) vs. Courtney Conlogue (USA)
QF 2: Brisa Hennessy (HAW) vs. Sally Fitzgibbons (AUS)
QF 3: Tatiana Weston-Webb (BRA) vs. Bronte Macaulay (AUS)
QF 4: Sage Erickson (USA) vs. Malia Manuel (HAW)
Vans US Open of Surfing pres. by Swatch Women's Round 4 Results:
Heat 1: Caroline Marks (USA) 11.53 DEF. Alyssa Spencer (USA) 10.93
Heat 2: Courtney Conlogue (USA) 14.00 DEF. Zahli Kelly (AUS) 9.83
Heat 3: Brisa Hennessy (CRI) 11.54 DEF. Isabella Nichols (AUS) 11.24
Heat 4: Sally Fitzgibbons (AUS) 12.60 DEF. Keely Andrew (AUS) 12.50
Heat 5: Tatiana Weston-Webb (BRA) 11.67 DEF. Mahina Maeda (JPN) 10.87
Heat 6: Bronte Macaulay (AUS) 12.17 DEF. Stephanie Gilmore (AUS) 11.30
Heat 7: Sage Erickson (USA) 12.50 DEF. Nikki Van Dijk (AUS) 11.96
Heat 8: Malia Manuel (HAW) 11.40 DEF. Tessa Thyssen (FRA) 11.17