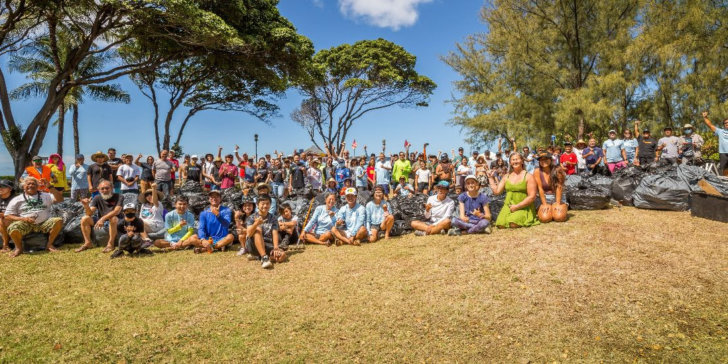 Aloha Friends of Kewalos,
As we reflect on 2022, no matter how hard it's been, we have many things to be thankful for. We are blessed with our family, friends, and our park.
Friends would like to share the highlights of the great things we have accomplished.
1.  March >Participated in the Kewalo Surf Contest scheduling meeting.   Seven contests were held with no major issues. NSSA, HASA, and the UH Law School participated.  No changes to the MOU.  (Memorandum of Understanding in place since 2007)
2.  June >15th Annual Kewalo Basin Park Clean Up.  We had a terrific turnout again.  Good people, good food, good prizes, and good vibes.  All in all, a great effort to Malama our park.   Save the date June 24, 2023 is our next one.
Mahalo everyone!
3. October > Installed Bird wire to discourage the pigeons from roosting and messing up the restrooms.  So far it is working and we plan to install more in the interior.
4.  Parking violations by boater patrons/employees>  FOK has been diligently trying for over a year to find a solution.  We have discussed this with the City Parks, HPD, Howard Hughes, Harbor Master, and City Council.  To no avail.  We will continue diligently in 2023 to find a solution.  We are open to any suggestions you may have.
5.  November > Mahalo Meals for Essential Workers
For the third year in a row coinciding with the spirit of Thanksgiving, FOK in partnership with KUPU, prepared and distributed 150 imu cooked Hawaiian food plates for the City Parks Maintenance crew, Lifeguards, EMS, HFD, HPD, Harbor Master/staff, and Kewalo Harbor Security.
6. December > Eagle Scout Project at the park
A friend of Kewalo, Scout Davis Tomita and crew painted all the curbings red to designate No Parking zones. FOK helped to coordinate with the City Parks and Swinerton for parking and donated money for supplies.  Mahalo Davis!
Mahalo for your steadfast support and donations throughout 2022.  May 2023 be a great year for all! 
DOWNLOAD 2023 Kewalo Park Surf Contest Schedule HERE
Notice> Friends will be having an in person event soon to update everyone on the Residential Highrise development of Kaka'ako Makai.   Standby for more details.
"What you do makes a difference, and you have to decide what kind of difference you want to make." Jane Goodall
I ho'okahi, pu'uwai, ua holo pono"
Through a Shared Vision, we will succeed!
Mahalo,
Friends of Kewalos
PROTECT, PRESERVE, MALAMA