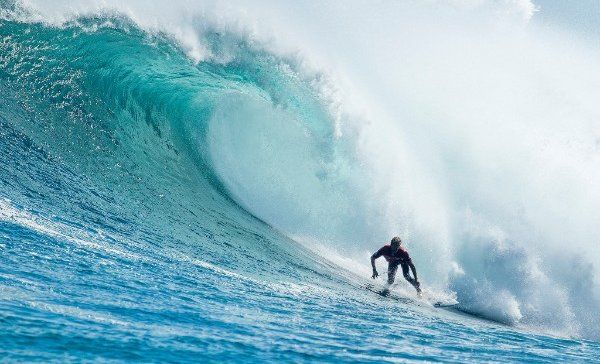 – JJF ON FIRE WITH NEAR-PERFECT 19.27
EPIC WAVE HEIGHTS CHALLENGE WORLD'S BEST SURFERS AT DRUG AWARE MARGARET RIVER PRO
– FREESTONE DISPATCHES 11X WSL CHAMPION SLATER
– WRIGHT, DE SOUZA, ANDINO & FLORENCE THROUGH TO QUARTERFINALS
– MORE AVAILABLE AT WORLDSURFLEAGUE.COM
2016 WSL Champion John John Florence (HAW) put on extraordinary performances in Rounds 3 & 4 to earn the two highest combined totals of The Drug Aware Margaret River Pro thus far.
Credit: © WSL / Cestari
MARGARET RIVER, Western Australia/AUS (Saturday, April 1, 2017) – In one of Australia's biggest days in recent competitive surfing history, The Drug Aware Margaret River Pro, Stop No. 2 of the World Surf League (WSL) Championship Tour (CT), witnessed the world's best surfers take on Main Break in 8-to-12 foot waves, with sets in the 15 foot range.
The day ran through men's Rounds 3 and 4 and saw major players eliminated, while four surfers secured their place in the Quarterfinals.
The competition started with a massive upset, seeing 11-time WSL Champion Kelly Slater (USA) dispatched by second-year CT surfer Jack Freestone (AUS). Both surfers tackled the towering waves at Main Break, charging down fifteen-foot sets, but it was the underdog Freestone who locked in a 7.33 early on for the lead and continued to charge with a 6.50 backup. Slater posted two 5-point rides, but it was not enough to challenge. Slater will leave with an Equal 13th place finish.
"The waves are so good today," said Freestone. "I didn't know what the situation was until the last two minutes, but knew you can never leave [Kelly] Slater alone until the heat is over as he is capable of anything. It's so good to come away with a win in a heat like that."
"I don't really like surfing the early heats," Slater said. "The waves are amazing today and I think maybe I got a bit over amped and was just going for those bigger ones and trying to get barreled instead of being smart. It's hard not to get over excited when the waves are like this, especially when you haven't seen waves like this for a while. This is a great event and when it all lines up, it could definitely be one of the best on tour."
Jack Freestone (AUS) attacks the lip of a massive Main Break set to defeat 11-time WSL Champion Kelly Slater (USA).
Credit: © WSL / Sloane
Freestone went on to face current Jeep Rankings Leader Owen Wright (AUS) and 2017 World Title contender Julian Wilson (AUS) in the opening heat of non-elimination Round 4. The young competitor took on massive sets in an attempt to cause another big upset, but Wright closed the door on his rivals with a lethal 17.44 combined score. Wright's win earns him the first spot in the Quarterfinals, while Freestone and Wilson will have to do battle in elimination Round 5.
"That was my first ever heat with Jack [Freestone], which was really cool," Wright said. "I missed his first year on tour so it was cool to finally have a heat with him. Jack was on fire as well and made me really work hard for it. That was my best heat out there so far, it would be nice if I could keep building momentum like this."
 Current World No. 1 Owen Wright (AUS) comes hard off the bottom of a bomb to secure himself another Quarterfinals appearance in 2017. 
Credit: © WSL / Dunbar
2016 WSL Champion John John Florence (HAW) continued his devastating form at The Drug Aware Margaret River Pro by posting a near-perfect heat total of 19.16 to move into the Quarterfinals over Michel Bourez (PYF) and Conner Coffin (USA). Florence looked to be having a blast as he attacked Main Break with reckless abandon.
"That was so fun out there," Florence said. "It just feels great to let loose and have fun. It's really similar to the waves back at home in Hawaii, just super raw and powerful. It's such a big playing field out there just so open ocean. I feel like now that I have won the title, I am a lot more relaxed and that felt really obvious to me today."
Florence previously took down local favorite Jacob Willcox (AUS) in Round 3 Heat 6. Willcox put up a strong performance with an excellent 8.17 and 6.77, but the reigning World Champion looked too comfortable in the Main Break lineup, firing back with a near-perfect 9.57 and 9.70 for the highest heat score of the event thus far, an exceptional 19.27.
"I knew that was going to be a tough heat," Willcox said. "In pumping waves against the WSL Champion is never going to be easy. I'm just stoked I got to experience it. There were some massive waves out there, which is great for the event. It was a shame not to get the win but John [Florence] really deserves it, he was ripping. It was cool having the hometown support. I loved it."
Defending event winner Sebastian Zietz (HAW) put up a solid fight in Heat 3 of Round 4, but was out done by a fired-up Adriano de Souza (BRA). The 2015 WSL Champion is moving closer to taking out his second Drug Aware Margaret River Pro title, while Zeitz and Jordy Smith (ZAF) will have another shot at the Quarterfinals when they hit the water in Round 5. En route to his Quarterfinal berth, De Souza dispatched Bede Durbidge (AUS) in Round 3 Heat 9.
"I am so exhausted after today — it's been a massive workout," De Souza said. "I surfed at The Box first thing this morning and then two heats in massive waves at Main Break. It's been such a big day. It is really nice to have some solid surf at an event. I love coming to Margaret River. I have had success here in the past and I hope that continues this year."
Caption: 2015 WSL Champion Adriano de Souza (BRA) unleashes sharp railcarves to earn his first Quarterfinal berth of the season.
Credit: © WSL / Dunbar
The final heat of Round 4 saw Jeremy Flores (FRA), Filipe Toledo (BRA) and Kolohe Andino (USA) all under pressure to earn the opportunity to skip straight through to the Quarterfinals. Toledo was all business as he got an early lead, but was then challenged by Andino and Flores. The heat exchanged multiple leaders, but Andino emerged victorious with a 14.77 combined score. Injury replacement Nat Young (USA) came up against Andino earlier today in Round 3, but Andino's form was too strong for his good friend Young.
"Last heat of a long day is always tough," Andino said. "There were some massive scores going down today so to get two heat wins feels really good. It was good to watch a lot of heats today and draw inspiration from the way the other guys surf. I'm a total student of the sport and am lucky enough to learn from the best."
2012 WSL Champion Joel Parkinson (AUS) was eliminated from the draw by Flores in Round 3 Heat 10. Parkinson, who earned a 3rd place finish at this event in 2016, will take a 13th place result heading into Bells Beach.
2017 WSL Rookies Ian Gouveia (BRA) and Connor O'Leary (AUS) were not able to survive their fierce elimination Round 3 match-ups, as they were taken out by Wright and Toledo, respectively.
Caio Ibelli (BRA), Adrian Buchan (AUS), Kanoa Igarashi (USA), Miguel Pupo (BRA) and event wildcard Jesse Mendes (AUS) were also eliminated from the event in Round 3 and will exit with an Equal 13th place finish.
Event organizers will reconvene tomorrow at 6:30 a.m. local time to reassess the conditions and make the next call.
Decreasing SSW swell prevails on Sunday, with much smaller leftovers Mon-Tue. A small, new swell looks likely later Tuesday and Wednesday. A larger SSW swell is looking more and more likely for Thursday, although local wind looks poor Wed-Thur.Surfline.
Drug Aware Margaret River Pro Men's Round 3 Results:
Heat 1: Jack Freestone (AUS) 13.83 def. Kelly Slater (USA) 11.07
Heat 2: Julian Wilson (AUS) 16.84 def. Miguel Pupo (BRA) 3.33
Heat 3: Owen Wright (AUS) 14.24 def. Ian Gouveia (BRA) 11.67
Heat 4: Michel Bourez (PYF) 13.27 def. Kanoa Igarashi (USA) 10.83
Heat 5: Conner Coffin (USA) 15.57 def. Adrian Buchan (AUS) 11.43
Heat 6: John John Florence (HAW) 19.27 def. Jacob Willcox (AUS) 14.94
Heat 7: Jordy Smith (ZAF) 12.83 def. Jesse Mendes (BRA) 9.67
Heat 8: Sebastian Zietz (HAW) 15.34 def. Caio Ibelli (BRA)
Heat 9: Adriano de Souza (BRA) 17.67 def. Bede Durbidge (AUS) 15.66
Heat 10: Jeremy Flores (FRA) 16.80 def. Joel Parkinson (AUS) 8.53
Heat 11: Filipe Toledo (BRA) 11.96 def. Connor O'Leary (AUS) 9.84
Heat 12: Kolohe Andino (USA) 12.54 def. Nat Young (USA) 10.83
Drug Aware Margaret River Pro Men's Round 4 Results:
Heat 1: Owen Wright (AUS) 17.44, Jack Freestone (AUS) 15.80, Julian Wilson (AUS) 11.86
Heat 2: John John Florence (HAW) 19.16, Michel Bourez (PYF) 15.23, Conner Coffin (USA) 11.50
Heat 3: Adriano de Souza (BRA) 16.83, Sebastian Zietz (HAW) 13.40, Jordy Smith (ZAF) 9.96
Heat 4: Kolohe Andino (USA) 14.77, Jeremy Flores (FRA) 14.00, Filipe Toledo (BRA) 13.43
Drug Aware Margaret River Pro Men's Round 5 Match-Ups:
Heat 1: Jack Freestone (AUS) vs. Conner Coffin (USA)
Heat 2: Michel Bourez (PYF) vs. Julian Wilson (AUS)
Heat 3: Sebastian Zietz (HAW) vs. Filipe Toledo (BRA)
Heat 4: Jeremy Flores (FRA) vs. Jordy Smith (ZAF)
Drug Aware Margaret River Pro Women's Round 4 Match-Ups:
Heat 1: Coco Ho (HAW) vs. Sage Erickson (USA)
Heat 2: Malia Manuel (HAW) vs. Johanne Defay (FRA)
Heat 3: Nikki Van Dijk (AUS) vs. Keely Andrew (AUS)
Heat 4: Sally Fitzgibbons (AUS) vs. Tatiana Weston-Webb (HAW)