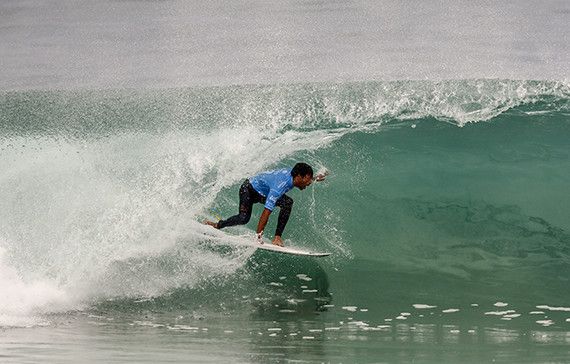 – FLORES ELIMINATES WILKINSON TO END HIS 2016 TITLE CAMPAIGN

Jeremy Flores (FRA) defeated current No. 3 on the Jeep Leaderboard Matt Wilkinson (AUS) in Round 2 Heat 3 of the Meo Rip Curl Pro Portugal to eliminate him from the competition and end his WSL Title Campaign.
Image: © WSL /  Poullenot
| | |
| --- | --- |
| Location:    | Peniche/Cascais, Portugal |
| Event window: | October 18 – 29, 2016 |
| Today's call: | Heats 1 – 5 of Round 2 complete |
| Conditions: | Inconsistent three-to-five foot (1 – 1.5 metre) |
SUPERTUBOS, Peniche/Portugal (Thursday, October 20, 2016) – The Meo Rip Curl Pro Portugal, the final European stop of the 2016 Samsung Galaxy WSL Championship Tour, ran through the opening five heats of Round 2 before being called off in inconsistent surf. It was a day of high-stakes match-ups with the top three surfers on the Jeep Leaderboard all battling to avoid early elimination and remain in the hunt for the elite surfing crown.
The day opened with a low-scoring affair, which saw Jeep Leaderboard frontrunnerJohn John Florence (HAW), 24, keep his Portuguese campaign alive by defeating young wildcard Miguel Blanco (PRT). Florence managed to lock in two average scores for a clean backhand tube ride and a couple of turns on a medium sized righthander. His win keeps the WSL title race interesting as he advances into Round 3. Blanco leaves his first CT event with a 25th place finish.
"It was a super important heat getting pushed to the second round, it was a bit nerve wrecking sitting around for a couple of days just trying to get in that mindset to surf a heat and then wait for the next call," Florence reflected. "I'm glad we waited until today, but conditions are still really hard. Hopefully it'll be fun this afternoon."
World No. 2 Gabriel Medina (BRA), 22, had an extremely close encounter with rookieRyan Callinan (AUS) and narrowly edged out the Australian to follow Florence into Round 3 and keep his title hopes alive. The former WSL Champion tried to take it to the air but repeatedly missed his landings on a couple of major maneuver attempts, resorting to tight turns on the hollow faces of Supertubos to advance.
"It was really hard, I got two pretty bad waves but fortunately it was enough to make it through," Medina said. "I'm stoked to be in Round 3. Everyone is good, can do airs, get barreled and do big turns so I'm just trying to get my own waves and do my best."
As waves turned on Jeremy Flores (FRA), 28, blasted through the opening minutes of his battle against current World No. 3 Matt Wilkinson (AUS), to put the Australian in a 17.00 point combination situation early in the heat. The Frenchman navigated a lengthy forehand barrel and punctuated the ride with a committed floater for an excellent 9.00 point ride, and quickly backed it up with a similar barrel on his backside this time to clinch an excellent 8.00 and build the highest heat total of the day. Flores' victory at Supertubos puts a stop to Wilkinson's WSL Title bid in 2016.
"I just got lucky, I got all the waves for once!" Flores stated. "I paddled left the waves came to me, I paddled right the waves came to me so there was a lot of luck involved, I'm sure if Wilko (Matt Wilkinson) got those waves he would have done great too. It's amazing, I feel like I haven't won a CT heat in so long and it's good to surf against the top guys, I really have no pressure against them, all I want to do is not finish last on the rankings."
Wilkinson's early exit in Peniche marks the end of an amazing run for a maiden WSL Title with a third 25th place result this season. The talented goofy-foot had a dreamy start with back-to-back wins on the Gold Coast and at Bells Beach, a runner-up spot in Fiji, before his season was completely turned around with repeated second and third round exits in the previous four events.
"That heat was very disappointing, but I've had a great year and it's been so much fun being in this position," Wilkinson admitted. "There's still one event remaining so hopefully I can put another massive result on the board and I'd love to do well at Pipe. I've had the best year of my career by far and I'm excited to keep it going the next few years and hopefully find myself a World Title in the next few years."
Just before competition was put on hold through the low tide and eventually called off for the day, Filipe Toledo (BRA), 21, easily dispatched Adam Melling (AUS), finding excellent rides to post an impressive 15.17 heat total for his place in Round 3. The defending event champion lofted a clean aerial rotation on a medium-sized right for one of his best two scores and found a long backhand tube for his second.
"It was a really intense day yesterday trying to get the best updates from my family," Toledo said. "It was perfect because I watched everything on FaceTime. It was the best feeling in the world. She's so healthy and 100% perfect — the prettiest baby I've ever seen. A lot of emotions when I was paddling out today. I was just thinking about my family and I feel so blessed. I feel relaxed and happy now and I can't wait for the next round."
2012 event winner Julian Wilson (AUS) will also advance through to Round 3 after defeating Alex Ribeiro (BRA) in Heat 4.
Event organizers will reconvene at 8 a.m. (local time) tomorrow morning to assess conditions and make the next call.
W swell filters in and offers lully/inconsistent sets but fun surf for Thursday before easing on Friday. Winds are generally most favorable in the mornings with light onshore winds developing in the afternoons on Thursday and Friday. Swell mix is expected for Supertubos on Saturday with deteriorating conditions. Solid surf for Sunday and Monday but side/onshore winds are an issue. Easing surf looks likely for Tuesday/Wednesday with improving winds and conditions for Supertubos. The more northerly facing breaks around Peniche will see solid surf over the weekend and into early next week but strong local winds will be an issue at times. Surfline. 
The Meo Rip Curl Pro Portugal will run from October 18 – 29, 2016 and be LIVE via webcast on WorldSurfLeague.com and on the WSL mobile app.
Meo Rip Curl Pro Portugal Round 2 Results:
Heat 1: John John Florence (HAW) 10.54 def. Miguel Blanco (PRT) 8.60
Heat 2: Gabriel Medina (BRA) 9.84 def. Ryan Callinan (AUS) 9.43
Heat 3: Jeremy Flores (FRA) 17.00 def. Matt Wilkinson (AUS) 10.00
Heat 4: Julian Wilson (AUS) 8.33 def. Alex Ribeiro (BRA) 6.73
Heat 5: Filipe Toledo (BRA) 15.17 def. Adam Melling (AUS) 4.90
Upcoming Meo Rip Curl Pro Portugal Round 2 Match-Ups:
Heat 6: Adrian Buchan (AUS) vs. Matt Banting (AUS)
Heat 7: Sebastian Zietz (HAW) vs. Alejo Muniz (BRA)
Heat 8: Michel Bourez (PYF) vs. Jack Freestone (AUS)
Heat 9: Caio Ibelli (BRA) vs. Davey Cathels (AUS)
Heat 10: Stuart Kennedy (AUS) vs. Dusty Payne (HAW)
Heat 11: Nat Young (USA) vs. Conner Coffin (USA)
Heat 12: Keanu Asing (HAW) vs. Kanoa Igarashi (USA)