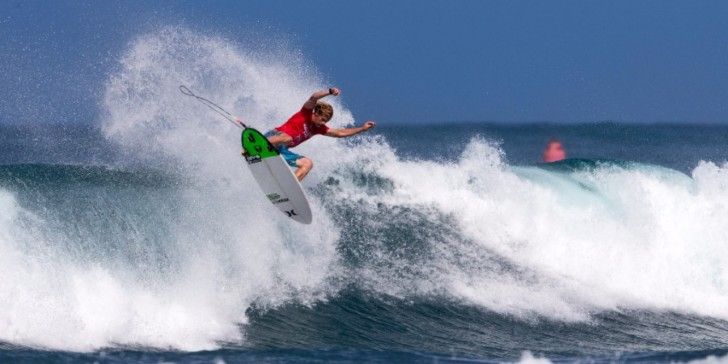 John John Florence (HAW) freed up in Haleiwa. Image: WSL / Freesurf / Heff
| | |
| --- | --- |
| Event:    |     Hawaiian Pro, Men's QS10,000                                               |
| Location: |     Haleiwa Ali'i Beach, North Shore, Oahu     |
| Event Window: |     November 12 – 23 |
HALEIWA, Oahu/Hawaii – (Tuesday, November 15, 2016) —
Current World champion
John John Florence (HAW)
drew an enthusiastic crowd to Haleiwa Ali'i Beach for Day 3 of the Hawaiian Pro, a World Surf League (WSL) Qualifying Series (QS) 10,000 event and the first stop of the
Vans Triple Crown of Surfing
. After a heartwarming homecoming and the biggest victory of his career, Florence competes at Haleiwa with no pressure, which made for a highly entertaining performance featuring his signature free surfing style.
Florence has yet to win the Billabong Pipe Masters, but has taken a Vans Triple Crown title in 2013 and 2011, and saw victory at Sunset during the 2011 Vans World Cup. With a strong appetite to win in his backyard, John John is off to a successful start after advancing in first from his Round Three heat.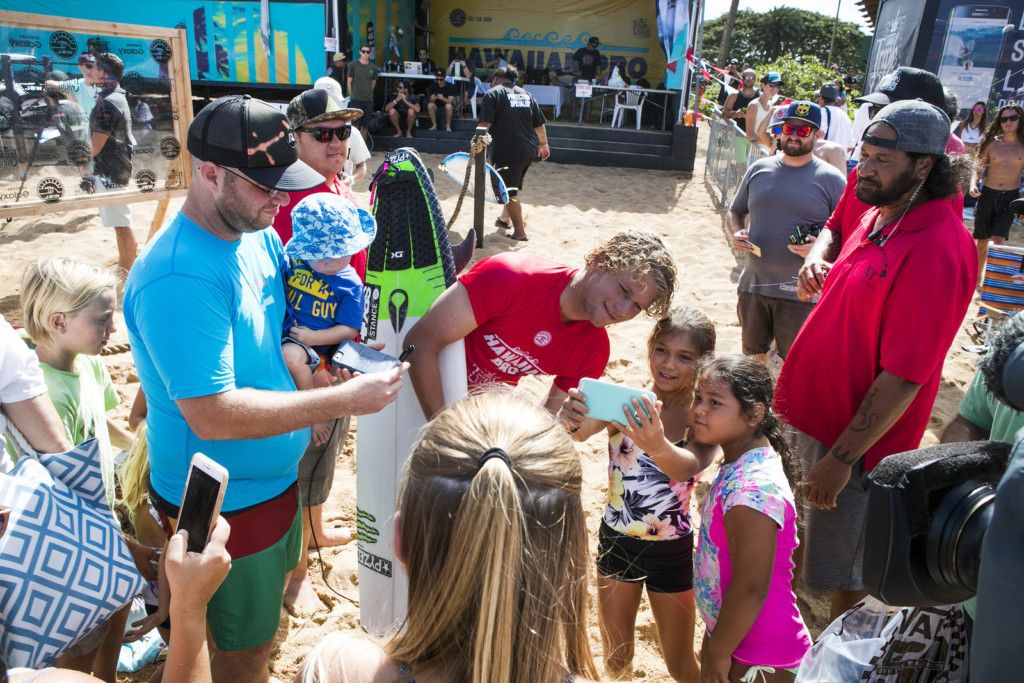 "Winning Pipe would really top my year off," said Florence. "Winning the Triple Crown and Pipe would really do it for me. But I'm just taking the whole thing relaxed. I feel like that's what I did this year, I felt relaxed and focused, finding that balance between the two. Having no pressure and being able to surf these events is really cool because you're not sitting out there nervous or anything like that. You're not thinking about falling or anything. I'm just having fun. I'm just going to keep this mindset through Sunset and then get ready for Pipe."
Florence went up against a fiery heat that included former Vans Triple Crown champion and Hawaiian Pro winner Sebastian Zietz (HAW), talented dark horse Torrey Meister (HAW) and Australia's Dion Atkinson.
While every surfer has their sights set on a win in Hawaii, nobody tops Kelly Slater (USA) when it comes to seeking a John John upset at Pipeline. Last year at the Billabong Pipe Masters, Florence lost to the 11x World Champion in Round 4.
"More than anything I want to win Pipeline," said Slater. "Triple Crown is second to that. To me, Pipeline is the one you want to win of any contest in the world, that or The Eddie. That's going to be where my focus is. But if I can do well in these first two events and then have a shot at Pipe, obviously if you win any of these contests, Triple Crown is in the conversation."
Slater competed at the Hawaiian Pro for the first time in four years and started his campaign off strong with a 9.00, the highest single wave score of the morning, and the heat win. He had victory earlier this year at the first Qualifying Series (QS) event of 2016, the Volcom Pipe Pro, and then again at the Billabong Pro Tahiti in August, and is hungry for another win.
In the most jaw-dropping performance of the day, Griffin Colapinto (USA) scored a 9.93 in the last second of the heat for a hail mary air reverse on a closeout. Touted as one of the best heat finales ever at Haleiwa, Colapinto catapulted from third to first and knocked Tanner Gudauskas (USA) out of the competition.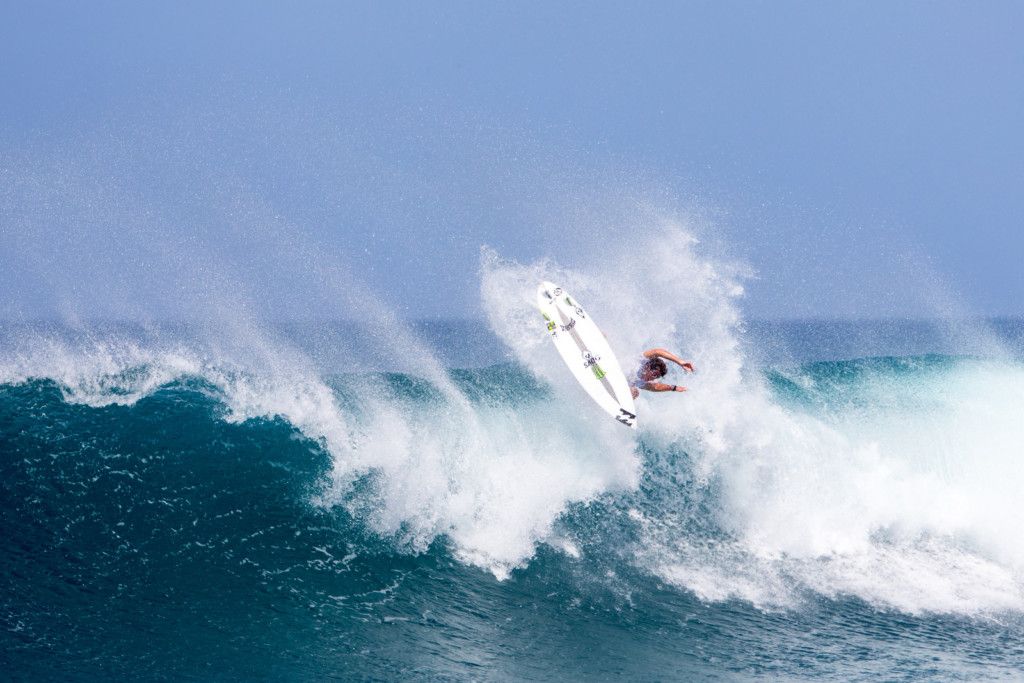 Colapinto move of the event. Image: WSL
"That was such a big heat with so many big guys, everyone was pretty much on the CT in that heat," said Colapinto. "I thought I was doing good to start and then I needed a big score and then I just made it happen I guess… I've got the most confidence in the world right now. I just beat Jordy Smith, he's one of my favorite surfers, I always love watching him surf before I go freesurf, like in Modern Collective so to beat him at a good wave feels really good."
With above-the-lip progression, Colapinto, 18, surfed well beyond his years to advance into Round 4.
Another standout in today's conditions was local boy Keanu Asing (HAW), who took the heat win ahead of Tahitian powerhouse Mihimana Braye (PYF), Yago Dora (BRA) and Alex Ribeiro (BRA). Asing had his first professional victory on the CT in France last month, which shot him up the rankings to No. 23 on the Jeep Leader Board. One step closer to a win on home turf, Asing is already celebrating the Hawaii wins thus far.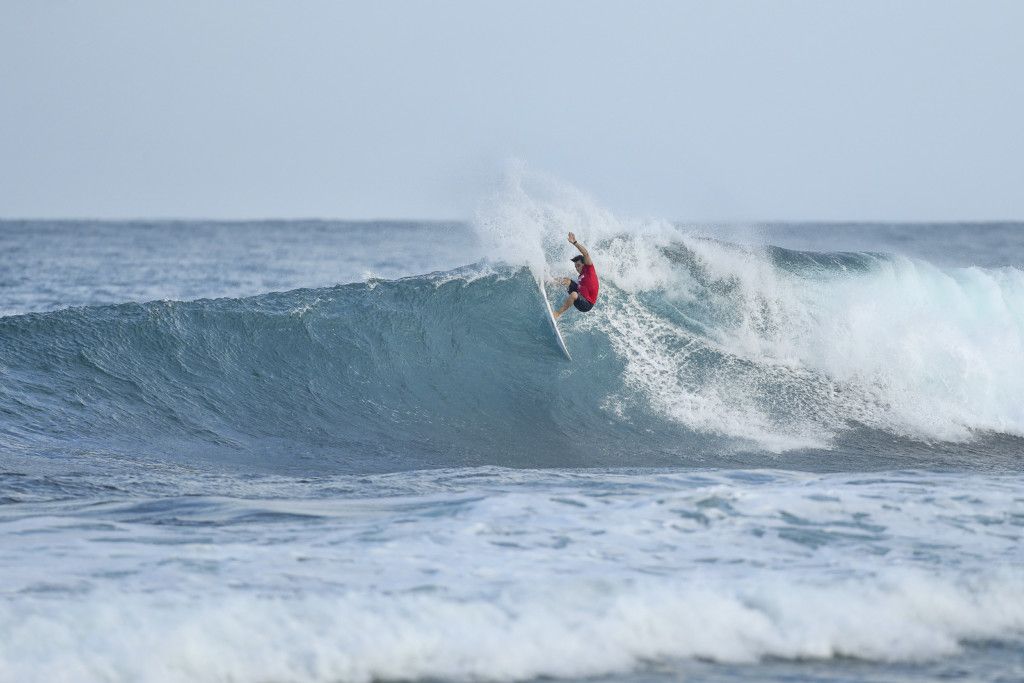 Asing_Haleiwa Image: cestari
"It's so exciting, just seeing the elevation of our Hawaiian athletes surfing," said Asing. "It's just been such a growth and been such a long time coming. Right now we get to celebrate that here in Hawaii at the end of the year. We have a new World Champion and we have a few event winners. There's no better feeling than to celebrate that. There's a lot for Hawaii to be proud of. For me, it's very exciting to be celebrating with everybody, it is so enjoyable."
Finals day at the Hawaiian Pro looks likely for this Friday, November 18 as the waves are forecast to rev back up for a solid NNW swell in the 10-15ft. range.
The WSL Men's QS10,000 Hawaiian Pro is scheduled from November 12 – 23, 2016 and runs in conjunction with the Vans Triple Crown of Surfing specialty series along the North Shore of Oahu. For all results, photos, video highlights, press releases and LIVE webcast, log on to worldsurfleague.com or the WSL mobile app.