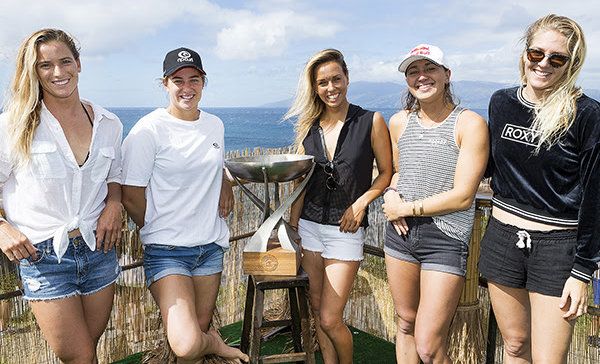 WSL TITLE SHOWDOWN ARRIVES AT MAUI WOMEN'S PRO
–BRISA HENNESSY AWARDED WSL WILDCARD
 SOLID SWELL ON THE WAY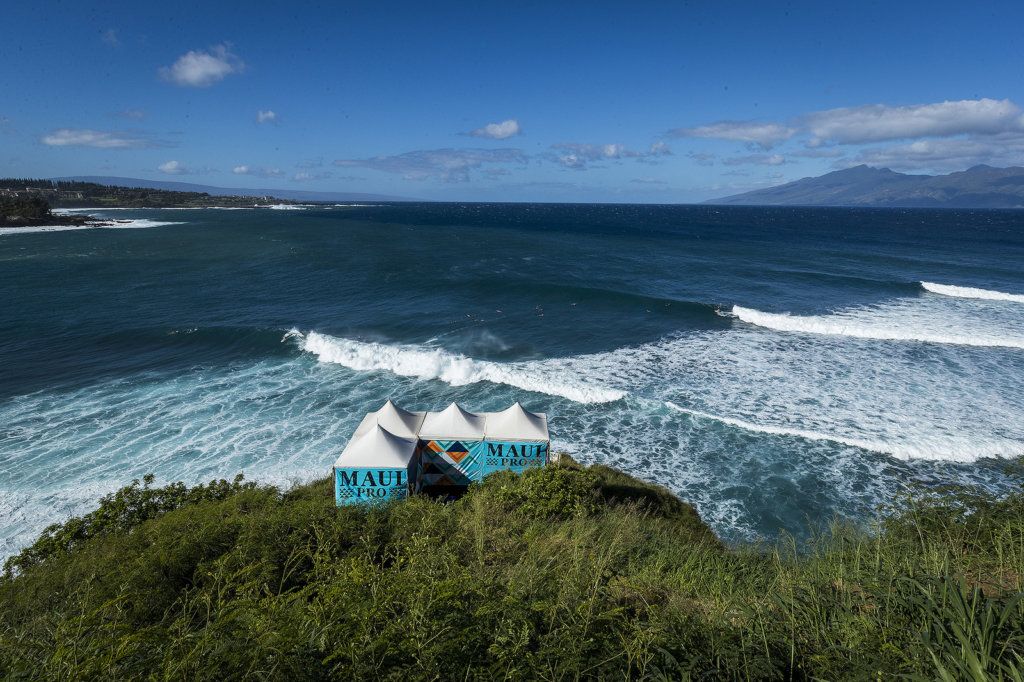 The five WSL Title Contenders gather at Honolua Bay ahead of the start of the Maui Women's Pro. From L to R: Courtney Conlogue (USA), Tyler Wright (AUS), Sally Fitzgibbons (AUS), Carissa Moore (HAW) and Stephanie Gilmore (AUS).
Credit: © WSL / Cestari
Location:   
  Honolua Bay, Maui/Hawaii 
Event window:
  

November 25 – December 6, 2017

Today's call:
  TBD – First call Saturday, November 25 at 7:30 a.m. local time
Conditions:
  TBD
HONOLUA BAY, Maui/Hawaii (Friday, November 24, 2017) – The world's best female surfers have arrived on the Hawaiian island paradise of Maui to contest the final event of the 2017 World Surf League (WSL) Championship Tour, the Maui Women's Pro, holding a competition window of November 25 to December 6, 2017.
Honolua Bay will decide the 2017 WSL Women's Title, which represents the culmination of a year-long battle amongst the world's best surfers to claim sport's highest honor and join a list of the most revered individuals in all of surfing. Going into the Maui Women's Pro five surfers are in contention to clinch the title: Sally Fitzgibbons (AUS), Tyler Wright (AUS), Courtney Conlogue (USA), Carissa Moore (HAW) and Stephanie Gilmore (AUS).
The World Title scenarios are as follows:
– Fitzgibbons, Wright and Conlogue can each clinch the Title by winning the event;
– If Fitzgibbons finishes runner-up then Wright or Conlogue need to win the event to win the Title;
– If Fitzgibbons finishes 3rd then Wright needs a 3rd and Conlogue 2nd to win the Title; or
– If Fitzgibbons finishes 5th or lower than Wright needs at 5th, Conlogue a 3rd, and Moore and Gilmore need to win the event to claim Title.
Fitzgibbons comes into the event in first place on Jeep Leaderboard after a season of consistently good results – reaching the Quarterfinals or better at every event and winning the second stop on tour, the Drug Aware Margaret River Pro. The 26-year-old started her CT career with three straight runner-up finishes (2010, 2011, 2012) and is chasing down her maiden WSL title. Fitzgibbons has made the Final once in Maui in 2015 and needs a win this year to be sure of clinching the title. She will take on Silvana Lima (BRA) and wildcard Brisa Hennessy (HAW)in Round 1 of competition.
"I'm feeling super comfortable right now with the Jeep Leader Jersey on my back," Fitzgibbons said. "Whatever the result, it's a great feeling to know that I put myself in this position by elevating my surfing. To have the title on the line here and be in the company of these contenders is a humbling and amazing experience. Whoever wins will be really deserving."
Defending WSL Champion Wright starts the event in second place on the Jeep Leaderboard. The young Australian claimed the coveted world surfing crown last year with a runner-up finish in France following a sensational 2016 season that saw her claim four event wins (Gold Coast, Margaret River, Rio de Janeiro and Lower Trestles). Wright, who has locked in one event win this year at the Oi Rio Pro, suffered a knee injury just before the CT event in Cascais, Portugal but has since surfed her way to a huge comeback with a Semifinal berth at the next event in France to move up to second place on the rankings. Wright also needs to win the event to be sure of claiming the title. Wright will surf in Heat 4 of Round 1 where she will take on Tatiana Weston-Webb (HAW) and Laura Enever (AUS)
"It's been a really interesting journey this year and I've really enjoyed it," said Wright. "Being here at Honolua Bay is such a great way to finish off the year. The end of the year is really intense, so it does help with the pressure of what's going on being somewhere so mellow. It's so close and throughout the year everyone has been really performing so it's great that it all came down to the end – it will be interesting to see how things play out. I give my team so much credit for holding me to a high standard and getting me here today. Maybe I haven't done as much as I could have this year, but I'm still in a good position and I know I've got so much work still left to do."
World No. 3 Conlogue is also on the verge of claiming her maiden WSL title after back-to-back runner-up finishes in 2015 and 2016. The 25-year-old from Santa Ana, California has more event wins this season than any other surfer, with victories at Bells Beach and in Fiji, but has yet to make a Final at Honolua Bay. An event win here would secure the title for Conlogue and she will start her campaign in Round 1 against Keely Andrew (AUS) and Bronte Macaulay (AUS).
"There's so many title contenders this year and Honolua Bay will decide the Champion," Conlogue said. "It looks like Mother Nature will gift us some swell this season so it's going to be exciting and I hope we're going to finish off with a bang. This season has been amazing – there's been a lot of new winners and now multiple contenders, which hasn't happened for a while. It's going to come down to who's going to put a show on when the jerseys go on and the buzzer sounds, but I'm really happy with the position I'm in. I just love this competition and it's where I started out so I can't wait for things to get underway and for the title race to play out here. I'm always fired up and I always believe in dreams but I know there's still a huge journey ahead. I'd love to hold that trophy at the end and I'll do whatever's in my power to do it."
Three-time WSL Champion Carissa Moore (HAW) is fresh from defending her Roxy Pro France title and will be one to watch in Maui. With two event wins under her belt (2014, 2015), Moore will look to reclaim her crown and earn a third victory at Honolua Bay in front of a home crowd. Moore will face Johanne Defay (FRA) and Pauline Ado (FRA) in Round 1 Heat 2.
"I love coming home to Hawaii to compete in the last event of the season," Moore said. "It's one of the most magical places on tour and it's really exciting this year to have the title race come down to the last event. It will be a really fun showdown. It's been a crazy year and I never could have imagined how things would have played out. Now, there's five people in contention and that's super exciting. The level just keeps getting raised and it's so fun to be here and in the middle of it. It's exciting to go from being in a requalification spot to being in world title contention and I'm so thankful to be in the position to vie for the title."
Six-time WSL Champion Gilmore also has an outside chance of clinching the title in Hawaii. The three-time event winner currently sits in fifth place on the Jeep Leaderboard and would need to win in Honolua Bay with the top three dropping out early to make history and equal Layne Beachley's record of seven world titles. Gilmore will be first to compete in Round 1 Heat 1 when competition gets underway and will face Nikki Van Dijk (AUS) and Malia Manuel (HAW).
"This has to have been one of the most exciting years for women's surfing ever," Gilmore said. "We've had five girls really battling for the top spot all year so it's been a thrilling adventure for everyone. I feel like I've had some good results but I really haven't been able to stay consistent and then you've got people like Sally (Fitzgibbons) who have been so consistent and she's right there. It's insane and I'm really looking forward to seeing what happens and who doesn't crack under pressure."
Brisa Hennessy (HAW), the highest ranked Hawaiian surfer on the WSL Qualifying Series, has been awarded the wildcard and will take her place alongside the WSL Top 17.
Event organizers will convene tomorrow morning at 7:30 a.m. to assess conditions and make the first call.
Surfline, official forecaster for the Maui Women's Pro, are calling for:
Still on track for some good size surf at Honolua Bay over the first several days of the event window. Saturday the 25th will see fading yet contestable leftovers of old North swell. Then a new shot of North swell will build in Sunday PM the 26th with overhead surf on Monday morning the 27th. After that, a pair of decent size NW swells are looking to move in over the Nov 29th – Dec 1st with more head-overhead sets for Honolua. Strong ENE Trades are expected for at least the next several days.
The event will be broadcast LIVE via WorldSurfLeague.com, the WSL app and on Facebook LIVE via the WSL's Facebook page. Also check local listings for coverage on CBS Sports Network in the U.S., Fox Sports in Australia, ESPN in Brazil, Sky NZ in New Zealand, SFR Sports in France and Portugal, Sport TV in Portugal and the EDGEsport Network.
For more information, check out WorldSurfLeague.com 
Maui Women's Pro Round 1 Match-Ups:
Heat 1: Stephanie Gilmore (AUS), Nikki Van Dijk (AUS), Malia Manuel (HAW)
Heat 2: Carissa Moore (HAW), Johanne Defay (FRA), Pauline Ado (FRA)
Heat 3: Sally Fitzgibbons (AUS), Silvana Lima (BRA), Brisa Hennessy (HAW)
Heat 4: Tyler Wright (AUS), Tatiana Weston-Webb (HAW), Laura Enever (AUS)
Heat 5: Courtney Conlogue (USA), Keely Andrew (AUS), Bronte Macaulay (AUS)
Heat 6: Lakey Peterson (USA), Sage Erickson (USA), Coco Ho (HAW)