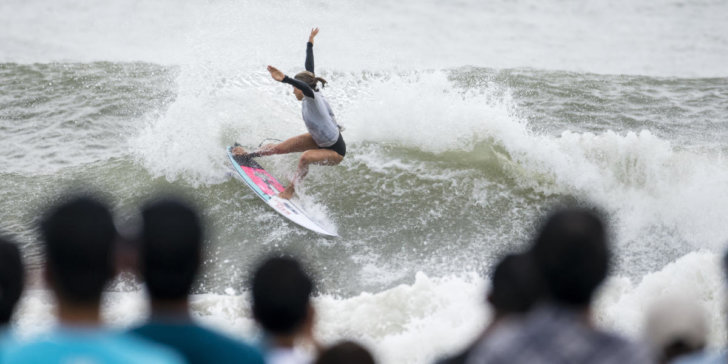 In a preview of what may be to come, Sally Fitzgibbons has captured the gold medal in Japan in the 2018 ISA World Surfing Games.
Up against a stacked field in the final, the Australian managed to hold off fellow WSL Championship Tour surfers Paige Hareb, who came away with the silver, and South Africa's Bianca Buitendag, who earned the bronze.
"It is the biggest buzz to bring the gold back to Australia!" said Fitzgibbons after the final.
2019 ISA World Surfing Championship Women's Results
Gold – Sally Fitzgibbons (AUS)
Silver – Paige Hareb (NZL)
Bronze – Bianca Buitendag (RSA)
Copper – Summer Macedo (HAWAII-USA)
With the men's competition concluded earlier in the week, the women were forced to go on hold or a couple of days until a fresh, new swell arrived. Greeted on the final day by clean, three-to-four-foot conditions, the atmosphere on the beach reached a fever pitch with flags waving and fans going crazy.
Fitzgibbons en route to gold at the 2019 ISA World Surfing Championship.WSL / BEN REED – ISA"The Japanese crowd has been excellent. They are the biggest surf fans," noted Fitzgibbons. "It has been such a pleasure to come here and compete for them."
Drawing from past successes at the World Surfing Championship, she was able to put two nine-point rides on the board in the final, ultimately winning her second gold medal for Australia (her first coming in 2008).
"It's really empowering to be a part of so many generations of women's surfing here in this event," continued Fitzgibbons. "Team Australia has built great momentum heading towards Tokyo 2020."
Fitzgibbons wasn't the only repeat medalist at the Championship. Bronze medalist Buitendag was coming off of a copper medal-performance last year in Biarritz, France.
"With all the challenges that exist in our beloved South Africa, today we witnessed a flicker of hope as our country stood strong throughout the week to finally accept a podium finish of which we are very proud – to our adopted father figures Greg [Emslie] and Isaac [February] for your invested belief and care in our lives more than our performance- to my team mates for your demonstration of unrelenting resilience and lastly arigato to Japan, the most polite and homely host," wrote Buitendag on Instagram shortly after the final.
The United States' Summer Macedo, who finished fourth in the final with a copper medal this year and is the 2015 ISA junior champ, earned herself a spot in the 2019 Pan American Games.
According to the qualification guidelines for the 2020 Olympics, one male and one female surfer from the Pan American Games will receive a spot in the Games the following year, so it's a big opportunity for the rising star.
Countryman Kevin Schulz will also be surfing in the Pan American Games after his fifth-place finish earlier in the week.