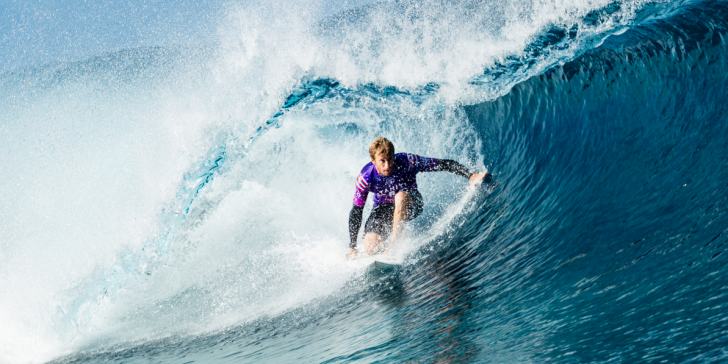 Event Wildcards Matahi Drollet and Tyler Newton Eliminated Early

Solid Swell Forecast to Arrive in Tahiti Over Coming Days
 Sebastian Zietz (HAW) advances to the Round of 32 at the Tahiti Pro Teahupo'o pres. by Hurley after winning his Elimination Round 2 heat today. Credit: © WSL / Cestari
Tahiti Pro Teahupo'o pres. by Hurley Elimination Round (Round 2) Results:
Heat 1: Sebastian Zietz (HAW) 14.40 DEF. Jordy Smith (ZAF) 11.87, Matahi Drollet (PYF) 9.57
Heat 2: Ryan Callinan (AUS) 12.50 DEF. Caio Ibelli (BRA) 8.74, Tyler Newton (HAW) 6.57
Heat 3: Peterson Crisanto (BRA) 11.50 DEF. Michel Bourez (FRA) 11.33, Frederico Morais (PRT) 10.17
Heat 4: Conner Coffin (USA) 15.43 DEF. Jesse Mendes (BRA) 9.93, Michael Rodrigues (BRA) 6.66
TEAHUPO'O, Tahiti (Sunday, August 25, 2019) – The Tahiti Pro Teahupo'o presented by Hurley's Elimination Round was completed today in clean three-to-five foot (1 – 1.5 metre) waves. The Tahiti Pro, which is the seventh stop on the World Surf League (WSL) Men's Championship Tour (CT), holds critical ranking points for requalification and early elimination this far in the season can be detrimental to maintaining a spot on the 2020 men's CT.
The Elimination Rounds said goodbye to event wildcards Matahi Drollet (PYF) and Tyler Newton (HAW) in Heats 1 and 2, respectively. Drollet fell one-backup score shy of advancing in Tahiti against Sebastian Zietz (HAW) and Jordy Smith (ZAF). Zietz dominated the day with two-seven point rides and will now prepare the Round of 32 against Michel Bourez (FRA).

"This is more of what we came for, yesterday was a bit tough and hard to swallow," said Zietz. "Next time I put on a jersey, I hope it will be the real-deal Teahupo'o coming. There is a super west swell forecast. Mixed reports on how it will be but I think either way it will be pretty gnarly and it will be fun. Super bummed Matahi (Drollet) lost. I am sure he was looking forward to getting some heavy Teahuop'o. I almost wanted to let him go on that last wave but then I couldn't do that to Jordy (Smith), and he is also a super scary guy to draw later when it is heavy."

Ryan Callinan (AUS), the highest-ranking male Australian, won his heat with injury replacement Caio Ibelli (BRA) in second to dispatch Newton from the draw. Ibelli sits in 22nd place on the world rankings, right on the cut-line for requalification into the CT next season. Ibelli needs a strong finish in Tahiti in order to strengthen his requalification campaign for 2020.
Tahiti's Bourez narrowly survived his elimination heat against injury replacement Frederico Morais (PRT). The close heat saw less than two points separate heat-winner Peterson Crisanto (BRA) from third-place finisher Morais, who now leaves in Equal 33rd place. Bourez and Crisanto advance to the Round of 32, where they will face Zeitz and Seth Moniz (HAW), respectively.

Watch Crisanto's post-heat interview. 

Michael Rodrigues (BRA), CT sophomore, was eliminated by compatriot Jesse Mendes and Conner Coffin (USA). The loss is Rodrigues' first 33rd place finish of 2019 and could jeopardize his CT requalification. Rodrigues will now focus on the upcoming Freshwater Pro pres. by Outerknown, the next stop on the 2019 CT.
The next call for the Tahiti Pro Teahupo'o presented by Hurley will be tomorrow, Monday, August 26, at 7:00 a.m. (GMT-10) for a possible 7:35 a.m. start. The event will be broadcast LIVE on WorldSurfLeague.com and on the free WSL app. Also, check local listings for coverage from the WSL's broadcast partners.
WSL Heritage Heat Confirmed for Hobgood Showdown
Former Championship Tour standouts C.J. Hobgood (USA), 2001 World Champion, and Damien Hobgood (USA), 2007 Tahiti Pro winner, are in Tahiti to compete in a WSL Heritage Heat in the upcoming days. The twin brothers were long-time standouts at Tehaupo'o, but never competed against one another at the famed reef pass. The WSL Heritage Heat will be scheduled over the coming days during Championship Tour competition.
Pro Surfers Team Up with Coral Gardners to Restore Nearby Reefs
For the Tahiti Pro Teahupo'o, WSL collaborated with 'Glowing Glowing Gone', a global campaign advocating for greater funding and action for coral reef conservation by highlighting the global danger signaled by fluorescing corals. The collaboration features a complete takeover of the Tahiti Pro Teahupo'o presented by Hurley event branding to incorporate the exact colors of fluorescing corals, in addition to WSL's support of Coral Gardeners, a youth-led non-profit organization that is actively restoring coral reefs in the area.

To learn more about how to get involved with Glowing Glowing Gone and the Coral Gardeners, please visit WSLPURE.org.