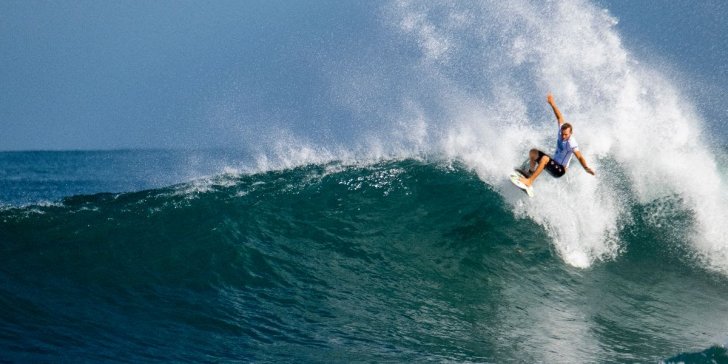 Dusty Payne Leads Local Charge as Former Winner at Haleiwa
Dantas Brothers a Powerful Representation for Goofy-Footers
 Front Page Maui's Dusty Payne came out firing in Round 1 to post the third-highest heat total of the day.
Credit: © WSL / Keoki
Haleiwa, Oahu/HAWAII — (Friday, November 15, 2019) – The Hawaiian Pro, a World Surf League (WSL) Men's Qualifying Series (QS) 10,000 event, launched at Haleiwa Ali'i Beach today to commence the 37th annual Vans Triple Crown of Surfing. A collision of international and local athletes made for a dynamic opening day with former Hawaiian Pro winner Dusty Payne (HAW) making a statement in the heavy-weighted competition, along with a big showing from the rookie contingent.
Competitors were treated to 6-8ft. surf this morning with wave heights reaching 10ft. and light offshore winds providing clean canvases. Maui's Payne capitalized on the conditions in Heat 3 to earn one of the highest heat totals of the day, a 13.77 (out of a possible 20), after scoring a 7.17 on his first wave for two strong maneuvers and a critical finish on his feet. In the dying seconds, he backed up his score with a variety of stylish maneuvers for a 6.60 while Tomas Hermes (BRA) advanced in second with two well-executed mid-range rides.
Payne made a competitive comeback last season after a life-threatening accident at Pipeline put him in critical condition for weeks. With tenacity and determination, Payne was back surfing within five months and has a rejuvenated approach to life and competition.
 Payne won the 2014 Hawaiian Pro and earned second at the Vans World Cup to qualify for the 2015 Championship Tour after vaulting up the QS ratings — a prime example of the opportunity the Vans Triple Crown presents to local Hawaii surfers.
Credit: © WSL / Heff
"I'm just happy to be alive, this is all the cherry on the top," said Payne. "After last year I really didn't know what to expect as far as surfing. I'm just grateful every day I wake up just to be able to surf, I'm probably more excited now to surf than I ever was. Feels like I'm 15 years old again. I feel really good, I'm excited about this year and happy to see how this Vans Triple Crown goes."
Newly crowned WSL Hawaii/Tahiti Nui Regional Junior Winner, Robert Grilho (HAW) moved into Round 2 behind Tristan Guilbaud (FRA) by staying busy in the lineup and manufacturing scores when opportunities arose. Both Grilho and Guilbaud are competing in their first ever Vans Triple Crown among 21 other rookie surfers this season. The Vans Triple Crown Rookie Award goes to the highest placing first timer, whose name will be added to a noteworthy list which includes Barron Mamiya (HAW), Jack Robinson (AUS), Frederico Morais (PRT), Julian Wilson (AUS), Jordy Smith (ZAF) and Joel Centeio (HAW).
Grilho earned the opportunity to surf his first Vans Triple Crown after winning the regional Pro Junior circuit last month and has been looking forward to testing his talent against the world's best in his backyard.
 Robert Grilho represents the next generation of Hawaiian power surfing.
Credit: © WSL / Keoki
"Competing to me is more enjoyable than free surfing really because I like the progression that I can do in the water at a contest," said Grilho in an earlier interview. "This year I've been doing more QS's than I've ever done so I feel like I'm learning more and progressing more. I definitely want to be on the CT one day and just do good and be the best I can be."
Brazil's Joao Chianca, another Vans Triple Crown rookie, had an impressive performance against a formidable heat including Michael Dunphy (USA), Koa Smith (HAW) and Torrey Meister (HAW). Chianca's commanding lead saw him end with the highest single wave score of the heat, a 7.33 for a two-turn combination and the win ahead of Dunphy.
"It's my first event of the Vans Triple Crown, so super stoked to make it through," said Chianca. "Just looking forward to Round 2 and I hope there's good waves in the next round. My goal this year was to be in the Triple Crown and to show myself, and to show what I got, so here I am!"
 Joao Chianca (BRA) is one of 23 rookies this year at the Vans Triple Crown.
Credit: © WSL / Heff
Haleiwa has historically been dominated by regular-footers and 2019 marks twenty years since the last goofy-footer, Conan Hayes (HAW), won the Hawaiian Pro in 1999. Former Championship Tour (CT) surfer Wiggolly Dantas (BRA) was the first goofy-footer to earn a heat win today and also took out the best single wave score of the day, an 8.67 for multiple power turns on his backhand.
"I love surfing Haleiwa, the waves are super fun," said Dantas. "I surfed this morning, but I didn't get any waves. I looked at my board and I was like, 'that's my magic board.' I just want to go there and try to make big turns. It feels good to be here, another year in Hawaii."
Dantas also recorded the highest heat total of the day, a 16.67, and is now onto Round 2 where he will meet Carlos Munoz (BRA), Beyrick De Vries (ZAF) and Dunphy.
 Wiggolly Dantas (BRA) earned two excellent scores during Round 1 Heat 7 for powerfully precise backside surfing.
Credit: © WSL / Heff
Dantas' younger brother and last year's Vans Triple Crown Rookie Award winner, Weslley Dantas (BRA), also used his backhand to his advantage by squaring off with the right-handed waves and earning a 5.83 for a mixed bag of turns. He took to the sky on his last wave in Round 1 Heat 12 and landed an air reverse under priority on a whitewater section, which judges awarded a 4.0 for the heat win.
"I feel good, tomorrow the swell is coming and it's [going to be] bigger," said Weslley. "Today is good too, my friends are here, my brother… I got one wave with three turns which is good."
 As the winds switched, Weslley Dantas (BRA) took full advantage of the Haleiwa ramps.
Credit: © WSL / Keoki
The declining conditions and onshore westerly winds encouraged above the lip, high-performance surfing in the last couple hours of the day, which worked in Eli Hanneman's (HAW) favor. Hanneman, 17, displayed youthful progression alongside fellow teen Finn McGill (HAW), 19, both advancing out of the heat and into Round 2.
Contest organizers decided to call the competition off two heats shy of completing Round 1 due to unfavorable winds and decreasing swell and will reconvene tomorrow morning to assess conditions for a possible Day 2.
 North Shore's Finn McGill (HAW) ended the day with a clean performance and the heat win.
Credit: © WSL / Heff
"The excellent waves we had for most of the day deteriorated rapidly near the end of the first round," said WSL Hawaii/Tahiti Nui Competition Director, Marty Thomas. "Given the favorable forecast, we decided to call the comp off in order to give the remaining surfers in Round 1 the best chance of scoring computable conditions to early in the day."
The Vans Triple Crown has been running for 37 consecutive years on Oahu's North Shore and determines the best competitive surfer at three defining and world-class waves: Haleiwa, Sunset and Pipeline. The Hawaiian Pro at Haleiwa Ali'i Beach has a holding window from November 13 – 24 and will see a winner emerge to take the lead on the VTCS rankings. The second stop of the series is the Vans World Cup of Surfing at Sunset Beach from November 25 – December 7, and the final event is the Billabong Pipe Masters at Banzai Pipeline from December 8 – 20.
Witness the action LIVE via state-of-the-art broadcast on WorldSurfLeague.com, VansTripleCrownOfSurfing.com, Facebook.com/wsllive and on the free WSL app. Or tune into Spectrum SURF channels 20 and 1020HD, which will televise the action LIVE and in replay across the state of Hawaii.
About Vans
Vans®, a VF Corporation (NYSE: VFC) brand, is the original action sports footwear, apparel and accessories brand. Vans® authentic collections are sold in 84 countries through a network of subsidiaries, distributors and international offices. Vans® has over 2,000 retail locations globally including owned, concession and partnership doors. The Vans® brand promotes creative self-expression in youth culture across action sports, art, music and street culture and delivers progressive platforms such as the Vans Park Series, Vans Triple Crown of Surfing®, Vans Pool Party, Vans Custom Culture, and Vans' cultural hub and international music venue, House of Vans.