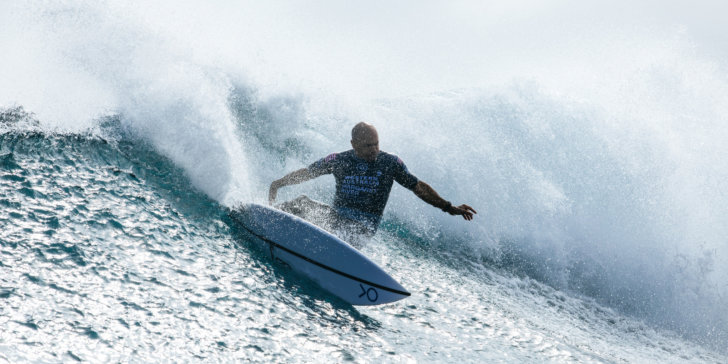 Front Page Slater slicing into next round: WSL/ Cestari

Floridians Caroline Marks and Kelly Slater Dominate the Day

Former Event Winners Sally Fitzgibbons and Courtney Conlogue Thrive in R/16

Wildcard Mia McCarthy and Rookie Macy Callaghan Exit in Equal 17th
Current World No. 2 Caroline Marks (USA) scored the highest heat total of the Margaret River Pro so far during her R/16 heat today. 
Credit: © WSL / Dunbar
MARGARET RIVER, West Australia/Australia (Friday, May 31, 2019) – The Margaret River Pro, Stop No. 4 on the 2019 World Surf League (WSL) Championship Tour (CT), completed the women's and men's Elimination Rounds and the first five heats of the Round of 16 in three-to-five foot (0.9 – 1.5 metre) waves at Margaret River Main Break. Today's first eliminations said goodbye to 11 surfers, including locals Mia McCarthy (AUS) and Jacob Willcox (AUS), and international competitors Johanne Defay (FRA) and Frederico Morais (PRT).

Tomorrow's competition at Margaret River Pro has a high probability of relocating to The Box, the famed right-hand slab known for producing fast, square-shaped tubes. If the conditions continue to align, the event will likely commence at 7:40 a.m. AWST with the men's Round of 32 at The Box.
Floridians Caroline Marks and Kelly Slater Dominate the Day
World No. 2 Caroline Marks (USA) showed that she means business here in Margaret River with the highest two-wave total of the entire event so far, an excellent 17.60 (out of a possible 20). The 17-year-old utilized her powerful surfing against the Main Break's heavy walls, attacking the lip on her backhand to progress into the Quarterfinals where she will take on 2017 Margaret River Pro winner Sally Fitzgibbons (AUS).

"The conditions during our heat were so fun," Marks said. "Having a jersey on just gives me so much confidence. I'm having the time of my life. I gave that heat my all, but I still have more left in the tank. Hopefully, the waves stay this good. I've been paddling out every day no matter what the conditions. I just want to spend as much time out there as possible. I'm still figuring this place out during my heats, but it has been working so hopefully it keeps working."
In his most impressive performance of 2019, 11-time WSL Champion Kelly Slater (USA) posted an excellent two-wave combination of 16.50 to eliminate Australian Adrian Buchan, despite Buchan having his own excellent 8.13 (out of a possible 10). Slater will take massive confidence from this win as his heat total is not only the highest of the men's event so far, but it was the first time this season that he posted a wave score in the excellent range. Slater progresses into the Round of 32 with opponent Caio Ibelli (BRA), who finished runner-up in the three man matchup.

"That heat came down to mindset and strategy," Slater said. "I've got a board that I feel I can really push through my turns in these waves and let me put all my power into it. I really didn't want to rush it out there. I feel like in my first heat I was all antsy and rushed, so I didn't want to do that again. I just wanted to have fun. I just don't think I can do this anymore if I'm not having fun, so I really need to set myself before I surf and go out there for the enjoyment of it. When I started on Tour, I didn't think I'd be competing with guys who are my age now, but I feel like when I go into overdrive I can beat anyone."
Former Event Winners Fitzgibbons and Conlogue Thrive in Round of 16
Fitzgibbons eliminated Johanne Defay (FRA), winner of the 2019 Uluwatu CT, in the Heat 6 of the R/16. Fitzgibbons earned a 6.83 (out of a possible 10) and a 7.27 to leave Defay searching for excellent rides to boost her 9.20 two-wave total (out of a possible 20). Defay now leaves in Equal 9th place for the third time in 2019.

"It's awesome to walk up those stairs with all of the names of the past winners," Fitzgibbons said. "It's very humbling to see my name there amongst all of those legends of the sport. To come back here reminds me a lot of home on the South Coast of NSW, so it's very homely and a lot of warm energy. I've got a good team here with the Micro crew and Surfing Australia. I'm surrounded by a lot of love on the road, which is great."

Courtney Conlogue (USA), current World No. 3, dispatched Silvana Lima (BRA), current World No. 15, in the opening R/16 heat. Lima got to an early lead, but Conlogue closed the door on the Brasilian with an increase to her scoreline (an 11.44 heat total to Lima's 6.33 heat total) in final five minutes of the matchup. After a sidelining injury last season, Lima returned to the surfing's elite stage earlier this month at the Corona Bali Protected and earned a 5th place result. Unfortunately, Lima was unable to take down the former Margaret River Pro winner and exits in 9th place.
Wildcard McCarthy and Rookie Callaghan Exit in Equal 17th 
Trials winner and Margaret River local Mia McCarthy (AUS) put up a valiant fight against two seasoned CT veterans, Defay and Lima, in the opening elimination heat of the day. McCarthy showcased her sharp form but faced elimination as their experience prevailed.

After a disappointing opening round heat, Bronte Macaulay (AUS) came swinging back with a 7.33 to start her redemption run. Macaulay held her lead through the majority of the heat until fellow Australian Nikki Van Dijk scored a 7.00, in addition to a mid-range back-up score, to earn first and deal rookie Macy Callaghan (AUS) back-to-back last-place finishes after the Corona Bali Protected.
 Jack Robinson (AUS) Credit: © WSL / Cestari
Heavy blows started early in the men's Elimination Round 2 with wildcard Jack Robinson (AUS) won his heat after missing his Seeding Round heat due to travel. Robinson dispatched compatriots Jack Freestone and 2018 CT Rookie of the Year Wade Carmichael. Robinson hammered into the dangerous final section, which solidified his win and completed a hefty upset to Carmichael.

"I had a really long transit of 34 hours to get back here and surf in this event, but that doesn't worry me one bit," Robinson said. "I just had to get out there and get the best waves and enjoy competing on the home court and have some fun. It's always good to be home. I'm looking forward to tomorrow. It looks good for The Box so it's going to be on. I'm going super hard on the Qualifying Series this year so to get this opportunity to surf against everyone here is great."

In 2016, Margaret River helped provide a platform for Leonardo Fioravanti (ITA) to catapult into the limelight after taking down 11-time WSL Champion Slater. Today, Fioravanti showed he still has the prowess in Main Break lineup with a clutch performance over Michel Bourez (FRA) and trials winner Jacob Willcox (AUS). The Italian put his name in the excellent range to close out the heat as he looks to better a   Quarterfinal result.

Deteriorating conditions forced event organizers to pause the competition eleven minutes into R/16, Heat 6 with Malia Manuel (HAW) and Brisa Hennessy (CRI). Instead of restarting the heat, the heat will resume in more favorable conditions at the time paused when the Margaret River Pro R/16 continues.
The next call will be tomorrow, Saturday, June 1 at 7:30 a.m. AWST for a possible 7:40 a.m. start at The Box. At this time, event organizers will assess the conditions and decide the day's competition schedule.

The Margaret River Pro will be broadcast LIVE on WorldSurfLeague.com and Facebook.com/WSL .

Also check local listings for coverage from the WSL's broadcast partners.
Surfline Brief Overview


Sat 1st: Solid W swell, offshore wind. Likely run day.
Sun 2nd: Dropping swell, offshore AM wind. Likely run day.
Mon 3rd: Rebuilding swell late, offshore AM wind. Likely run day.
Tue 4th: Strong swell, offshore AM wind. Likely run day.
Longer Range: String side-onshore to onshore wind likely Wednesday afternoon through Friday.
Margaret River Pro Women's Elimination Round (Round 2) Results:
Heat 1: Johanne Defay (FRA) 13.10 DEF. Silvana Lima (BRA) 12.40, Mia McCarthy (AUS) 9.13
Heat 2: Nikki Van Dijk (AUS) 12.40 DEF. Bronte Macaulay (AUS) 11.00, Macy Callaghan (AUS) 9.00Margaret River Pro Women's Round of 16 (Round 3) Results: 
Heat 1: Courtney Conlogue (USA) 11.44 DEF. Silvana Lima (BRA) 6.33
Heat 2: Tatiana Weston-Webb (BRA) 12.50 DEF. Coco Ho (HAW) 6.30
Heat 3: Caroline Marks (USA) 17.60 DEF. Paige Hareb (NZL) 11.10
Heat 4: Sally Fitzgibbons (AUS) 14.10 DEF. Johanne Defay (FRA) 9.20
Heat 5: Carissa Moore (HAW) 14.34 DEF. Keely Andrew (AUS) 8.17Margaret River Pro Remaining Women's Round of 16 (Round 3) Matchups: 
Heat 6: Malia Manuel (HAW) vs. Brisa Hennessy (CRI)
Heat 7: Stephanie Gilmore (AUS) vs. Bronte Macaulay (AUS)
Heat 8: Lakey Peterson (USA) vs. Nikki Van Dijk (AUS)Margaret River Pro Women's Quarterfinals Matchups: 
Heat 1: Courtney Conlogue (USA) vs. Tatiana Weston-Webb (BRA)
Heat 2: Caroline Marks (USA) vs. Sally Fitzgibbons (AUS)
Heat 3: Carissa Moore (HAW) vs. TBD
Heat 4: TBD vs. TBDMargaret River Pro Men's Elimination Round (Round 2) Results:
Heat 1: Jack Robinson (AUS) 12.60 DEF. Jack Freestone (AUS) 10.83, Wade Carmichael (AUS) 10.67
Heat 2: Leonardo Fioravanti (ITA) 15.34 DEF. Michel Bourez (FRA) 13.00, Jacob Willcox (AUS) 11.23
Heat 3: Yago Dora (BRA) 14.66 DEF. Willian Cardoso (BRA) 13.77, Frederico Morais (PRT) 13.46
Heat 4: Kelly Slater (USA) 16.50 DEF. Caio Ibelli (BRA) 14.40, Adrian Buchan (AUS) 13.93Margaret River Pro Men's Round of 32 (Round 3) Matchups:
Heat 1: Italo Ferreira (BRA) vs. Soli Bailey (AUS)
Heat 2: Michel Bourez (FRA) vs. Yago Dora (BRA)
Heat 3: John John Florence (HAW) vs. Jack Freestone (AUS)
Heat 4: Jeremy Flores (FRA) vs. Sebastian Zietz (HAW)
Heat 5: Gabriel Medina (BRA) vs. Caio Ibelli (BRA)
Heat 6: Willian Cardoso (BRA) vs. Kelly Slater (USA)
Heat 7: Jordy Smith (ZAF) vs. Leonardo Fioravanti (ITA)
Heat 8: Conner Coffin (USA) vs. Jesse Mendes (BRA)
Heat 9: Filipe Toledo (BRA) vs. Jack Robinson (AUS)
Heat 10: Michael Rodrigues (BRA) vs. Seth Moniz (HAW)
Heat 11: Owen Wright (AUS) vs. Ezekiel Lau (HAW)
Heat 12: Kolohe Andino (USA) vs. Griffin Colapinto (USA)
Heat 13: Julian Wilson (AUS) vs. Jadson Andre (BRA)
Heat 14: Peterson Crisanto (BRA) vs. Joan Duru (FRA)
Heat 15: Ryan Callinan (AUS) vs. Deivid Silva (BRA)
Heat 16: Kanoa Igarashi (JPN) vs. Ricardo Christie (NZL)